Opinion polls consistently show low levels of public trust and confidence in the federal government. These low expectations of federal performance reflect the widespread belief that Washington is wasting a high proportion of the tax dollars Americans pay each year. In 1998, a survey conducted by the Washington-based Pew Research Center found that 64 percent of Americans view the government--with a burgeoning budget of $1.8 trillion--as "inefficient and wasteful," while only 48 percent believe that it is "run for the benefit of all people."2 It is understandable that taxpayers expect the federal government to use their money wisely, minimizing waste, inefficiency, and mismanagement. Yet Washington seems to have set its course on automatic pilot. It continues to create new programs and new spending without regard for how well current programs are doing. Few federal agencies consistently document what their programs are accomplishing to provide Congress and the American public with credible and objective evaluations of their performance.
The 103rd Congress sought to correct this problem when it passed--and President Bill Clinton signed--the Government Performance and Results Act in 1993. This law has become the centerpiece of a new effort in Congress to make federal program management, decision-making, and accountability even more performance-based. Efforts to truly "reinvent" the way Washington works will require an nonpartisan framework for implementing commonsense government reforms. Congress and the Administration will need credible performance information, objective program evaluations, and other sound reviews of existing federal programs before they can make the sorts of changes that are needed to improve federal performance and regain the confidence of the American people.
The Government Performance and Results Act (P.L. 103-62) was signed into law on August 3, 1993. It requires federal agencies to establish clear goals that matter to taxpayers and to report annually on their progress in meeting those goals. The bill's passage meant that, for the first time, federal agencies would have to prepare multi-year strategic plans, annual performance plans with outcome measures (rather than process-oriented measures) of existing programs, and annual performance reports for Congress.
The act's power lies in its focus on measuring the effectiveness of all existing federal programs and providing Congress with that information in order to determine whether the agencies are achieving the intended results. As Senator Ted Stevens (R-AK) explained at a hearing in June 1997:
If properly implemented, the Results Act will assist Congress in identifying and eliminating duplicative or ineffective programs. We intend to monitor compliance with the Results Act at every step of the way to ensure that agencies are providing us with the information necessary to do our job, spending the taxpayers' money more wisely.3
For example, the growing federal entitlements consume approximately 52.7 percent of the federal budget today, compared with 26.1 percent in 1962. Although all federal spending has increased, the percentage of funding for the discretionary portions of the budget has decreased: While 67.5 percent of the budget was spent on discretionary accounts in 1962, the latest figures show discretionary spending consuming less than 34 percent--a significant squeeze that is redistributing Washington's escalating resources. Meanwhile, interest on the national debt during this same time period has increased from 6.4 percent to 13.5 percent ($220 trillion in 1999).4
The Results Act's effectiveness will depend on the willingness of Congress to engage agency officials in regular dialogue, to ask results-oriented questions at meetings or hearings, and to include the information on performance they gain from these interactions in their decisions about reauthorization, appropriations, and oversight. But even with the requirements of the Results Act, Congress may still need to demand that federal agencies provide credible, accurate, and objective information on their performance. If need be, it should seek assistance from agency inspectors general (IGs), the U.S. General Accounting Office (GAO), the Congressional Research Service (CRS), other external auditors, and its own investigators.
Although the federal government's watchdog agencies--the GAO, Office of Management and Budget (OMB), Congressional Budget Office (CBO), and agency IGs--continue to highlight poor agency performance in their reports, and although agency Results Act reports repeatedly have exposed waste, ineffectiveness, and inefficiency, neither the Administration nor Congress has demonstrated the will to improve performance by demanding reform.
To date, Congress has done a relatively poor job of forcing agencies to improve their efficiency and cut waste. One reason for this mediocre performance is that the annual appropriations process itself is inefficient and consumes huge amounts of time and effort.
22
It is virtually impossible for Congress to enact the 13 regular appropriations bills by the start of each new fiscal year.
Consequently, the usual finale to the appropriations cycle is a massive omnibus bill pulled together at the end of each session after intensive 11th-hour negotiations. These negotiations typically involve very few participants and take place out of the public eye. Most Members of Congress have only the vaguest idea of what they are voting on when they approve the omnibus bill. Following its enactment, it can often take weeks to sort out what is included in the spending bills. This end-of-session process is so intensive and exhausting that mistakes are inevitable and the participants are left feeling like victims.
One reason for the breakdown in the appropriations process is the increasing burden of substantive legislative provisions that can be enacted only as part of "must pass" spending bills. This problem stems from the inability of Congress to enact authorizing legislation for many spending programs during the regular course of business.
The Congressional Budget Office recently reported that Congress had enacted about $121 billion in FY 2000 spending for programs whose authorization had already expired.23 This included about $8.2 billion in funding for foreign aid programs that were last authorized in 1987 and $4.4 billion for Department of Energy programs last authorized in 1984. The CBO report does not take into account funding for programs that never were authorized. Appropriating funds for unauthorized programs violates both House and Senate rules, yet these rules are routinely waived as a way to garner necessary votes to pass critical legislation. Controversial reauthorization efforts are not likely to be passed if slim margins exist between the two parties.
Congress as a whole, however, tends to focus on
passing legislation
to effect permanent change in the government. Legislating is what Members of Congress do, and what their staff and the press focus on. Overseeing existing laws and programs, on the other hand, takes specialized knowledge about such programs, agency budgets, personnel, media, and even the U.S. General Accounting Office. Different skills--such as the tenacity to find the truth, the ability to work with the press, or the commitment to protect witnesses who risk their livelihoods and reputations to tell the truth--are needed if the oversight function is to convey a compelling case for change.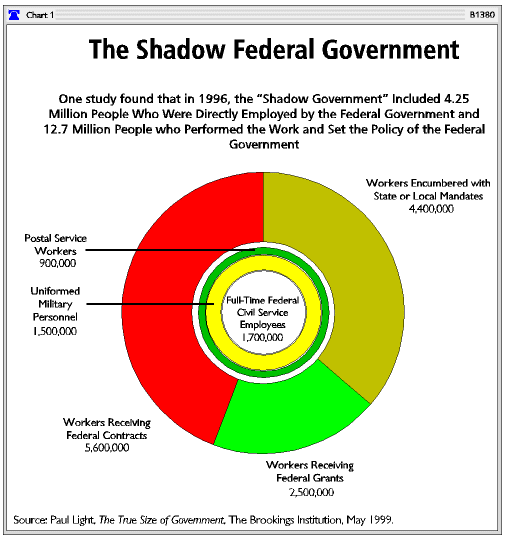 There is much that can be done to improve the federal government in tangible, nonpartisan ways that transcend policy stalemates and bridge the political divides in Washington. An agenda along these lines should start from and build on basic commonsense principles that address concerns upon which most people can agree, regardless of their political leanings.
Any new orientation for government, however, must rest on a foundation of objective and credible performance data that enable Congress, the President, and the American public to see what is being accomplished with the tax dollars collected. Yet, in a significant warning to Congress and the agency offices of inspectors general, the GAO recently said that 20 of 24 major agencies are incapable of providing credible performance data on the objectives they are trying to achieve.25
After months of denying a problem and under pressure from Congress, the media, and the GAO, the LSC reported in September 1999 that in 1998 it closed only 1.1 million cases--about 360,000 fewer than it reported closed in 1997. This is the lowest recorded and reported closed case-count total in the history of the agency. The lower number translates into a $465 average cost per case, which is the highest cost of federal aid to the poor in the history of the program.26
Good information, on the other hand, can result in tangible improvements in the way government delivers its services. For example:
Using the Veterans Health Administration (VHA) database, veterans' hospitals began to compare their own performance with other hospitals. Based on the various success rates for cardiac surgeries, the VHA made changes in how it conducted diagnostic testing to handle post-operative procedures. According to the GAO, the VHA found that the performance data showed that cardiac teams had lowered their mortality rates between 1988 and 1996 by an average of 13 percent.27
When towing industry data for 1982 through 1991 showed that 62 percent of marine casualties were due to human error, the U.S. Coast Guard realigned its marine safety program away from inspections (outputs) and toward efforts to reduce casualties (outcomes). This joint effort between the Coast Guard and the shipping and towing industry, which began in 1994, brought about a decline in the fatality rate--from 91 per 100,000 employees in 1991 to 27 per 100,000 employees in 1995. The program not only improved the Coast Guard's effectiveness, but did so with fewer people and at a lower cost.28