House Financial Services Committee Chairman Jeb Hensarling (R–TX) has released a discussion draft of a major regulatory reform bill called the Financial CHOICE Act.[1] This legislation would replace large parts of the 2010 Dodd–Frank Wall Street Reform and Consumer Protection Act. Key sections of the bill would reduce the risk of future financial crises and bailouts, and would allow investors and consumers to prosper by freeing them from centralized regulation and micromanagement.
The cornerstone of this proposed reform is a regulatory off-ramp, a provision that provides regulatory relief to banks if they choose to hold higher equity capital than they are currently required to hold. Put differently, banks that choose to improve their ability to absorb losses earn regulatory relief. This approach makes sense because there is little reason to heavily regulate banks that can absorb their own financial risks. Overall, the Financial CHOICE Act represents an overwhelmingly positive approach to regulatory reform that would move the nation's financial markets in the right direction. This Backgrounder, concentrating only on the money and banking sections of the Financial CHOICE Act, reviews the best features of the discussion draft and offers suggestions for improvements.[2]
Title I: Regulatory Relief for Strongly Capitalized, Well-Managed Banking Organizations
Title I can be viewed as the centerpiece of the CHOICE Act because it spells out the "capital election" provision of the bill (in Sections 101, 102, and 105). The capital election is optional, and it creates what has been referred to as a regulatory off-ramp for banks. The provision rewards banks by exempting them from onerous regulations if they choose to meet a higher capital ratio, thus credibly reducing their probability of failure and any consequent taxpayer bailouts. This approach makes sense because there is little justification for heavily regulating firms that absorb their own financial risks. Section 102 spells out several regulations that banks which choose to meet the capital election requirements would be exempt from following.
This list of federal rules and regulations includes those that address capital and liquidity standards, capital distributions to shareholders, and mergers and acquisitions. In particular, it exempts qualified banks from these rules that are imposed in the name of mitigating "risk to the stability of the United States banking or financial system," an ill-defined metric in Dodd–Frank that gives overly broad power to federal regulators. These exemptions would effectively exempt qualified banks from all Basel III capital and liquidity rules, a huge improvement considering how poorly previous iterations of the Basel rules have performed.[3]
Suggested Title I Improvements. Title I of the Financial CHOICE Act represents a major regulatory improvement because it helps restore market discipline while reducing banks' regulatory burdens. It provides a voluntary mechanism by which banks can receive regulatory relief for choosing to fund their operations with more equity. The following recommendations would help expand these benefits even further:
Title II: Ending ''Too Big to Fail'' and Bank Bailouts
Title II of the Financial CHOICE Act takes a major step toward undoing Title I of Dodd–Frank, one of the most controversial titles of the 2010 law. A main problem with Title I of Dodd–Frank is that it created the Financial Stability Oversight Council (FSOC), a sort of super-regulator tasked with singling out firms for especially stringent regulation. These firms, commonly referred to as systemically important financial institutions (SIFIs), are those which regulators believe would damage the broader economy if allowed to file bankruptcy. In other words, Title I of Dodd–Frank charges the FSOC with identifying those firms regulators deem too big to fail. While the CHOICE Act does not fully repeal Title I of Dodd–Frank, it comes very close.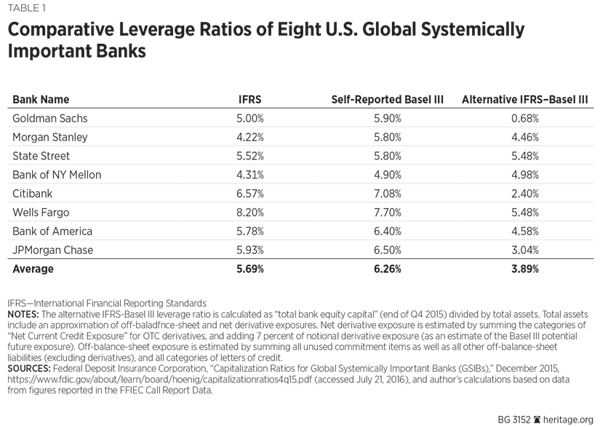 Rather than eliminate the FSOC completely, the CHOICE Act strips it of its authority to designate nonbank financial firms for stringent regulations (Section 113 of Dodd–Frank), as well as its authority to recommend more stringent regulations for individual financial activities.[19] The CHOICE Act also retroactively repeals any previously made FSOC designations for nonbank financial companies. Additionally, the CHOICE Act repeals Section 115 of Dodd–Frank, which authorizes the FSOC to make recommendations for more stringent regulations to the Federal Reserve Board of Governors for both nonbank financial firms and large bank holding companies.
The CHOICE Act also forces the FSOC to go through the regular congressional appropriations process, and eliminates the Office of Financial Research, an autonomous agency created (by Title I, Subtitle B, of Dodd–Frank) within the U.S. Treasury. Furthermore, the CHOICE Act repeals Title VIII of Dodd–Frank, a section of the law that gives the FSOC similar (overly broad) special-designation authority for specialized companies known as financial market utilities.[20] Combined, these changes transform the FSOC into an institution capable of doing much less damage to the economy by essentially converting the FSOC to a regulatory council for sharing information.
Separately, Title II of the CHOICE Act repeals Dodd–Frank's orderly liquidation authority (OLA) and amends the bankruptcy code so that large financial firms can credibly use the bankruptcy process. Dodd–Frank's controversial OLA was the 2010 law's alternative to bankruptcy for large financial firms, and it was based on the faulty premise that large financial institutions cannot fail in a judicial bankruptcy proceeding without causing a financial crisis. The OLA gives these large financial companies access to subsidized funding and creates incentives for management to overleverage and expand their high-risk investments.[21] The CHOICE Act implements an improved bankruptcy process for large financial firms by adopting the text of H.R. 2947, the Financial Institution Bankruptcy Act of 2016.[22]
Title II of the CHOICE Act further guards against bailouts and too-big-to-fail problems by eliminating several harmful government-guarantee programs. Specifically, the CHOICE Act eliminates several so-called emergency liquidity and stabilization guarantee programs implemented by Sections 1104, 1105, and 1106 of Dodd–Frank. Just as important, the CHOICE Act repeals the FDIC's authority to issue emergency loan guarantees, an authority the FDIC used to guarantee nearly $350 billion in private debt in the wake of the 2008 crisis.[23] Overall, Title II makes meaningfully positive changes to the U.S. financial regulatory framework.
Suggested Title II Improvements. Title II of the Financial CHOICE Act takes several major steps to reduce the likelihood of bailouts. It stops the FSOC from identifying firms that regulators deem too big to fail, it removes most of the FSOC's overly broad regulatory authority, and it eliminates Dodd–Frank's controversial OLA. In other words, the CHOICE Act undoes much of what Dodd–Frank did to enshrine too big to fail. The following recommendations would help reduce the likelihood of bailouts even further:
Explicitly convert the FSOC to a sharing council. The bill would strip most of the regulatory authority from the FSOC, largely converting it to a regulatory council for sharing information. A safer approach—which would better ensure that the FSOC can only share information rather than impose regulations—would be to explicitly amend the council's authority so that its only responsibility is to provide a mechanism for financial regulators to formally share information.
Amend the treatment of repurchase agreements and derivatives in bankruptcy. In a typical bankruptcy, an automatic stay is implemented that serves as a financial timeout. Basically, a bankrupt firm's creditors have to wait until the bankruptcy judge declares that the new, or newly reorganized, company can start making payments. A major exception is that virtually all repurchase agreements (repos) and derivatives contracts are exempt from the automatic stay. Derivatives and repos have long enjoyed this special treatment in bankruptcy, as well as special exemptions (safe harbors) from other core provisions of bankruptcy, including limitations on preferential and fraudulent transfers.[24] Not surprisingly, these safe harbors have contributed to the widespread use of these instruments among financial firms, and likely contributed to system-wide liquidity and solvency problems during the 2008 crisis.[25] The Financial Institution Bankruptcy Act of 2016 (included in Title II of the Financial CHOICE Act) addresses this concern mainly by subjecting derivatives and repos to an automatic 48-hour stay. This change is welcome, but the complete elimination of the exemption and all safe harbors that derivatives and repos enjoy would be optimal.
Title VII: Fed Oversight Reform and Modernization (and Title VI Section 665)
Title VII of the Financial CHOICE Act would implement several major reforms to the Federal Reserve. To achieve these reforms, the CHOICE Act essentially adopts the text of H.R. 3189, the Fed Oversight Reform and Modernization (FORM) Act of 2015.[26] Thus, a main benefit of the CHOICE Act is that it would help to improve economic outcomes by forcing the Fed to conduct monetary policy in a more transparent manner. The FORM Act has been mischaracterized as forcing the Fed to conduct policy using the Taylor Rule,[27] but the bill simply does not do so. Instead, the FORM Act forces the Fed to rationalize whatever model it chooses to make its policy decisions against the Taylor Rule. Such a change would represent a major improvement in transparency compared to the ad hoc policymaking that the Fed now conducts purely at its own discretion.[28]
The CHOICE Act also improves the overall representation of the Federal Reserve District Banks on the Federal Open Market Committee. First, the bill would amend the Federal Reserve Act so that six, rather than five, Fed District presidents would sit on the committee, thus narrowing the majority position that the Fed Board of Governors currently holds on the committee. Additionally, the bill would end the New York Fed's permanent seat on the committee and allow, instead, all district presidents to rotate on an equal footing.[29] The CHOICE Act would also subject staff members to more transparency and ethics standards similar to those that apply to Securities and Exchange Commission employees, and would require the board to disclose all staff salaries in excess of the annual rate of basic pay for GS-15 employees on the General Schedule pay scale.
Section 707 of the CHOICE Act places restrictions on the Federal Reserve's authority to conduct so-called emergency lending under Section 13(3) of the Federal Reserve Act.[30] Though it would be better to eliminate this authority altogether—emergency loans are not necessary for providing market-wide liquidity—the bill aims to make it more difficult for the Fed to conduct bailout-style loans to insolvent firms. The restrictions in the CHOICE Act include the following: (1) requiring at least nine Fed District Bank presidents to authorize emergency loans (currently, only the affirmative vote of five members of the Board of Governors is required); (2) barring debt recipients from using equity as collateral; (3) requiring the Fed Board of Governors to promulgate a rule describing acceptable collateral; (4) making emergency loans contingent on the board and all federal banking regulators overseeing a borrower to first certify that the borrower is solvent; and (5) requiring the board to charge borrowers a minimum interest rate that cannot be below a market rate.
The CHOICE Act makes two additional key transparency improvements to the way the Federal Reserve operates. Section 709 removes remaining restrictions that prevent the Government Accountability Office from fully auditing the Fed's operations. In particular, the bill removes restrictions on auditing the Fed's monetary policy decisions as well as its dealings with foreign central banks and governments.[31] Also, Section 711 requires the Federal Open Market Committee to record all of its meetings and to release full transcripts to the public. There is no legitimate economic reason for any government agency, including the Federal Reserve, to object to either of these types of reforms.
Another provision of the bill, Section 665 (in Title VI), would greatly improve congressional oversight of the Fed by placing its prudential regulatory and financial supervision activities under the regular congressional budget process. Finally, the CHOICE Act would allow a major study of the nation's monetary policy. Section 710 (Title VII) establishes a formal monetary commission by incorporating text similar to the Centennial Monetary Commission Act of 2013 (H.R. 1176). The idea is to "establish a commission to examine the United States monetary policy, evaluate alternative monetary regimes, and recommend a course for monetary policy going forward." This type of commission would provide the appropriate venue for both critics and supporters to discuss the Fed's operations and its proper role.[32]
Suggested Federal Reserve Reform Improvements. Title VII of the Financial CHOICE Act implements several major reforms to Congress's oversight of the Federal Reserve and the manner in which the central bank conducts monetary policy and emergency lending. Additionally, Title VI, Section 665, of the CHOICE Act subjects the Fed's regulatory activities to congressional appropriations. The following recommendations would help reform and modernize the Federal Reserve's operations even more:
End the Fed's role as a regulator. Removing regulatory functions from the Federal Reserve is long past due.[33] Prior to the 2008 crisis, a special task force under the direction of former Treasury Secretary Henry Paulson recommended that most of the Fed's regulatory authority be dramatically reduced or transferred to other agencies.[34] Stripping the Fed of regulatory authority would have been entirely consistent with the international trend during the last few decades of the 20th century, whereby roughly a dozen developed countries took regulatory authority away from their central banks.[35] Ironically, in an earlier draft of what became the Dodd–Frank Act, Senator Chris Dodd (D–CT) included legislative text that would have transferred the Federal Reserve's regulatory authority to a single financial regulator called the Financial Institutions Regulatory Administration (FIRA).[36]

Policymakers should not leave the Fed—with its history of regulatory capture and credit allocation to failing firms (and their creditors)—in charge of regulating financial markets and providing emergency lending, while simultaneously being responsible for conducting the nation's monetary policy. Beyond the basic temptation to provide so-called emergency funds to failing firms it regulates, the Fed also faces the incentive to use monetary policy actions to counter any regulatory failings. This combination further reduces the ability of markets to discipline poorly managed firms, injects even more politics into central banking, and jeopardizes the long-term price stability goal of monetary policy. A central bank simply does not need to function as a regulator in order to conduct monetary policy.[37]

Fully repeal the Fed's authority to make emergency loans. Throughout its history, the Fed's emergency lending and discount-window loan policies have jeopardized its operational independence and put taxpayers at risk. Congress should restrict the Fed to providing system-wide liquidity on an ongoing basis. A central bank does not need emergency lending authority to conduct monetary policy.[38]
Replace the Fed's primary dealer system with a market-wide liquidity system. The Fed conducts open-market operations—buying and selling Treasury securities to implement monetary policy—with a limited number of financial firms known as primary dealers. The current primary dealer framework was created in the 1960s when a centralized open-market system in New York offered clearer advantages. Markets have changed dramatically since the 1960s, and allowing all banks to participate in open-market operations would provide a more liquid interbank lending market. The Fed successfully used the Term Auction Facility to inject liquidity into the market during the 2008 crisis, and this program could be modified to replace the current primary dealer system.[39]
Title IX: Repeal of the Volcker Rule and Other Provisions
The main provision in Title IX of the Financial CHOICE Act repeals Section 619 of Dodd–Frank, otherwise known as the Volcker Rule. The Volcker Rule was supposed to protect taxpayers by prohibiting banks from engaging in what is known as proprietary trading—that is, making risky investments solely for their own profit. Although it sounds logical to stop banks from making "risky bets" with federally insured deposits, this idea ignores the basic fact that banks make risky investments with federally insured deposits every time they make a loan. There is really no reason to think that the Volcker Rule would have prevented—or even softened—the 2008 crisis or any previous financial crisis. The practical difficulties associated with implementing the rule caused regulators to spend years working on what ended up being an enormously complex and largely pointless rule.[40]
Title IX also repeals several other sections from Title VI of Dodd–Frank, addressing items such as studies on credit cards and on banks' investment activities, and also an amendment to the Securities Act of 1933 regarding conflicts of interest for certain securitizations.[41] There are likely other sections from Title VI of Dodd–Frank worth repealing, but it is hard to improve on Title IX of the CHOICE Act given that it repeals the Volcker Rule. Furthermore, several provisions in Title VI of Dodd–Frank would be obviated for firms that hold higher capital.[42]
Conclusion
House Financial Services Committee Chairman Hensarling's discussion draft of the Financial CHOICE Act includes many ideas that would reduce the risk of future financial crises and bailouts. Implementing these ideas would allow Americans to prosper by reducing overbearing government regulations. The centerpiece of the CHOICE Act, a regulatory off-ramp, is a feature that should be included in any major financial regulatory reform bill. This off-ramp provides regulatory relief to banks that choose to hold higher equity capital, thus improving their ability to absorb losses while reducing the likelihood of taxpayer bailouts.
There is little reason to heavily regulate banks that can absorb their own financial risks, and reducing the likelihood of taxpayer bailouts gives investors and customers the necessary incentives to monitor—and to discipline—firms' behavior. Thus, the CHOICE Act replaces government regulation with market regulation for firms that absorb their own risks. The CHOICE Act also restructures (or repeals) several harmful sections of the 2010 Dodd–Frank Act that make future financial crises and bailouts more likely, and makes several major improvements to the Federal Reserve. There is no doubt that adopting the ideas in the CHOICE Act would be an overwhelmingly positive step for U.S. financial markets and the broader U.S. economy.
—Norbert J. Michel, PhD, is a Research Fellow in Financial Regulations in the Thomas A. Roe Institute for Economic Policy Studies, of the Institute for Economic Freedom and Opportunity, at The Heritage Foundation.