The Active Component of the U.S. military is two-thirds the size it should be, operates equipment that is older than it should be, and is burdened by readiness levels that are more problematic than they should be. Some progress has been made, but it has been made at the expense of both capacity and modernization. Accordingly, this Index assesses: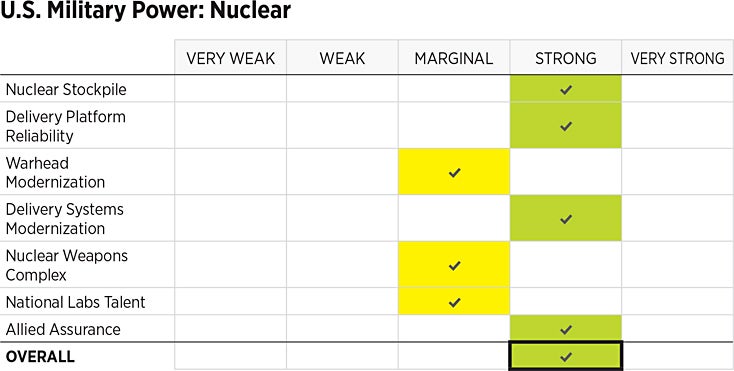 In the aggregate, the United States' military posture is rated "weak." The 2023 Index concludes that the current U.S. military force is at significant risk of not being able to meet the demands of a single major regional conflict while also attending to various presence and engagement activities. It most likely would not be able to do more and is certainly ill-equipped to handle two nearly simultaneous MRCs—a situation that is made more difficult by the generally weak condition of key military allies. The downgrading of the Air Force from "weak" to "very weak," downgrading of the Navy from "marginal" to "weak," and a Space Force score of "weak" have led to the first downgrade of the overall score since the inception of the Index.
In general, the military services have continued to prioritize readiness and have seen improvement over the past few years, but modernization programs continue to suffer as the failure of resources to keep pace with inflation leads to cancelations, truncation, or delay. The services have normalized the reduction in size and number of military units, and the forces remain well below the level they need to meet the two-MRC benchmark.
Mounting U.S. federal debt and creeping inflation will pressure defense accounts further at a time when competitor countries like China and Russia are redoubling their efforts to expand and improve their military forces. If it continues on this trajectory, the U.S. risks falling very short in its ability to secure its core national interests.