To assess U.S. nuclear weapons, one must understand the essential role they play in U.S. national security, the increasing nuclear threat posed by adversaries, and the current state of U.S. nuclear forces and their supporting infrastructure.
The Important Role of U.S. Nuclear Weapons
Understanding the importance of nuclear weapons allows for a better grasp of a framework within which to view the status of U.S. nuclear capabilities. U.S nuclear weapons have played a critical role in preventing conflict among major powers since the end of World War II. Given their ability to deter large-scale attacks that threaten the U.S. homeland, allies, and forward-deployed troops and to assure allies and partners, nuclear deterrence has remained the number one U.S. national security mission.1 Operationally, all U.S. military operations rely on the backstop of U.S. nuclear deterrence.2 It is therefore critical that the United States maintain a modern and flexible nuclear arsenal that can deter a diverse range of threats from a diverse set of potential adversaries.
The more specific roles of U.S. nuclear weapons outlined by U.S. policy have been adjusted over time. The most up-to-date policy documents that describe these roles are the 2018 Nuclear Posture Review (NPR) and the 2020 Nuclear Employment Strategy, which reflected the deterioration of the threat environment since 2010. The NPR specifies that:
Given the diverse threats and profound uncertainties of the current and future threat environment, U.S. nuclear forces play the following critical roles in U.S. national security strategy. They contribute to the:
Deterrence of nuclear and non-nuclear attack;
Assurance of allies and partners;
Achievement of U.S. objectives if deterrence fails; and
Capacity to hedge against an uncertain future.

3
These roles were outlined in more detailed language in the Obama Administration's 2010 NPR and 2013 Nuclear Employment Strategy. The 2010 NPR, for example, lists the "five key objectives of our nuclear policies and posture" as:
Preventing nuclear proliferation and nuclear terrorism;
Reducing the role of U.S. nuclear weapons in U.S. national security strategy;
Maintaining strategic deterrence and stability at reduced nuclear force levels;
Strengthening regional deterrence and reassuring U.S. allies and partners; and
Sustaining a safe, secure, and effective nuclear arsenal.

4
The Biden Administration has not yet released its 2022 NPR to the public, but a fact sheet notes the continued commitment to deterring both nuclear and non-nuclear attacks and says that "[t]he United States would only consider the use of nuclear weapons in extreme circumstances to defend the vital interests of the United States or its allies and partners."5 These roles or their prioritization may be adjusted over time—for instance, the Biden Administration's fact sheet seems to deemphasize (although not eliminate) the role of nuclear weapons in deterring non-nuclear attacks—but generally are likely to endure.
To achieve these objectives, the U.S. nuclear portfolio must balance the appropriate levels of capacity, capability, variety, flexibility, and readiness. What matters most in deterrence is not what the United States thinks will be effective, but the psychological perceptions—among both adversaries and allies—of America's willingness to use nuclear forces to defend its interests. If an adversary believes it can fight a limited nuclear war, for instance, U.S. leaders must convince that adversary otherwise. In addition, military roles and requirements for nuclear weapons will differ from adversary to adversary based on each country's values, strategy, and goals.
The United States also extends its nuclear umbrella to more than 30 allies and partners that rely on the United States to defend them from large-scale conventional attacks and existential threats from regional adversaries. This additional responsibility imposes requirements for U.S. nuclear force posture beyond defense of the U.S. homeland. U.S. nuclear forces underpin the broad nonproliferation regime by assuring allies—including NATO, Japan, South Korea, and Australia—that they can forgo their own development of nuclear capabilities. Erosion of the credibility of American nuclear forces could lead a country like Japan or South Korea to pursue an independent nuclear option, in which case the result could be a profoundly negative impact on stability across the region.
In addition to deterrence and assurance, the United States historically has committed to achieving its political and military objectives if nuclear deterrence fails. This goal also contributes to deterrence both by convincing an adversary that it could not start and win a nuclear war and by minimizing U.S. subjection to nuclear coercion by peer nuclear adversaries. U.S. forces must therefore be survivable and postured to engage their targets successfully if such a deterrence failure makes it necessary to use nuclear weapons.
Finally, U.S. nuclear capabilities must have the capacity to hedge against an uncertain future. It takes years or decades to develop the capabilities of nuclear weapons and their supporting infrastructure—an infrastructure that the United States neglected for decades until quite recently. Decisions regarding nuclear forces that are made today will affect the United States for decades into the future. Since it cannot accurately predict the extent of the future threat, the U.S. must maintain a nuclear enterprise that can respond to changes in the global security environment.
An Increasingly Threatening Global Environment
Any assessment of nuclear capabilities requires an understanding of the threat environment, as any U.S. strategy or force posture must account for the threat it is meant to deter or defeat. The threat the United States faces today is unprecedented. For the first time in its history, the United States must face two nuclear peer competitors at once—Russia and China.6 This differs drastically from the paradigm based on the bilateral deterrence relationship involving the United States and the Soviet Union during the Cold War, because a multipolar nuclear threat environment presents new and complex challenges. As a result, the assessment in this Index must be weighed against this emerging nuclear threat.
Russia is engaged in an aggressive nuclear expansion, having added several new nuclear systems to its arsenal since 2010. The United States is only beginning to modernize its existing nuclear systems, but Russia's modernization effort is about 89 percent complete.7 Russia also is developing such "novel technologies" as a nuclear-powered cruise missile and nuclear-capable unmanned underwater vehicle and is arming delivery platforms with nuclear-tipped hypersonic glide vehicles.8
In addition, Russia maintains a stockpile of at least 2,000 non-strategic nuclear weapons, unconstrained by any arms control agreement.9 Defense Intelligence Agency Director Lieutenant General Robert Ashley has said that Russia is expected to increase this category of nuclear weapons—a category in which it "potentially outnumber[s]" the United States by 10 to 1.10 This disparity is of special concern because Russia's recent nuclear doctrine indicates a lower threshold for use of these tactical nuclear weapons. According to the 2018 Nuclear Posture Review, Moscow "mistakenly assesses that the threat of nuclear escalation or actual first use of nuclear weapons would serve to 'de-escalate' a conflict on terms favorable to Russia."11 Russia has also been engaging in nuclear saber-rattling over its war on Ukraine, issuing both subtle and blatant nuclear threats in an attempt to coerce the West into staying out of the conflict.12
China is engaged in what Admiral Charles A. Richard, Commander of U.S. Strategic Command (STRATCOM), has described as a "breathtaking" expansion of its nuclear capabilities as part of a strategic breakout that will require immediate and significant Department of Defense (DOD) capability shifts.13 The Pentagon's 2021 report on Military and Security Developments Involving the People's Republic of China confirmed that China would have at least 1,000 nuclear warheads—roughly five times the size of its current stockpile—by the end of the decade.14 In addition, China "appears to be building more than 100 new missile silos in the desert" that would likely carry the DF-41, China's most modern ICBM, which can carry multiple warheads.15
With respect to its nuclear capabilities, China has completed its nuclear triad with the addition of a strategic nuclear-capable bomber, is deploying hundreds of theater-range ballistic missiles in the Indo-Pacific that can strike U.S. bases and allied territory with precision, and is testing and deploying nuclear-capable hypersonic weapons including one that orbited the globe on a fractional orbital bombardment system (FOBS) before being released to glide to its target.16 Evidence also suggests that China is shifting a portion of its nuclear forces to Launch-on-Warning (LOW) posture as it improves its early warning systems.17
Combined with a refusal to discuss its forces or intent with the United States, this shift in posture increases the likelihood of mistakes and miscalculations.18 Unlike the United States and Russia, which share a long history of communicating through arms control discussions and treaties to reduce these risks, China has not participated in these risk reduction measures. The sheer magnitude of its nuclear expansion and qualitative upgrades has led senior leaders to conclude that China has become a nuclear peer to the United States and Russia and eventually could even surpass U.S. nuclear capabilities.19 China no longer has a minimum deterrence capability; instead, it "possesses the capability to employ any coercive nuclear strategy today."20
In addition to two nuclear peers, the United States must account for the nuclear threats posed by its rogue state adversaries. North Korea is advancing its nuclear weapons and missile capabilities. It continues to produce fissile material to build new nuclear weapons; has developed a new "monster" ICBM that supposedly is able to carry multiple warheads; and as of the time this book was being prepared, had conducted 31 tests of its ground-based and sea-based ballistic missiles in 2022, including its first ICBM test since 2017.21 According to the U.S. Special Representative for North Korea, Pyongyang could conduct an underground nuclear test at "any time."22
Iran, in addition to being the world's principal state sponsor of terrorism, continues to enrich uranium at dangerous levels and has recently acquired enough fissile material to produce a nuclear bomb according to the International Atomic Energy Agency.23 A nuclear Iran would have significant implications both for stability in the region and for U.S. non-proliferation goals.
Finally, given the role of U.S. nuclear weapons in deterring attacks using conventional weapons, it is important to consider non-nuclear threats posed by adversaries. Both Russia and China are deploying advanced conventional capabilities like conventionally armed hypersonic missiles and even conventionally armed cruise missiles capable of striking the U.S. homeland just below the nuclear threshold.24 China, Russia, and Iran have been accused of violating both the Biological Weapons Convention (BWC) and the Chemical Weapons Convention (CWC).25 North Korea also is in violation of the BWC and is thought to possess chemical weapons. (It is not, however, a signatory to the CWC.) Especially since the United States does not possess chemical or biological weapons of its own, nuclear weapons will continue to play a role in deterring these threats.
Current U.S. Nuclear Capabilities and Maintenance Challenges
To assess U.S. nuclear weapons capabilities, it is important to understand the current state of those capabilities and the challenges associated with maintaining them. The United States maintains a force posture based on the guidelines set forth by the New Strategic Arms Reduction Treaty (New START) signed with Russia in 2010.
To abide by New START limits, the United States maintains 14 Ohio-class ballistic missile submarines (SSBNs), 12 of which are operational and each of which is armed with 20 Trident II D5 submarine-launched ballistic missiles (SLBMs); 400 single-warhead Minuteman III intercontinental ballistic missiles (ICBMs) deployed among 450 silos; and about 60 nuclear-capable B-52 and B-2 bombers that can be armed with gravity bombs or air-launched cruise missiles.26 As of September 2021, the United States was deploying 1,389 warheads under New START counting rules.27 Additionally, the United States maintains about 200 B61 tactical gravity bombs. About 100 of these bombs "are deployed in Europe, of which about 60 are earmarked for use by NATO aircraft. The remaining 100 bombs are in central storage in the United States as backup and contingency missions in the Indo-Pacific region."28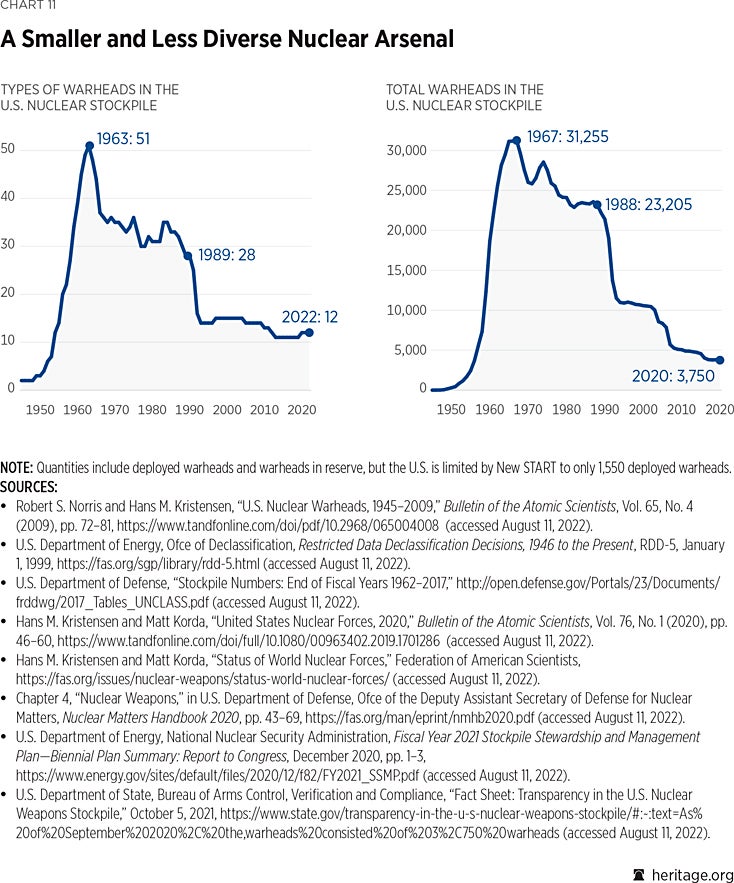 The United States is working to modernize these nuclear forces, which continue to age beyond their original intended lifetimes. U.S. nuclear delivery systems, warheads, and nuclear supporting infrastructure were all developed during the Cold War and have no margin for further life extension. As stated by Admiral Richards:
We are at a point where end-of-life limitations and the cumulative effects of underinvestment in our nuclear deterrent and supporting infrastructure leave us with no operational margin. The Nation simply cannot attempt to indefinitely life-extend leftover Cold War weapon systems and successfully support our National strategy. Pacing the threat requires dedicated and sustained funding for the entire nuclear enterprise and NC3 Next Generation modernization must be a priority.

29
Faced with this set of circumstances, the United States must contend with three overarching challenges:
The need to recapitalize all components of its nuclear forces,
The need to refurbish an aging and crumbling nuclear weapons infrastructure, and
The need to recruit and train talented personnel that has been created by an aging workforce.
This nuclear modernization program dates back to around 2010 and is based on the size of the current arsenal, which is meant to deter only one nuclear peer: Russia. The extraordinary technical and geopolitical developments being realized today—China's nuclear breakout and Russia's nuclear expansion—were generally not anticipated as the Obama Administration went about finalizing our nuclear force structure for the coming decades.30 This assumption of a more benign threat environment influenced decisions about the nuclear force structure that the United States is pursuing today.
The United States for the most part is replacing its nuclear forces on a one-to-one basis rather than adding new or additional capabilities. The Columbia-class nuclear submarine, for example, will have eight fewer missile tubes than its predecessor, the Ohio-class, and therefore less firing capacity.31 The only significant change in the U.S. nuclear arsenal was the deployment of W76-2 low-yield warheads for the SLBMs in 2020, and it did not increase capacity. The 2018 NPR also recommended a nuclear-armed, sea-launched cruise missile to develop in the longer term, but this proposal has not gained necessary support from the current Administration.
To provide assurance against changes in a geopolitical situation like those that are occurring today, as well as assurance against failures in the U.S. stockpile, the United States preserves an upload capability that allows it to increase the number of nuclear warheads on each type of its delivery vehicles. The U.S. Minuteman III ICBM, for example, is currently deployed with only one Mk12A/W78 warhead, but it can carry as many as three; the Trident II SLBM can carry several warheads at once; and the B-52 bomber can carry additional cruise missiles.32
The reduced number of missile tubes on the future Columbia-class SSBN will in turn reduce the strategic submarine force's upload capacity. However, this hedge capacity is limited, as uploading warheads onto the Minuteman III missiles would prove to be both time-consuming and costly, and the United States could not exploit the bomber upload capacity during peacetime because bombers currently remain off alert. Uncertainty as to whether the United States will have enough modern warheads or air-launched cruise missiles will remain another potential impediment to upload capacity.
The United States also maintains an inactive stockpile that includes near-term hedge warheads that "can serve as active ready warheads within prescribed activation timelines" and reserve warheads that can provide "a long-term response to risk mitigation for technical failures in the stockpile."33
The United States has not designed or built a nuclear warhead since the end of the Cold War. Instead, the National Nuclear Security Administration (NNSA) uses life-extension programs (LEPs) to extend the service lives of existing weapons in the stockpile, some of which date back to the 1960s. While LEPs replace or upgrade most components in a nuclear warhead, all warheads will eventually need to be replaced because their nuclear components—specifically, plutonium pits that comprise the cores of warheads—are also subject to aging.34 The United States is the only nuclear state that lacks the capability to produce plutonium pits in quantity. The NNSA's fiscal year (FY) 2023 budget request notes that "[t]he Plutonium Modernization program provides funding for efforts across the nuclear security enterprise to restore the Nation's capability to produce 80 pits per year (ppy)" and that "NNSA remains committed to achieving the statutory pit production capability goals on the path to 80 ppy."35
Demographic challenges within the nuclear weapons labs also affect the ability of the U.S. to modernize its warhead stockpile. Most scientists and engineers with practical hands-on experience in nuclear weapons design and testing are retired. This means that the certification of weapons that were designed and tested as far back as the 1960s depends on the scientific judgment of designers and engineers who have never been involved in either the testing or the design and development of nuclear weapons. In recent years, NNSA has invested in enabling its workforce to exercise critical nuclear weapons design and development skills that have not been fully exercised since the end of the Cold War. These skills must be available when needed to support modern warhead development programs for U.S. SLBMs and ICBMs.
The shift in emphasis away from the nuclear mission after the end of the Cold War led to a diminished ability to conduct key activities at the nuclear laboratories. According to NNSA Administrator Jill Hruby, "the nuclear stockpile is safe, secure, reliable, and effective," but "NNSA is aware that legacy infrastructure is well beyond its intended life designs and incapable of providing all the capabilities needed to deliver on the modernization efforts, especially with the demanding production schedules."36 As a result of this neglect, NNSA must recapitalize the nuclear weapons complex at the same time the nation faces the need to modernize its aging nuclear warheads.
In recent years, bipartisan congressional support for the nuclear mission has been strong, and nuclear modernization has received additional funding. Preservation of that bipartisan consensus will be critical as these programs mature and begin to introduce modern nuclear systems to the force.
In FY 2022, the Biden Administration, supported by Congress, advanced the comprehensive modernization program for nuclear forces that was initiated by President Barack Obama and continued by the Trump Administration. Despite some opposition, Congress funded the two previous Presidents' budget requests for these programs as well. Because such modernization activities require consistent, stable, long-term funding commitments, this continued bipartisan support has been critical.
The NNSA received $20.7 billion in FY 2022, which was about $1 billion more than it received in FY 2021 and included full funding for major efforts like modernization of plutonium pit production and five warhead modernization programs.37 The FY 2023 budget would continue these efforts with an NNSA topline of $21.4 billion.38 The FY 2023 budget also supports modernization programs to replace the triad, including the Ground Based Strategic Deterrent (GBSD), recently named "Sentinel"; Long Range Stand Off Weapon (LRSO); Columbia-class nuclear submarine; and B-21 Raider bomber.
In FY 2022, Congress also provided funding to begin research and development on a nuclear-armed, sea-launched cruise missile (SLCM-N), which was proposed in the 2018 NPR in light of the worsened security environment with Russia and China.39 However, the Biden Administration removed funding for this capability in its FY 2023 budget request. President Biden's Interim National Security Strategic Guidance describes a goal of "reduc[ing] the role of nuclear weapons in our national security strategy," and it is likely that this goal influenced the decision to cancel the SLCM-N.40
Assessing U.S. Nuclear Force Capacity
To assess the military services, other sections in this Index use a combination of government strategies or assessments and historical data based on capacity and capabilities that the United States has needed to fight wars in the past. For example, using data from four previous wars and strategies over time, this Index assesses Army Brigade Combat Team (BCT) capacity based on a total of 50 BCTs required to deal with two major regional conflicts.41
Assessing the capacity of U.S. nuclear weapons, however, presents several serious difficulties. Because a nuclear war has never been fought, there are no historical data that can be used to determine a baseline for how much nuclear capability the United States needs. The only instance of nuclear weapons employment was the U.S. bombing of Hiroshima and Nagasaki in 1945, but that does not provide any information on how much nuclear capability is needed because the United States was the only nuclear-weapon state and did not yet maintain a functioning nuclear arsenal.
Moreover, since deterrence depends on what an adversary perceives to be a credible threat, it is very difficult to determine how many warheads, and on how many and what types of platforms, the United States needs to deter an adversary. Deterrence requires an understanding of what an adversary values and what it will take to convince the adversary not to take a certain action. One way to measure needed nuclear capacity could be to analyze the size of the nuclear force that the U.S. needed to deter the Soviet Union during the Cold War, but using past data on the size of U.S. and Soviet nuclear arsenals would not apply to today's nuclear environment, because three-peer deterrence dynamics inherently differ from a two-party dynamic of "mutually assured destruction."
Nevertheless, it is possible to draw some conclusions about the adequacy of the size and structure of the current U.S. nuclear force posture. A force that is sized to deter only one nuclear peer is not likely to be sufficient to deter two nuclear peers—both Russia and China. Consensus during the early years of the Obama Administration centered around the assessment that Russia was the primary nuclear threat; that China would likely grow its nuclear arsenal, but not beyond its minimum deterrence posture; and that nuclear proliferation in Iran or an India–Pakistan nuclear conflict would dominate future nuclear threats.42 Then-STRATCOM Commander General Kevin Chilton testified in 2010 that "I think the arsenal that we have is exactly what is needed today to provide the deterrent."43 A nuclear force that was capable of countering the threats we faced in 2010 is most likely not capable of countering the threats we face today.
There is a direct relationship between adversary capabilities and what the U.S. needs for deterrence. Fundamental to the concept of deterrence is the ability to hold at risk the assets that our adversaries value most, including their nuclear forces and accompanying infrastructure. For deterrence to be credible, the United States maintains the amount and types of nuclear weapons that it needs to convince adversaries that can strike these targets if necessary. Given the increase in targets resulting from China's nuclear expansion, this logic points to a likelihood that current U.S. nuclear weapon capacity is insufficient.
This capacity deficiency is particularly acute in the category of tactical nuclear weapons: non-strategic nuclear weapons that can be deployed directly to a region of conflict as opposed to ICBMs launched from the homeland or SSBNs that remain far out at sea. U.S. tactical nuclear weapons can be compared to Russia's arsenal of non-strategic nuclear weapons that are not limited by New START and China's arsenal of hundreds of nuclear-capable medium-range to intermediate-range missiles deployed in the Indo-Pacific. Compared to Russia's arsenal of more than 2,000 non-strategic weapons, the United States deploys about 100 tactical weapons in NATO states. Compared to China, the United States deploys no nuclear weapons to the Indo-Pacific.
The 2018 NPR studied these disparities and assessed that the United States needed two supplemental capabilities—the W76-2 and the SLCM-N—to rectify this imbalance. The United States fielded the W76-2, but the future of the SLCM-N remains uncertain. Meanwhile, this disparity has worsened since the 2018 review. In April 2022, Admiral Richard wrote in a letter to Congress that "the current situation in Ukraine and China's nuclear trajectory convinces me a deterrence and assurance gap exists."44 The SLCM-N is therefore necessary. Other senior military leaders who agree include:
Admiral Charles A. Richard, Commander, U.S. Strategic Command;
General Mark A. Milley, Chairman, Joint Chiefs of Staff;
Admiral Christopher W. Grady, Vice Chairman, Joint Chiefs of Staff;
General Tod D. Wolters, Commander, U.S. European Command; and
Admiral Michael M. Gilday, Chief of Naval Operations.

45
These assessments that more is needed to address the tactical nuclear threat, combined with the sheer numerical difference between the United States and its adversaries, point to a poor score for the capacity of tactical nuclear weapons. However, while this Index can conclude that U.S. nuclear weapon capacity is likely inadequate, it stops short of assigning this category a score ranging from "very strong" to "very weak" as the rest of the categories in this chapter are rated.
The question that remains unanswered is how much more the United States needs to account for the drastic change in the Chinese nuclear threat, Russia's continuing expansion, and the potential rise of Iran as a nuclear power in a globally critical region. In addition to the inherent constraints on determining a baseline for nuclear weapons capacity, it would be hard to determine what an ideal force posture would look like in a three-party nuclear dynamic. For example, would the United States need to double its arsenal to deter two peers? Or would only limited additions to the stockpile or changes in U.S. posture or alert status suffice? Perhaps these questions can be answered in the future, but since China's strategic breakout was revealed to the public in 2021, there has been little time for the broader policy and academic community to analyze the three-party nuclear peer dynamic.
Even assigning a score for tactical weapon capacity would be difficult despite the evidence pointing to a deterrence gap. Some might argue that this gap weakens U.S. forces only slightly in this category because existing capabilities like the air-launched cruise missile and W76-2 would contribute to the deterrence of adversary tactical nuclear strikes. Others might argue that a lack of any nuclear weapons stationed in the Indo-Pacific to counter China's arsenal would warrant a score of "very weak." But without an identified number for how many tactical nuclear weapons the United States needs both to deter adversaries and to assure allies, making this assessment remains difficult.
As a result, this Index concludes that U.S. nuclear weapons capacity is likely not sufficient to face two nuclear peers at once but does not assign a score in this category. This may change in future editions.
U.S. Nuclear Weapons Assessment
In rating America's military services, this Index focuses on capacity, capability, and readiness. In assessing our nuclear forces, however, this Index focuses on several components of the existing nuclear weapons enterprise. This enterprise includes warheads; delivery systems; and the physical infrastructure that designs, manufactures, and maintains U.S. nuclear weapons. It also includes and must sustain the talent of people—the nuclear designers, engineers, manufacturing personnel, planners, maintainers, and operators who help to ensure a nuclear deterrent that is second to none—and additional elements like nuclear command and control; intelligence, surveillance, and reconnaissance; and aerial refueling, all of which also play a major role in conventional operations.
While many factors make such an assessment difficult, two stand out. First, there is a lack of detailed publicly available data about the readiness of nuclear forces, their capabilities, and the reliability of their weapons. Second, many components that comprise the nuclear enterprise are also involved in supporting conventional missions. For example, U.S. strategic bombers perform a significant conventional mission and do not fly airborne alert with nuclear weapons today as they did routinely during the 1960s. Thus, it is hard to assess whether any one piece of the nuclear enterprise is sufficiently funded, focused, and/or effective with regard to the nuclear mission.
With these difficulties in mind, this assessment considers seven factors that are deemed the most important elements of the nuclear weapons enterprise:
Reliability of the current U.S. nuclear stockpile,
Reliability of current U.S. delivery systems,
Nuclear warhead modernization,
Nuclear delivery systems modernization,
Nuclear weapons complex,
Personnel challenges within the national nuclear laboratories, and
Allied assurance.
These factors are judged on a five-grade scale that ranges from "very strong" (defined as meeting U.S. national security requirements or having a sustainable, viable, and funded plan in place to do so) to "very weak" (defined as not meeting current security requirements and with no program in place to redress the shortfall). The other three possible scores are "strong," "marginal," and "weak."
Reliability of Current U.S. Nuclear Stockpile Score: Strong
U.S. warheads must be safe, secure, effective, and reliable. The Department of Defense defines reliability as "the probability that a weapon will perform in accordance with its design intent or military requirements."46 Since the cessation of nuclear testing in 1992, reliability has been assessed and maintained through the NNSA's Stockpile Stewardship Program (SSP), which consists of an intensive warhead surveillance program; non-nuclear experiments (experiments that do not produce a nuclear yield); sophisticated calculations using high-performance computing; and related annual assessments and evaluations. America and its allies must have high confidence that U.S. nuclear warheads will perform as expected.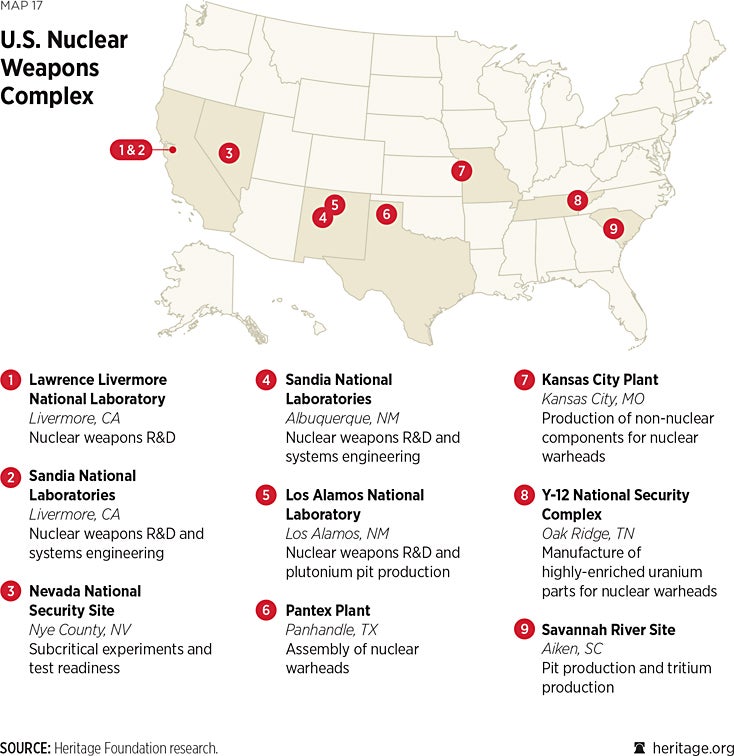 Over time, the number and diversity of nuclear weapons in the stockpile have decreased. The result is a smaller margin of error if all of one type are affected by a technical problem that might cause a weapon type or its delivery system to be decommissioned. Despite generating impressive amounts of knowledge about nuclear weapons physics and materials chemistry, the United States could find itself surprised by unanticipated long-term effects on a nuclear weapon's aging components. "The scientific foundation of assessments of the nuclear performance of US weapons is eroding as a result of the moratorium on nuclear testing," argue John Hopkins, nuclear physicist and a former leader of the Los Alamos National Laboratory's nuclear weapons program, and David Sharp, former Laboratory Fellow and a guest scientist at the Los Alamos National Laboratory.47
The United States currently has the world's safest and most secure stockpile, but concerns about overseas storage sites, potential problems introduced by improper handling, or unanticipated effects of aging could compromise the integrity or reliability of U.S. warheads. The nuclear warheads themselves contain security measures that are designed to make it difficult, if not impossible, to detonate a weapon without proper authorization. Some U.S. warheads have modern safety features that provide additional protection against accidental detonation; others do not.
Grade: Absent nuclear weapons testing, the national laboratories' assessment of weapons reliability, based on the full range of surveillance, scientific, and technical activities carried out in NNSA's Stockpile Stewardship Program, depends on the expert judgment of the laboratories' directors and the weapons scientists and engineers on their staffs. This judgment is based on experience, non-nuclear experimentation, and extensive modeling and simulation. It does not benefit from the objective data that could be obtained through direct nuclear testing, which was used in the past to diagnose and fix potential problems with nuclear warheads.
With or without nuclear testing, however, the United States maintains the world's most advanced Stockpile Stewardship Program and continues to make scientific and technical advances to help certify the stockpile. For example, NNSA is working on upgrades to the Enhanced Capabilities for Subcritical Experiments facility in Nevada (such as adding the capability to produce high-speed, high-fidelity X-ray images of subcritical experiments and to watch nuclear implosion) to improve our understanding of plutonium.48 In addition, "[t]he Exascale Computing Initiative (ECI) will provide NNSA with next-generation simulation capabilities to support weapons design, science-based stockpile stewardship, and stockpile certification activities" and is on track "to meet its exascale system initial operation capability in FY 2023."49
Such advanced capabilities can help the NNSA to certify the stockpile more accurately and without testing, but according to Admiral Richard, confidence in the stockpile requires two other components in addition to the Stockpile Stewardship Program:
[Y]ou have to have a flexible and modern stockpile, which means we need to move past life extensions, which we have been doing for 30 years, and move into refurbishments, which is where NNSA is about to go. And …[y]ou have to have a modern, responsive, and resilient infrastructure, and we have delayed too long, in my opinion, giving NNSA the resources necessary to do that piece.

50
To assess the reliability of the nuclear stockpile annually, each of the three nuclear weapons labs (the Los Alamos National Laboratory, Lawrence Livermore National Laboratory, and Sandia National Laboratory) reports its findings with respect to the safety, security, and reliability of the nation's nuclear warheads to the Secretaries of Energy and Defense, who then brief the President. Detailed classified reports are provided to Congress as well. The Commander of U.S. Strategic Command also assesses overall nuclear weapons system reliability, including the reliability of both warhead and delivery platforms.
In spite of concerns about aging warheads, according to the NNSA's Stockpile Stewardship and Management Plan (SSMP) for FY 2022:
DOE/NNSA conducted surveillance activities for all weapon systems using data collection from flight tests, laboratory tests, and component evaluations to assess stockpile reliability without explosive nuclear testing, which culminated in completion of all annual assessment reports and generation of laboratory director letters to the President.

51
Additionally, when asked in a congressional hearing whether she "agree[s] that there is not a current or foreseeable need for the United States to resume explosive nuclear testing that produces nuclear yields," Administrator Hruby testified, "Yes…I do. And I would just go further to say our entire Stockpile Stewardship Program is designed around the principal [sic] that we will make sure we understand weapons enough so that we do not have to test."52
Based on the results of the existing method used to certify the stockpile's effectiveness, we grade the U.S. stockpile conditionally as "strong." This grade, however, will depend on whether support for an adequate stockpile, both in Congress and in the Administration, remains strong.
Reliability of Current U.S. Delivery Systems Score: Strong but Trending Toward Marginal or Weak
Reliability encompasses not only the warhead, but strategic delivery vehicles as well. For ICBMs, SLBMs, and air-launched cruise missiles (ALCMs), this requires a successful missile launch, including the separation of missile boost stages, performance of the missile guidance system, separation of the reentry vehicles from the missile post-boost vehicle, and accuracy of the final reentry vehicle in reaching its target.53 It also entails the ability of weapons systems (cruise missiles, aircraft carrying bombs, and reentry vehicles) to penetrate adversary defensive systems and reach their targets.
The United States conducts flight tests of ICBMs and SLBMs every year to ensure the reliability of its delivery systems with high-fidelity "mock" warheads. Anything from faulty electrical wiring to booster separations could degrade the reliability and safety of the U.S. strategic deterrent. U.S. strategic long-range bombers also regularly conduct continental United States and intercontinental exercises and receive upgrades to sustain a demonstrated high level of combat readiness. The Air Force tested the AGM-86B ALCM, launched from the B-52H bomber, most recently in 2017.54 The DOD must upgrade existing platforms and develop their replacement programs simultaneously, and diminished capabilities make this task more difficult.
Grade: In July 2018, the Air Force suffered its first unsuccessful ICBM test since 2011,55 but it has conducted several successful tests since then, including a test in August 2020 that launched a missile armed with three reentry vehicles56 and its most recent test, which was conducted in August 2021.57 However, its May 2021 test was marred by a ground abort before launch, and this has provoked speculation about the reliability of the Minuteman III missile as it approaches its retirement, which is scheduled to begin in 2029.58 Additionally, the DOD canceled a Minuteman III test scheduled for March 2022 (and then rescheduled to April 2022) "in a bid to lower nuclear tensions with Russia." As a result, as of the time this book was being prepared, the Air Force had not conducted any ICBM tests in 2022.59 SLBM tests in 2021 were successful.60
To the extent that data from these tests are publicly available, they provide objective evidence of the delivery systems' reliability and send a message to U.S. allies and adversaries alike that U.S. systems work and that the U.S. nuclear deterrent is ready if needed. The aged systems, however, occasionally have reliability problems, as evidenced by the failed July 2018 and May 2020 Minuteman III launches. Moreover, canceling missile tests without rescheduling deprives the United States of an additional opportunity to confirm the system's reliability.
Although delivery systems are likely reliable enough today, the evidence indicates that this reliability could dwindle with aging. For instance, because of its obsolescence against Russian air defense systems, the B-52H bomber already no longer carries gravity bombs.61 Despite the fact that the AGM-86B passed its most recent public test in 2017, General John Hyten has stated that because of its age, "it's a miracle that [the missile] can even fly" and that the current ALCMs "do meet the mission, but it is a challenge each and every day."62 The five years that have passed since that last public test could only have exacerbated those problems. Admiral Richard has also stated that "I need a weapon that can fly and make it to the target. Minuteman-III is increasingly challenged in its ability to do that."63
The problem is made worse by advancing Russian and Chinese air and missile defenses. In addition to advanced air defense systems like the S-400, which contributed to the decision that the B-52H bomber should no longer carry gravity bombs, both Russia and China are placing a greater emphasis on long-range ballistic missile defense. Russia is modernizing its long-range interceptors—and has dozens more than the United States has—and China's missile defense capabilities, while mostly focused on regional threats, "appear to be developing towards countering long-range missiles."64 As U.S. delivery systems increasingly approach obsolescence, adversary air and missile defense increasingly calls into question the ability of U.S. weapons to strike their targets.
Both adversary defenses and system aging will continue to affect delivery platform reliability until platforms are replaced, but as this book was being prepared, no publicly released data or statements from senior leaders had indicated that U.S. delivery systems cannot currently meet mission requirements. Until that changes, this factor receives the grade of "strong." However, this grade will trend to "marginal" if not "weak" if modernization programs are not fully pursued and these aging systems are not replaced on time.
Nuclear Warhead Modernization Score: Marginal
During the Cold War, the United States focused on designing and developing modern nuclear warheads to counter Soviet advances and modernization efforts and to leverage advances in our understanding of the physics, chemistry, and design of nuclear weapons. Today, the United States focuses on extending the life of its aging stockpile rather than on fielding modern warheads while trying to retain the skills and capabilities needed to design, develop, and produce such warheads. Relying only on sustaining the aging stockpile could increase the risk of failure caused both by aging components and by not exercising critical skills. It could signal to adversaries that the United States is less committed to nuclear deterrence.
Meanwhile, adversaries and current and future proliferants are not limited to updating Cold War designs and can seek designs outside of U.S. experiences. Other nations can maintain their levels of proficiency by developing new nuclear warheads.65 As recently reported by the Department of State, "Russia has conducted nuclear weapons experiments that have created nuclear yield and are not consistent with the U.S. 'zero-yield' standard," and evidence points to China's potential lack of adherence to this standard as well.66
Fortunately, the NNSA has made noticeable improvements in this category in recent years. Since 2016, Congress has funded the Stockpile Responsiveness Program (SRP) to "exercise all capabilities required to conceptualize, study, design, develop, engineer, certify, produce, and deploy nuclear weapons."67 Congress funded the SRP at $70 million in FY 2020 and FY 2021.68 It provided only $50 million for the SRP for FY 2022, and the FY 2023 budget requests $68.7 million.69 The SRP has demonstrated some important accomplishments in ensuring critical skills retention and has been met with enthusiasm by scientists at the national labs.
Ongoing work at the national labs to develop additional warheads will build on the success of the SRP in exercising these skills on modern warhead programs. Starting in FY 2021, Congress appropriated funding for the W93/Mark 7 warhead program, which will replace the W76-1 and W88 warheads carried by the Trident II D5 SLBMs.70 The NNSA is also developing the W87-1 warhead for the Sentinel missile. Fielding modern weapons like the W93/Mark 7 would allow American engineers and scientists to improve previous designs and devise more effective ways to address evolving military requirements (for example, adaptability to emerging threats and the ability to hold hard and deeply buried targets at risk). Future warheads could remedy some ongoing aging concerns and thereby improve reliability while also enhancing the safety and security of American weapons.
The nuclear enterprise displayed improved flexibility when it produced the W76-2 warhead, a low-yield version of the W76 warhead that was designed to counter Russia's perception of an exploitable gap in the U.S. nuclear force posture, within a year. Congress fulfilled the budget request of $72 million for the W93/Mark 7 warhead program for FY 2022, and the FY 2023 budget requests $240.5 million to begin funding the program's second development phase.71
The ability to produce plutonium pits, which compose the core of all nuclear weapons, will be critical to warhead modernization efforts. The NNSA currently cannot produce plutonium pits at scale and is undergoing an effort to restore this capability with a statutory requirement to produce 80 pits per year by 2030. The W93/Mk 7, the W87-1, and likely future designs are planned to use these new pits.72 Unfortunately, the NNSA announced last year that it would not be able to meet the 2030 deadline, and the new goal has shifted to somewhere between 2032 and 2035.73
Grade: Before the score for this category can move up to "strong," the NNSA, with support from Congress, will need to achieve enough progress with the W93/Mk 7 and W87-1 and minimize delays in pit production. Delays in pit production will require modern warheads to use older pits, which risks jeopardizing both the functioning of those systems and the credibility of the U.S. deterrent. The NNSA eventually will also need to begin programs for future land-based, sea-based, and air-delivered warheads, all of which currently remain notional, to succeed the current programs beyond 2030.74
Moreover, future assessments will need to examine whether the NNSA's current warhead modernization effort is sufficient to address the increasing threat. For instance, despite Russian progress in hardening and deeply burying facilities to withstand strikes by current U.S. weapons, an earth-penetrating warhead is not part of the NNSA's warhead modernization plan.75 The Biden Administration's proposal to cancel the plan to keep the B83 gravity bomb (currently the only warhead capable of striking hard and deeply buried targets) beyond its planned retirement could create a capability gap.76
For now, the score for this category remains at "marginal" but could trend toward "strong" in future years.
Nuclear Delivery Systems Modernization Score: Strong
All U.S. delivery systems were built during the Cold War and are overdue for replacement. The Obama Administration, in consultation with Congress, initiated a plan to replace current triad delivery systems within the constraints of New START. President Trump advanced this modernization program with bipartisan support from Congress. Under this modernization program:
The Navy is fully funding the Columbia-class submarine to replace the Ohio-class submarine;
The Air Force is funding the B-21 Raider Long-Range bomber, which will replace conventionally armed bombers before they become certified to replace nuclear-capable bombers, and the Long-Range Standoff weapon, which will replace the aging air-launched cruise missile;
Existing Minuteman III ICBMs are expected to remain in service beyond the end of the decade, 50 years after their intended lifetime, and to be replaced by the Sentinel missile beginning in 2029;
Existing Trident II D5 SLBMs have been life-extended to remain in service until 2042 through the end of the last Ohio-class submarine's lifetime; and
The F-35 will replace the existing F-15E Dual Capable Aircraft that will carry the B61-12 gravity bomb.

77
All of these programs have remained on track for the past few years, but they face high risks of delay. For instance, the U.S. Government Accountability Office (GAO) found risks in the Sentinel missile schedule related to "technology maturation," the complexity involved in operating Minuteman III missiles and Sentinel missiles concurrently during the transition period, "[l]imited schedule margin for testing," and the "aggressive pace of construction activities."78 Moreover, these programs are entering a new phase of risk as they move from initial research and development to testing (the Sentinel's first flight test, for example, is planned for 2023) and then procurement.79
These scheduling risks are especially dangerous because years of deferred recapitalization have left modernization programs with no margin for delay. For instance, although the Columbia-class SSBN currently remains on schedule, the transition between the Ohio and the Columbia is so fragile that, according to Admiral Johnny Wolfe, "[d]elays to the Navy's SSBN modernization plan are not an option."80
The effects of failing to replace current systems before their planned retirement dates are significant. As systems like the Minuteman III, AGM 86-B, and Ohio-class submarines continue to age, they take on greater risks. Age degrades reliability by increasing the potential for systems to break down or fail to respond correctly. Any defects can have serious implications for U.S. deterrence and assurance. Should Sentinel fail to reach initial operating capability by 2029, the United States will be left with a less-capable—and therefore less credible—ICBM fleet, which will also begin to dip below 400 missiles as the Air Force continues to use missiles for annual testing. With respect to the Navy, the GAO has reported that the consequence of failing to deliver the first Columbia-class submarine on time would be a failure to meet STRATCOM's force-generation operational requirement, which means a weaker sea-based deterrent.81
Grade: U.S. nuclear platforms are in dire need of recapitalization. Plans for modernization of the nuclear triad are in place, and Congress and the services have largely sustained funding for these programs. Congress fully funded the FY 2022 budget requests for all modernization programs. GBSD was given the name "Sentinel" and as of April 2023 was expected to perform its "first flight test in the next 16 to 18 months."82 The Air Force also awarded Raytheon an engineering and manufacturing development contract in July 2021 for the LRSO, which also remains on schedule.83 Despite these successes, however, the fragility of these programs keeps them at risk of technical or funding delays, including continuing resolutions.
This modernization plan will also likely not suffice to deter both Russia's and China's advancing nuclear forces at the same time. Growth in adversary forces has a direct impact on the required size of U.S. nuclear forces because U.S. forces must be able to target adversary nuclear weapons as part of the U.S. counterforce strategy. As a result, the United States will need to consider procuring more of these modern systems than originally planned. For example, the Program Executive Officer for Strategic Submarines recently stated that "[it] clearly makes sense to have more than 12 [Columbia-class SSBNs] to meet the current requirements."84
The United States will also need to consider acquiring additional capabilities to ensure that deterrence is tailored to the evolving Russian threat and the new Chinese threat. The SLCM-N, if it continues to receive funding from Congress, would begin to meet this challenge by providing the President with an option to respond more proportionally to—and therefore deter—an adversary's limited employment of nuclear weapons in a theater of conflict.
For now, replacing current systems remains the top priority, and based on the commitment to nuclear weapons modernization demonstrated by Congress and the Administration this year, this category again earns a grade of "strong." However, the score in future years will drop to "marginal" or "weak" if the United States fails to adjust its modernization program to account for the drastic change in threat. A failure to restore funding for the SLCM-N will contribute to such a drop in score.
Nuclear Weapons Complex Score: Marginal
Maintaining a reliable and effective nuclear stockpile depends in large part on the facilities where U.S. devices and components are developed, tested, and produced. These facilities constitute the foundation of our strategic arsenal and include the:
Los Alamos National Laboratories (nuclear weapons research and development, or R&D, and plutonium pit production);
Lawrence Livermore National Laboratories (nuclear weapons R&D);
Sandia National Laboratory (nuclear weapons R&D and systems engineering);
Nevada National Security Site (subcritical experiments, test readiness);
Pantex Plant (assembly of nuclear warheads);
Kansas City Plant (production of non-nuclear components for nuclear warheads);
Savannah River Site (second site for pit production and tritium production); and
Y-12 National Security Complex (manufacture of highly enriched uranium parts for nuclear warheads).
These complexes design, develop, test, and produce the weapons in the U.S. nuclear arsenal, and their maintenance is therefore of critical importance. As stated by NNSA Administrator Jill Hruby, "A resilient, flexible, and scalable infrastructure is the foundation of a modern nuclear security enterprise."85 It contributes to deterrence by enabling the United States to adapt its nuclear arsenal to shifting requirements, signaling to adversaries that the United States can adjust its warhead capacity or capabilities when needed. Maintaining a safe, secure, effective, and reliable nuclear stockpile requires modern facilities, technical expertise, and tools both to repair any malfunctions quickly, safely, and securely and to produce new nuclear weapons when they are needed.
The existing nuclear weapons complex, however, is not capable of producing some of the nuclear components needed to maintain and modernize the stockpile.86 Significantly, the United States has not had a substantial plutonium pit production capability since 1993. The U.S. currently retains more than 5,000 old plutonium pits in strategic reserve in addition to pits for use in future LEPs, but uncertainties regarding the effect of aging on plutonium pits and how long the United States will be able to depend on them before replacement remain unresolved. In 2006, a JASON Group study of NNSA assessments of plutonium aging estimated that, depending on pit type, the minimum pit life was in the range of 100 years.87 A work program was recommended to address additional uncertainties in pit aging, but that did not reach fruition. In addition to the pits needed for modern warheads like the W87-1 and W93, numerous pits have been in the stockpile for decades—some for more than 50 years—and will need to be replaced.
Today, the production rate is too low to meet the need to replace aging pits. The United States has demonstrated an ability to produce about 10 plutonium pits a year at the Los Alamos PF-4 facility. If executed as planned, infrastructure modernization of PF-4, as mandated by statutory law, will boost that number to 30 by 2026. In April 2021, the NNSA reached the first critical milestone for pit production at the Los Alamos National Laboratory.88 A second plutonium pit production facility is being planned to exploit the Mixed Oxide Fuel (MOX) facility that was being constructed at the Savannah River Site in South Carolina. Savannah River has a required production of no fewer than 50 pits per year by 2030 for an overall requirement of no fewer than 80 per year, but delays at the site are driving the delay in the NNSA's ability to produce 80 pits per year by 2030.
Aside from plutonium, the NNSA must maintain production of several other key materials and components that are used to build and maintain nuclear weapons. For instance, NNSA plans to increase the supply of tritium as demand increases. Because tritium is always decaying at a half-life of 12 years, delays in tritium production only increase the need to produce a timely replacement.89 Other projects currently underway include a new lithium processing facility and the new Uranium Processing Facility at Y-12. So far, this facility is moving forward on schedule and cost.
Added to these considerations is the fact that the NNSA's facilities are old: About 60 percent of its 5,000 facilities are more than 40 years old, and more than half are in poor condition.90 As a consequence, the NNSA had accumulated about $5.8 billion in deferred maintenance as of FY 2020. According to the FY 2022 SSMP, high deferred maintenance is a sign that infrastructure is in poor condition and in need of modernization.91 Aging facilities have also become a safety hazard: In some buildings, for example, chunks of concrete have fallen from the ceiling.92 Moreover, without modern and functioning NNSA facilities, the U.S. will gradually lose the ability to conduct the high-quality experiments that are needed to ensure the reliability of the stockpile without nuclear testing.
Finally, despite the self-imposed nuclear testing moratorium that the United States has had in place since 1992, a functioning nuclear weapons complex requires a low level of nuclear test readiness. "Test readiness" refers to a single test or a very short series of tests, not a sustained nuclear testing program, reestablishment of which would require significant additional resources. The NNSA is mandated, initially under President Bill Clinton's 1993 PDD-15, to maintain a capability to conduct a nuclear test within 24 to 36 months of a presidential decision to do so.93 Whether this approach can assure that the United States has the timely ability to conduct yield-producing experiments to correct a flaw in one or more types of its nuclear weapons is open to question. The United States might need to test to assure certain weapon characteristics that only nuclear testing can validate, or to respond to another nation's nuclear weapons tests, or to communicate its unquestioned resolve.
However, the NNSA has been unable to achieve even this potentially inadequate goal. According to the FY 2018 SSMP, it would take 60 months to conduct "a test to develop a new capability."94 And per the FY 2022 SSMP, "Assuring full compliance with domestic regulations, agreements, and laws related to worker and public safety and the environment, as well as international treaties would significantly extend the time required for execution of a nuclear test."95 Because the United States is rapidly losing its remaining practical nuclear testing experience, including instrumentation of very sensitive equipment, the process would likely have to be reinvented from scratch.96 Test readiness has not been funded as a separate program since FY 2010 and is instead supported by the Stockpile Stewardship Program that exercises testing elements at the Nevada National Security Site and conducts subcritical nuclear laboratory experiments.97
Grade: Modernizing U.S. nuclear facilities is of critical importance because the NNSA's warhead modernization plans depend on the ability to produce certain components like plutonium pits. The importance of a functioning nuclear weapons complex has also increased as the threat posed by adversaries has worsened. Given the change to a three-party nuclear peer dynamic and both Russia's and China's active nuclear production capabilities, the United States must maintain the ability to adapt its nuclear posture and hedge against an uncertain future.
On one hand, the United States maintains some of the world's most advanced nuclear facilities. Significant progress has been made over the past decade in getting funded plans in place to recapitalize plutonium pit production capacity and uranium component manufacturing in particular, as well as construction projects for new facilities.
On the other hand, the NNSA faces significant challenges. Some parts of the complex have not been modernized since the 1950s, and plans for long-term infrastructure recapitalization remain essential even as the NNSA embarks on an aggressive warhead life-extension effort. The weak state of U.S. test readiness is also of great concern. In a dynamic threat environment combined with an aging nuclear arsenal, the lack of this capability becomes riskier even as the NNSA improves its stockpile stewardship capabilities. Efforts to restore critical functions of the complex like pit production also face great technical challenges as well as the need to ensure stable funding. The recent shift in deadline for plutonium pit production at the Savannah River Site from 2030 to the 2032–2035 range is one example. After years of deferred modernization, any unexpected failure or disruption at a critical facility could significantly affect schedules for nuclear warhead modernization.98
Until demonstrable progress has been made toward completion of infrastructure modernization, the grade for this category will therefore remain at "marginal."
Personnel Challenges Within the National Nuclear Laboratories Score: Marginal but Trending Toward Strong
Combined with nuclear facilities, U.S. nuclear weapons scientists and engineers are critical to the health of the complex and the stockpile. In the words of NNSA Administrator Jill Hruby:
The NNSA Federal workforce is critical to the success of the Nation's nuclear security enterprise. NNSA's expanding mission requirements and pressing modernization and recapitalization needs require recruiting, training, and retaining a skilled Federal workforce with the appropriate capabilities to meet mission requirements and deliver on our objectives.

99
The ability to maintain and attract a high-quality workforce is critical to ensuring the future of the American nuclear deterrent, especially when a strong employment atmosphere adds to the challenge of hiring the best and brightest. Today's weapons designers and engineers are first-rate, but they also are aging and retiring, and their knowledge must be passed on to the next generation of experts. This means that young designers need meaningful and challenging warhead design and development programs to hone their skills. The NNSA and its weapons labs understand this problem and, with the support of Congress, are beginning to take the necessary steps to invest in the next generation.
The judgment of experienced nuclear scientists and engineers is critical to assessing the safety, security, effectiveness, and reliability of its nuclear deterrent. Without their experience, the nuclear weapons complex could not function. Few of today's remaining scientists or engineers at the NNSA weapons labs have had the experience of taking a warhead from initial concept to "clean sheet" design, engineering development, production, and fielding. The SRP is remedying some of these shortfalls by having its workforce exercise many of the nuclear weapon design and engineering skills that are needed. To continue this progress, SRP funding should be maintained if not increased.
The average age of the NNSA's enterprise-wide workforce had decreased slightly to 46 years as of the end of FY 2020, but more than a quarter of the workforce is now eligible for retirement.100 Given the length of time required to train new hires, the long timelines of warhead production cycles, and the time it takes to transfer technical knowledge and skills, both recruiting and retaining needed talent remain challenging for the NNSA.101
Grade: In addition to employing world-class experts, the NNSA labs have had good success in attracting and retaining talent (for example, through improved college graduate recruitment efforts and NNSA Academic Programs).102 As many scientists and engineers with practical nuclear weapon design and testing experience retire, continued annual assessments and certifications of nuclear warheads will rely increasingly on the judgments of people who have never tested or designed a nuclear weapon. Moreover:
As NNSA mission scope increases, so does the demand for increased personnel to support new facilities and capabilities being brought on-line, and to support moving to 24/7 operations at many sites across the complex. These individuals are essential to minimizing unplanned outages and to supporting safe and secure operations, particularly in high hazard operations.

103
Hazardous NNSA infrastructure and facilities can also be a hindrance to recruitment and retainment, so modernizing the nuclear weapons complex will be critical to these efforts.104 Admiral Richard has emphasized the importance of investing in the workforce now: "If we lose those talent bases, you can't buy it back. It will take 5 to 10 years to either retrain and redevelop the people or rebuild the infrastructure."105
In light of these issues, the NNSA workforce earns a score of "marginal," but it will trend toward "strong" if these improvements continue.
Allied Assurance Score: Strong but at Risk of Weakening
The credibility of U.S. nuclear deterrence is one of the most important components of allied assurance. The United States extends nuclear assurances to more than 30 allies who have maintained the commitment to forgo nuclear programs of their own. If allies were to resort to building their own nuclear weapons because their confidence in U.S. extended deterrence had been degraded, the consequences for nonproliferation and stability could become dire.
In Europe, the United States can coordinate with France and the United Kingdom, which already have nuclear weapons. The United States also deploys B-61 nuclear gravity bombs in Europe as a visible manifestation of its commitment to its NATO allies and retains dual-capable aircraft that can deliver those gravity bombs. The United States provides nuclear assurances to Japan, South Korea, and Australia, all of which face increasingly aggressive nuclear-armed regional adversaries: China, Russia, and North Korea. Continued U.S. nuclear deterrence assurances are critical and must be perceived as credible. Both Japan and South Korea have the capability and basic know-how to build their own nuclear weapons quickly. A decision to do so would be a major setback for U.S. nonproliferation policies and could increase regional instability.
Grade: Not unlike deterrence, assurance is about allies' perceptions of the U.S. nuclear umbrella's credibility rather than what the United States perceives to be a credible extended deterrent. Any assessment of allied assurance will therefore be inherently subjective.
Based on public statements and the available data, U.S. allies do not appear to be doubting U.S. extended deterrence commitments to any serious degree or thinking of developing their own nuclear weapons. European members of NATO continue to express their commitment to and appreciation of NATO as a U.S.-led nuclear alliance even as they worry about the impact of Russia's growing non-strategic nuclear capabilities and nuclear saber-rattling over Ukraine.106 Additionally, both NATO allies and Asian allies like Japan and South Korea have affirmed that the strategy outlined in the 2018 NPR supports extended deterrence.107 Because the 2022 NPR has not yet been released publicly, allies have not publicly commented.
However, allied assurance faces increasing risks as the regional threats to U.S. allies grow in both Europe and the Indo-Pacific. In particular, as China continues to advance its capability to hold the U.S. homeland at risk with its strategic forces and to execute any nuclear strategy in the region, allies' assurance of the U.S. commitment to extend its nuclear umbrella in the region can become more fragile. While China has hundreds of nuclear-capable missiles in the region, the United States deploys none. Both South Korean and Japanese leaders have recently discussed with President Biden the need to ensure that extended deterrence remains strong in light of these threats.108
While official statements remain positive, unofficial sentiment could indicate concern about U.S. extended deterrence commitments. For example, former Japanese Prime Minister Shinzo Abe has called for Japan to consider hosting U.S. nuclear weapons,109 and a senior Japanese ruling party lawmaker recently called for a national debate on the U.S. nuclear umbrella.110 Additionally, significant percentages of South Koreans continue to express support for an indigenous nuclear weapons capability or nuclear-sharing agreement with the United States as they face increasing nuclear threats from both China and North Korea.111
The 2018 NPR had proposed and allies had expressed support for two supplements to existing capabilities—a low-yield SLBM warhead and a new nuclear sea-launched cruise missile—as important initiatives to strengthen allied assurance.112 The low-yield SLBM warhead, deployed in 2020, is an important component of America's ability to deter regional aggression against its Asian and NATO allies. However, the Biden Administration has proposed canceling the SLCM-N, a capability that could be deployed directly to regional theaters of conflict to help assure our allies.113 The Biden Administration had rejected a declaratory policy of "no first use" or "sole purpose," which would have made allies uneasy over U.S. extended deterrence commitments, but only after significant pressure from them.114
The score for allied assurance remains "strong," especially as the United States remains committed to modernizing its own nuclear deterrent and rejects calls to reduce its nuclear forces unilaterally, but is at risk of weakening. The increasing regional threats combined with the Biden Administration's consideration of a "no first use" policy and proposal to cancel SLCM-N could be creating concern about U.S. extended deterrence commitments. The United States will need to make concerted efforts to strengthen its commitments to extended deterrence to reflect the change in threat, both through its capabilities and by communicating resolve, if this score is to remain unchanged in future editions of this Index.
Overall U.S. Nuclear Weapons Capability Score: Strong but Trending Toward Marginal or Weak
The scoring for U.S. nuclear weapons must be considered in the context of a threat environment that is significantly more dangerous than it was in previous years. Until recently, U.S. nuclear forces needed to address one nuclear peer rather than two. Given the reassurances from senior leaders of the readiness and reliability of U.S. nuclear forces, as well as the strong bipartisan commitment to modernization of the entire nuclear enterprise, this year's chapter retains its grade of "strong," but only for now.
U.S. nuclear forces face many risks that without this continued commitment to a strong deterrent could warrant an eventual decline to an overall score of "marginal" or "weak. The reliability of current U.S. delivery systems and warheads is at risk as they continue to age and the threat continues to advance. The fragility of "just in time" replacement programs only exacerbates this risk. In fact, nearly all components of the nuclear enterprise are at a tipping point with respect to replacement or modernization and have no margin left for delays in schedule. Since every other military operation—and therefore overall national defense—relies on a strong nuclear deterrent, the United States cannot afford to fall short in fulfilling this imperative mission.
Additionally, future assessments will need to consider plans to adjust America's nuclear forces to account for the doubling of peer nuclear threats. While capacity was not assessed this year, it is clear that the change in threat warrants a reexamination of U.S. force posture and the adequacy of our current modernization plans.
Therefore, this portfolio retains its score of "strong," but failure to keep modernization programs on track while planning for a three-party nuclear peer dynamic could slowly lead to a decline in the strength of U.S. nuclear deterrence in future years.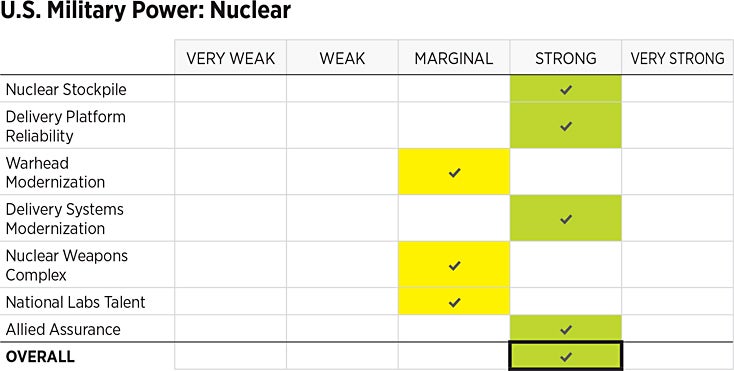 Endnotes