The past year has seen significant and swift changes in U.S. force posture in Europe and the trajectory of allied capabilities because of Russia's second invasion of Ukraine in February.1 The scale, scope, and intensity of conventional military power used by Russia led to a renewed appreciation for such power in many European capitals that had neglected their militaries since the end of the Cold War. In April, a U.S. Department of Defense (DOD) spokesperson stated that "[t]he European security environment has changed and will stay changed as a result of [Russian President Vladimir] Putin's willingness to conduct an unprovoked invasion of a neighboring state."2
The U.S. has reintroduced additional manpower and capabilities into Europe and is reevaluating its long-term basing posture. European NATO allies have deployed in support of alliance deterrence efforts in eastern Europe, and many have renewed their commitment to NATO spending benchmarks and rebuilding military capabilities that have atrophied over the past 30 years. In June, NATO invited Finland and Sweden to join the alliance. Also in June, the alliance adopted a new Strategic Concept at its Madrid summit. The first new concept since 2010, it takes into account the comprehensive changes in the transatlantic security environment that have taken place during the past 12 years. With respect to Russia, it states clearly that:
The Russian Federation is the most significant and direct threat to Allies' security and to peace and stability in the Euro-Atlantic area. It seeks to establish spheres of influence and direct control through coercion, subversion, aggression and annexation. It uses conventional, cyber and hybrid means against us and our partners. Its coercive military posture, rhetoric and proven willingness to use force to pursue its political goals undermine the rules-based international order.

3
Additionally, the new concept recognizes China as a major challenge: "The People's Republic of China's (PRC) stated ambitions and coercive policies challenge our interests, security and values," and "[t]he deepening strategic partnership between the People's Republic of China and the Russian Federation and their mutually reinforcing attempts to undercut the rules-based international order run counter to our values and interests."4
In addition to taking steps to bolster NATO's collective defense capability, the U.S. and its allies have made significant investments in arming and training the Ukrainian military. What began as individual nations supplying arms, ammunition, and supplies (often surplus) has evolved into a sustained flow of intelligence, weapons, matériel, and platforms upon which Ukrainian forces have become entirely reliant. Some nations have even begun to repair damaged Ukrainian equipment. In addition to military aid and intelligence, European nations in particular have accepted millions of Ukrainian refugees fleeing the war.
All of this illuminates the reality that war is still a feature of international relations that cannot be predicted or always deterred, that is costly both in preparation and undertaking, and that generates additional costs (such as support for refugees and disruption of economic activity) beyond the straightforward expense of equipment and training.
The 51 countries in the U.S. European Command (USEUCOM) area of responsibility (AOR) include approximately one-fifth of the world's population, 10.7 million square miles of land, and 13 million square miles of ocean. Some of America's oldest (France) and closest (the United Kingdom) allies are found in Europe. The U.S. and Europe share a strong commitment to the rule of law, human rights, free markets, and democracy. During the 20th century, millions of Americans fought alongside European allies to defend these shared ideals—the foundations on which America was built.
America's economic ties to the region are likewise important. A stable, secure, and economically viable Europe is in America's economic interest. For more than 70 years, the U.S. military presence has contributed to regional security and stability, and both Europeans and Americans have benefited economically. The member states of the European Union (EU), along with the United States, account for approximately half of the global economy, and the U.S. and EU member countries are generally each other's principal trading partners.
Europe is also important to the U.S. because of its geographical proximity to some of the world's most dangerous and contested regions. From the eastern Atlantic Ocean to the Middle East, up to the Caucasus through Russia, and into the Arctic, Europe is enveloped by an arc of instability. The European region also has some of the world's most vital shipping lanes, energy resources, and trade choke points.
European basing allows U.S. forces to respond robustly and quickly to challenges to U.S. economic and security interests in and near the region. Russia's brutal effort to remake the borders of Europe by force has shocked many partners, upended the continent's strategic picture, and begun a war with implications that are far wider than the sovereignty of Ukraine itself. Admiral Robert Burke, Commander of U.S. Naval Forces Europe, U.S. Naval Forces Africa, and Allied Joint Forces Command Naples, for example, has described the European and African theaters as "the forefront of great power competition."5
Other external threats to European security include Russia's activity in the Arctic, growing presence in the Mediterranean theater, and efforts to destabilize Western cohesion in addition to the possibility that Russia might expand the scope of its aggression to include the eastern states of NATO. Added to this is the growing threat to the transatlantic alliance that is posed by Chinese investments, technology, and propaganda efforts. Russian naval activity in the North Atlantic and Arctic has necessitated a renewed focus on regional command and control and has led to increased operations by U.S. and allied air and naval assets in the Arctic, and Russia's strengthened position in Syria has led to a resurgence of Russian activity in the Mediterranean that has contributed to "congested" conditions.6
Speaking at an Atlantic Council meeting in March 2019, U.S. Joint Chiefs of Staff Chairman General Joseph Dunford explained that the U.S. has two key advantages over adversaries: "our network of allies and partners, and the ability to project power where and when necessary to advance our national interest."7 Nowhere is the value of allies and U.S. basing more apparent than it is in the European operating environment.
U.S. Reinforcements in Europe. Russia's war against Ukraine greatly accelerated a trend of U.S. reinvestment in Europe that had begun following Russia's initial invasion of Ukraine in 2014. In April 2014, the U.S. launched Operation Atlantic Resolve (OAR), a series of actions meant to reassure U.S. allies in Europe, particularly those bordering Russia. Under Operation Atlantic Resolve and funded through the European Deterrence Initiative (EDI), the U.S. increased its forward presence in Europe; invested in European basing infrastructure and in prepositioned stocks, equipment, and supplies; engaged in enhanced multinational training exercises; and negotiated agreements for increased cooperation with NATO allies.
Russia's invasion of Ukraine spurred the U.S. to increase forces flowing to Europe and ignited a U.S. and NATO-wide reevaluation of long-term basing structures and force posture requirements to deter Russian aggression from spilling over to alliance member states, especially those like Poland, whose role as a staging ground for aid to Ukrainian forces has made it a Russian target.8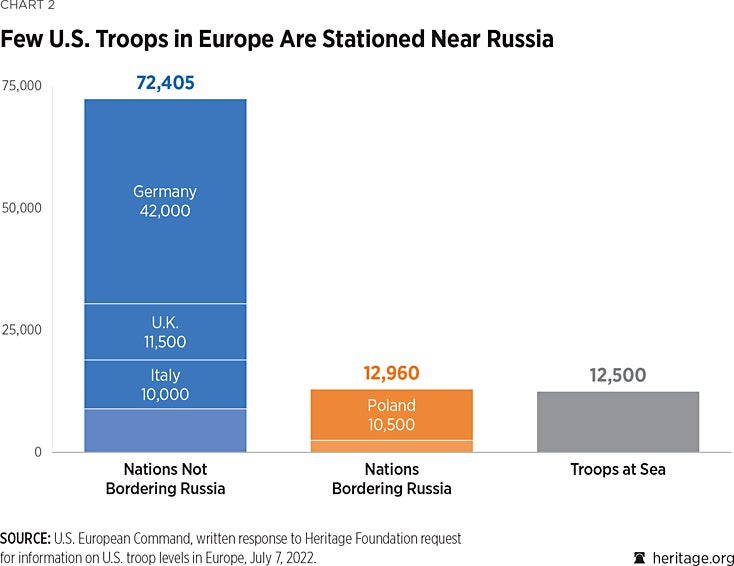 In January 2022, the U.S. had approximately 80,000 troops in Europe (permanent and rotational); that number grew to more than 100,000 by March.9 A month after Russia's invasion,
[T]he U.S. ha[d] activated about 11,600 troops for the mission: 4,700 from the 82nd Airborne Division to Poland; 300 from the XVIII Airborne Corps to Germany; 1,000 from the 2nd Cavalry Regiment to Romania; 800 from the 173rd Airborne Brigade Combat Team to Latvia; 100 F-35 Lightning II air crew to Estonia, Lithuania and Romania; 100 AH-64 Apache aircrew to Poland and the Baltic states; 3,800 from 1st Armored Brigade Combat Team, 3rd Infantry Division and its sustainment unit to Germany; 150 airmen from Fairchild Air Force Base, Washington; 40 members of an air support operations unit to Romania and Poland; 300 ordnance and maintenance soldiers to Germany; and 300 members of V Corps to Germany and Poland.

10
The U.S. has brought additional air assets to Europe. The U.S. Air Force (USAF), for example, "has moved additional fighters, tankers, and intelligence, surveillance, and reconnaissance aircraft into the European theater over the past few months, as well as bombers on a rotational basis, all to reassure NATO allies who feel threatened by the invasion of Ukraine."11 In March 2022, six U.S. Navy EA-18G Growlers and 240 troops deployed to Spangdahlem Air Base in Germany from Washington State to bolster alliance collective defense. According to the Pentagon, "These Growlers…are equipped for a variety of missions. But they do specialize in flying electronic warfare missions, using a suite of jamming sensors to confuse enemy radars, greatly aiding in the ability to conduct suppression of enemy air defense operations."12 From February through April, three B-52 Stratofortress aircraft and 300 troops from North Dakota rotated to a base in the United Kingdom as part of the Bomber Task Force Mission, flying regularly over European airspace.13
The U.S. has also begun to consider new permanent basing in eastern European NATO member states. In April 2022, Joint Chiefs of Staff Chairman General Mark Milley voiced his support for permanent U.S. bases in eastern Europe but with troops deployed rotationally "'[s]o you get the effect of permanence' at a lesser cost because expenses such as family housing and schools are not involved." "I believe a lot of our allies, especially those such as the Baltics or Poland or Romania…are very willing to establish permanent bases," Milley noted. "They will build them and pay for them."14 In May, responding to advance questions as part of Senate Armed Services Committee hearings on his nomination to serve as Commander, U.S. European Command and Supreme Allied Commander, Europe, General Christopher Cavoli similarly stated that "permanently assigned forces are more operationally effective, as they remain fully oriented to the operational environment and can become interoperable with our Allies and Partners."15
European Deterrence Initiative. On top of renewed investments in Europe, the U.S. has continued with more established efforts to bolster collective defense in Europe. The Biden Administration has requested $4,176.9 billion for the European Deterrence Initiative in fiscal year (FY) 2023, which would be a $365.3 million increase from the enacted FY 2022 EDI budget of $3,811.6 billion.16 EDI funding requests for FY 2023 include (among others):
"[Continued support for] rotational force deployments, infrastructure investments, and [delivery of] the right capabilities in key locations throughout Europe (i.e., Air Force-European Contingency Air Operations Sets (ECAOS), Army Prepositioned Stocks (APS))."
Exercises to "increase[] the overall readiness and interoperability of U.S. forces across all domain" and "improve[] the interoperability of U.S. forces with our NATO Allies and theater partners."
Infrastructure improvements that include "purchasing new fixed undersea surveillance systems and refurbishment of older, existing systems already in place throughout the AOR" and improving "airfield infrastructure and prepositioned storage capability to support U.S. Air Forces in Europe operations, actions, and activities."
"Providing our Allies and partners with the capability and capacity to better defend themselves and to enable or enhance their participation as full operational partners against threatening actors…."

17
Testifying in March 2022, General Tod Wolters, Commander, U.S. European Command, and NATO's Supreme Allied Commander Europe (SACEUR), highlighted the importance of EDI funding in returning the United States to a posture of deterrence:
EDI enhances our posture to deter adversaries and compete in a contested logistics environment alongside our European defense counterparts. Increases in forward stationed and rotational forces strengthen our contact, blunt, and surge layer capabilities, providing an ability to compete and win in a multi-domain crisis or conflict. EDI investments improve theater infrastructure and prepositioned stocks. Funding for exercises, training, and building partner capacity strengthens the readiness, architecture, and interoperability across the Euro-Atlantic area. These advances enable our deterrence and defense efforts through rapid deployment and sustainment of forces.

18
The EDI has supported infrastructure improvements across the region. One major EDI-funded project is a replacement hospital at Landstuhl, Germany, to be named the Rhine Ordnance Barracks Medical Center. Originally slated to be completed in 2022, it is now expected that it will be completed in 2027. The new permanent facility will "provid[e] primary care, specialized consultative care, hospitalization and treatment for more than 200,000 U.S. military personnel, DoD and interagency civilians and dependents in Europe."19 Landstuhl's importance is illustrated by the fact that in early March 2020, it was one of the first two overseas U.S. laboratories to be capable of testing for coronavirus.20
In addition to the EDI, as of the end of 2021, the U.S. Department of State had awarded nearly $300 million in grants since 2018 through its European Recapitalization Incentive Program (ERIP) and repurposed funds to help U.S. allies in Europe replace Russian equipment with U.S.-made equipment. This includes infantry fighting vehicles for Croatia, Greece, and North Macedonia; helicopters for Albania, Bosnia and Herzegovina, Lithuania, and Slovakia; and air surveillance radars and fixed-wing aircraft for Bulgaria. The program helps allies to "modernize their militaries by building NATO interoperable forces and removing Russian and Soviet-legacy equipment from their force structure."21
Forward Presence. In April 2022, the 3rd Armored Brigade Combat Team (ABCT) of the 4th Infantry Division from Fort Carson, Colorado, replaced the outgoing BCT in the ninth armored rotation in support of Operation Atlantic Resolve.22 The BCT consisted in part of 4,000 troops, 90 tanks, 15 Paladins, and 150 infantry fighting vehicles. Many analysts have noted the special importance of ground forces for deterrence. "Land forces provide traditional 'boots on the ground' and a visible presence among local populations," according to one recent analysis. "They can also enhance the credibility of deterrence through bringing to bear the heavy ground forces required to defend, seize, and hold territory in the event of conflict."23
In addition to back-to-back rotations of armor, the U.S. has maintained a rotational aviation brigade in Europe since February 2017.24 The eighth such rotation, lasting from November 2021–July 2022, has been the 1st Air Cavalry Brigade, 1st Cavalry Division from Fort Hood, Texas, with 2,000 troops, 10 CH-47 Chinooks, 25 AH-64 Apaches, and 35 UH-60 and 15 HH-60 Black Hawk helicopters.25
In May 2018, the U.S. began to fly MQ-9 Reaper drones on unarmed reconnaissance flights out of Miroslawiec Air Base in Poland. The drones became fully operational in March 2019 when U.S. Air Force officials stated that Poland was chosen for the MQ-9s because of its "strategic location."26 In June 2020, runway work at Miroslawiec caused drones to be moved temporarily to Ämari Air Base in Estonia, marking the first time that unmanned U.S. aircraft have operated out of Estonia.27
In January 2021, the U.S. announced that 90 USAF personnel and an unspecified number of MQ-9s would be based at Campia Turzii in Romania "to conduct intelligence, surveillance and reconnaissance missions in support of NATO operations."28 According to General Jeffrey Harrigian, Commander of U.S. Air Forces in Europe, U.S. Air Forces Africa, and Allied Air Command, the new permanent base's location approximately 300 miles from the coast "really facilitates our ability to compete in the Black Sea."29 In addition to Ämari, Miroslawiec, and Campia Turzii, the U.S. also operates MQ-9s out of Lask Air Base in Poland.30
In August 2020, the U.S. and Poland signed the Enhanced Defense Cooperation Agreement, which entered into force in November 2020. The agreement increased U.S. rotational forces in Poland by 1,000 people and provided for more exercises and infrastructure development to support a deployment of 20,000 U.S. troops if necessary.31 In addition:
[The agreement] covers matters such as the establishment of a forward division command in Poznan, stationing of a rotationally-present armoured brigade in Żagań-Świętoszów, deployment of Reaper UAVs squadron to Łask, the establishment of a Polish-US combat training centre (CTC) in Drawsko Pomorskie, the establishment of an airlift cargo hub for USAF in Wrocław-Starachowice, the establishment of the presence of an Army Aviation Brigade on a rotational basis, and a logistics battalion as well as special ops facility in Powidz, and another special ops facility in Lubliniec.

32
The U.S. Army's V Corps, which had been deactivated in 2013, was reactivated on November 9, 2020, and became fully operational in November 2021.33 In June 2022, President Joseph Biden announced that the U.S. would establish the permanent V Corps headquarters in Poland.34 In March, the headquarters, then based in Kentucky, was largely deployed to Europe "to provide additional command and control of U.S. Army forces in Europe" and to "to build readiness, improve interoperability, reinforce allies and deter further Russian aggression."35 By April, the U.S. had deployed more than 10,000 troops to Poland including forces helping to aid Ukrainian refugees and facilitate the flow of weapons and aid to Ukraine.36 In March 2022, the U.S. Defense Department confirmed that U.S. troops were "liaising" with Ukrainian forces in Poland as weapons are handed over but not training "in the classic sense."37 By the end of April, the Pentagon confirmed that the U.S. was training Ukrainian forces in Germany on systems that include armored vehicles, artillery, and radar.38
The U.S. has strengthened its presence in Norway as well. In April 2021, the two nations signed the Supplementary Defense Cooperation Agreement, which allows the U.S. to build additional infrastructure at Rygge and Sola Air Stations in southern Norway as well as Evenes Air Station and Ramsund Naval Station above the Arctic Circle.39 Construction at Evenes will support the monitoring of Russian submarine activity by Norwegian and allied maritime patrol aircraft. According to former Norwegian Foreign Minister Ine Eriksen Soereide, "The agreement reaffirms Norway's close relationship with the U.S. and confirms Norway's key position on the northern flank of NATO."40 In October 2021, the U.S. Navy deployed a mobile "Expeditionary Medical Facility to a cave system near Bogen Bay in northern Norway, some 100 miles north of the Arctic Circle."41 According to the operations director for the U.S. Navy Expeditionary Medical Support Command (NEMSCOM), "Expeditionary Medical Facilities are deployable on short notice and contain many capabilities of a modern hospital."42
In August 2020, the Marine Corps announced the end of heel-to-toe rotations of 700 Marines to Norway, which began in 2017, opting for shorter, more sporadic deployments.43 The first new deployment in October 2020 consisted of 400 Marines, and in the second, 1,000 Marines were deployed to Setermoen, Norway, from January–March 2021 for Arctic warfare training.44 Major General Patrick J. Hermesmann, former Commander of U.S. Marine Corps Forces Europe & Africa, has noted the growing relationship between Norway and the U.S. through "shared hardship of tough, realistic training in this austere environment."45 From March–April 2022, Norway hosted NATO's Cold Response 2022, the largest Norwegian-led exercise since the Cold War. Among the participants were 3,000 American Marines.46
In addition to ground forces, in February and March 2021, four B-1 Lancers were based out of Ørland Air Station in southern Norway, marking the first time the aircraft have been based in Norway.47 The Lancers conducted training exercises with allies Denmark, Germany, Italy, Norway, and Poland while also practicing landing and refueling at Bodø Air Base above the Arctic Circle.48
In October 2020, at the behest of the United States, Norway announced the reopening of Olavsvern bunker, a mountainside submarine base near Tromsø with "9,800ft of deep water underground docks that can house and refit nuclear submarines." The base, which had been closed in 2002, is now open to U.S. Seawolf-class nuclear submarines.49
The U.S. also continues to rotate a Sustainment Task Force "comprised of nearly 1,000 personnel and 200 pieces of equipment" from "11 active duty, U.S. Army Reserve and National Guard units." The units that make up the task force are varied and "include ammunition, fuel, movement control, transportation, maintenance, ordnance, supply, and postal services."50
During the June 2022 NATO Summit, the U.S. announced additional deployments to Europe including (among others) deployment of a new rotational Brigade Combat Team to Romania; enhanced rotational deployments of "armored, aviation, air defense, and special operations forces" to the Baltics; deployment of "two squadrons of F-35s at RAF Lakenheath"; the forward stationing of an "air defense artillery brigade headquarters, a short-range air defense battalion, a combat sustainment support battalion headquarters, and an engineer brigade headquarters" in Germany; and the forward stationing of "a short-range air defense battery" in Italy.51
Operation Atlantic Resolve's naval component has consisted partly of increased deployments of U.S. ships to the Baltic and Black Seas since 2014. In 2021, the U.S. spent 111 days in the Black Sea, significantly more than the 82 days it spent there in 2020.52
Russian undersea activity continues at an elevated level. The U.S. Navy reestablished the 2nd Fleet, which is "responsible for the northern Atlantic Ocean," in May 2018 nearly seven years after it had been disbanded in 2011.53 The 2nd Fleet reached full operational capability at the end of 2019.54 The fleet was reestablished because of Russian militarization of the Arctic.55 "This is where the fight is…where the competition is," according to Vice Admiral Andrew Lewis, former Commander of the 2nd Fleet. "Specifically in the Atlantic [and] the undersea capability of the Russians."56 In March 2021, in a statement exercise, three Russian ballistic missile submarines punched through ice in the Arctic near the North Pole.57
For Vice Admiral Lewis, "[a]nti-submarine warfare is a primary mission for everybody in the United States Navy, regardless of what you wear on your chest."58 Admiral Burke has stated that the 6th Fleet keeps units operating "nearly continuously" in the Arctic and that U.S. submarines "really dominate that area."59 The U.S. also has capable partners in patrolling Arctic waters including the "U.K. and France to name two extremely reliable [and] capable partners." In addition:
Canada…Norway…all contribute significantly to the theater of undersea warfare fight. Denmark is expanding their capabilities. Now almost every one of those nations that I've mentioned now have significant airborne maritime patrol reconnaissance aircraft, if not the P-8A version, closely resembling the P-8 capabilities. Many have bought versions similar to the P-8. Their surface combatants today are incredibly capable too.

60
In recent years, the U.S. has also made a point of publicly acknowledging the surfacing of nuclear-powered submarines in Arctic waters as a message of deterrence. One such example occurred in May 2021, when the Virginia-class submarine USS New Mexico docked in Tromsø, Norway.61
Outside the Arctic, as explained by General Wolters, "Rarely navigated by Russia since the 1990's, advances in its submarine fleet and expanding maritime strategic goals have reinvigorated Russia's access to the broader Atlantic Ocean."62 These changes have led officials to state that the U.S. east coast is no longer "a safe haven."63
Russia has also increased its naval capabilities in the Mediterranean, utilizing its naval base in Tartus, Syria. In February 2022, the U.S. and its allies detected an unusual positioning of three Russian guided missile cruisers in the Mediterranean near U.S., French, and Italian Carrier Strike Groups operating in theater.64 One analyst assessed that "Russia has reinforced its naval presence in the Mediterranean, much more than usual. This can be seen as an outer defense layer for naval operations in the Black Sea, off Ukraine. In particular, to deter NATO involvement, especially from the US and French aircraft carriers."65
Prepositioned Stocks. The U.S. continues to preposition equipment in Europe across all services. In February 2022, the U.S. activated its Army Prepositioned Stock-2 across six sites to outfit an armored brigade combat team deploying from the U.S.66 The FY 2023 budget request includes $1,273.9 billion to support enhanced prepositioning for the U.S. Army, Air Force, and Special Forces.67 With specific respect to the Army, DOD's FY 2023 budget request includes "funding to continue the build of a division-sized set of prepositioned equipment with corps-level enablers that is planned to contain two ABCTs (one of which is modernized), two Fires Brigades, air defense, engineer, movement control, sustainment and medical units."68
In March 2022, General Wolters testified that:
In the ground domain, we expect to establish a U.S. division-sized capability through forward-stationed forces, rotational forces, and Army Prepositioned Stocks (APS). Continued investment in APS equipment facilitates increased agility and lethality by enabling rapid integration of rotational combat units into USEUCOM and NATO operations. During Exercise DEFENDER-Europe 21, U.S. Army Europe and 26 participating nations demonstrated readiness to command and control large-scale operations by exercising at the battalion and brigade levels while building interoperability. In Exercise DEFENDER-Europe 24, we plan to assemble a divisional formation on NATO's eastern flank for the first time since the end of the Cold War, conducting a multinational command post exercise with U.S. and multinational divisions and brigades operating under U.S. Army Europe leadership. These prepositioned stocks enabled us to respond swiftly in response to Russia's aggression in and around Ukraine.

69
In March 2022, NATO opened its first Multinational Ammunition Warehousing Initiative (MAWI) in Estonia for allies to store munitions for EFP deployments. The alliance plans further MAWI sites to support EFP deployments and the Very High Readiness Joint Task Force (VJTF).70 NATO Secretary General Jens Stoltenberg noted in June, "if there's any lesson to be learned from Ukraine [it] is the importance of heavy equipment in place, but also fuel, ammunition, supplies."71 By April, the U.S. had deployed Joint Munitions Command experts to Germany and Poland to provide "expert technical ammunition and explosives assistance and support to units stationed in or deployed to Europe."72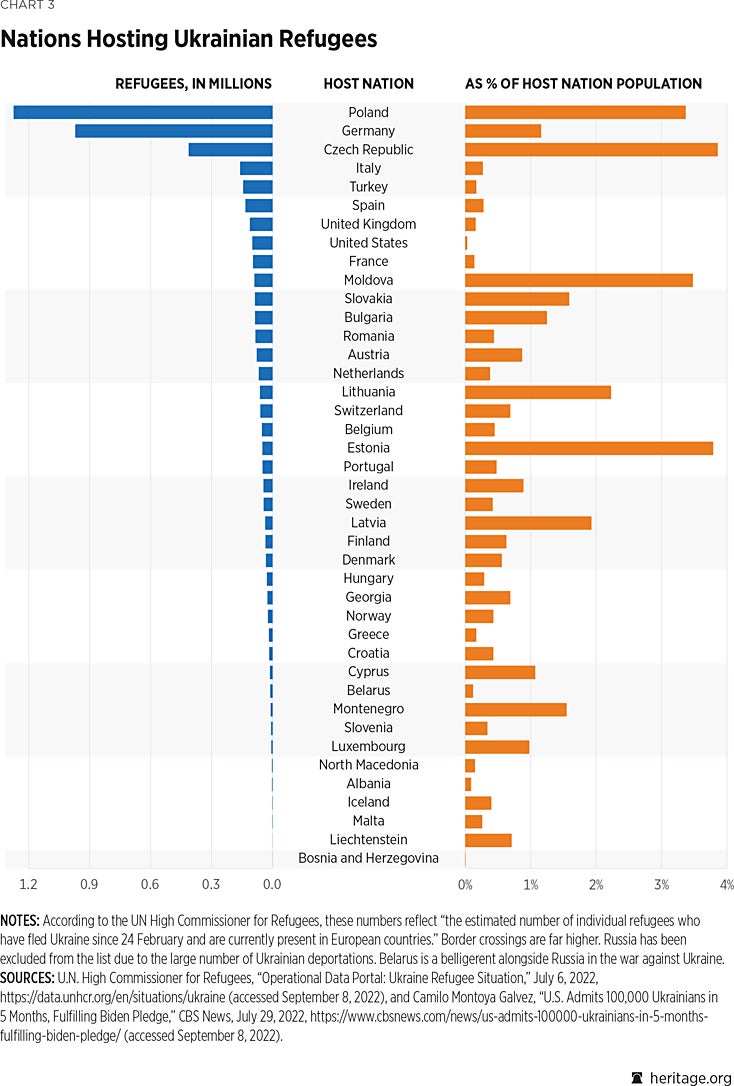 Aid to Ukraine. The U.S. and its allies have provided significant military aid to Ukraine. By early May, the U.S. had provided Ukraine with $3.8 billion in security assistance since the beginning of Russia's second invasion.73 In April, President Biden stated that "[t]he United States alone has provided 10 anti-armor systems for every one Russian tank that's in Ukraine—a 10-to-1 ratio," adding that "[w]e've sent thousands of anti-armor and anti-missile helicopters, drones, grenade launchers, machine guns, rifles, radar systems."74 By mid-April, according to U.S. Secretary of Defense Lloyd Austin:
[The U.S. had sent Ukraine] over 1,400 stingers, over 5,500 Javelins, over 14,000 other anti-armor weapons, over 700 switchblade tactical unmanned aerial systems, 18 155mm Howitzers, 16 Mi-17 helicopters, 200 M113 Armored Personnel Carriers, 75,000 sets of body armor and helmets, two air surveillance radars, 14 counter artillery radars, 4 counter mortar radars, unmanned coastal defense vessels, tactical secure communications systems, over 7,000 small arms, and 50,000,000 rounds of ammunition.

75
U.S. allies have also donated large amounts of military hardware. By April, the EU had funded €1.5 billion in military aid to Ukraine.76 In May, it was reported that Estonia and Latvia had donated approximately a third of their military budgets to Ukraine, Poland had donated around 13 percent, and Slovakia had donated nearly 12 percent.77 In April, France announced that it was sending Caesar self-propelled howitzers.78 The French also have trained "Ukrainian soldiers in France on how to use the powerful guns."79 Estonia, Germany, Latvia, Lithuania, the Netherlands, and the U.S. have donated U.S. Javelin and Stinger missiles, leaving holes in their own inventories that need to be backfilled.80 The rate of system use in Ukraine, combined with "an aged and insecure production infrastructure, riddled with potential bottlenecks, vulnerabilities, and supply challenges," could make this difficult for the U.S.81 By mid-April, for example, the U.S. reportedly had "provided one-third of its overall stockpile of Javelin anti-tank missiles. It cannot easily deliver more without leaving its own armories badly depleted—and it may take months or years to significantly ramp up production."82
Air defense is a particular problem for Ukrainian forces. In April, Slovakia announced that it was sending an S-300 air defense system to Ukraine, and the Netherlands deployed Patriot missile batteries to Slovakia "in order to reinforce the eastern flank of the NATO area." A Defence Ministry spokesman said that the Netherlands "will also send S-300 anti-aircraft systems to Ukraine at NATO's request."83 The United Kingdom, a particular leader in aiding Ukraine, has announced its intention to supply Ukraine with anti-ship missiles.84
The U.S. has trained Ukrainian forces outside of Ukraine, including a group of around 50 Ukrainian soldiers that it trained to operate U.S. howitzers.85 The United Kingdom has been training Ukrainians on the use of AS-90 howitzers and armored vehicles, principally in Poland but also smaller contingents of Ukrainian forces inside the U.K.86 In April, the Czech Republic announced that its defense firms would begin repairing Ukrainian tanks and armored vehicles. Czech Defense Minister Jana Cernochova stated that "[t]he Czech Republic is the first partner country that the Ukrainian side has officially approached for cooperation in repairing ground weapons which need to be put into service or were damaged during combat."87
In addition to military training and aid, the transatlantic community has accepted large numbers of Ukrainian refugees fleeing the war. Poland has accepted more than 3,000,000—by far the largest total since the beginning of the war.88 Other nations have accepted numbers that are far smaller but still significant in proportion to the receiving nation's population.
NATO Responses to Russia's War in Ukraine. On February 25, 2022, for the first time in its history, NATO activated approximately one-third of its 40,000-strong NATO Response Force (NRF).89 In announcing the activation General Wolters stated that:
This is an historic moment and the very first time the Alliance has employed these high readiness forces in a deterrence and defence role. They represent a flexible, combat credible force that can be employed in multiple ways, and we are utilizing fully their inherent agility.
These deterrence measures are prudent and enhance our speed, responsiveness and capability to shield and protect the one billion citizens we swore to protect.

90
In January 2022, the U.S. announced that 8,500 troops would be put on alert for possible deployment as part of the NRF.91 In February, Canada announced that 3,400 troops would be placed on standby for the same purpose.92 In addition to ground forces, NATO has 130 aircraft on alert and more than 200 ships operating in theater.93
In June, the alliance announced that the NRF would be increased in size from 40,000 to 300,000. Secretary General Stoltenberg noted that "for the first time since the Cold War, we will have pre-assigned forces to defend specific Allies" and will be able to "reinforce much faster if needed."94 It should be noted, however, that Stoltenberg's announcement appeared to have caught some NATO members by surprise, leading an unnamed NATO official to say that "[t]he concept has not been fully worked up yet" and that "[w]e will have to do more to build up the model before we can work out what national commitments can be."95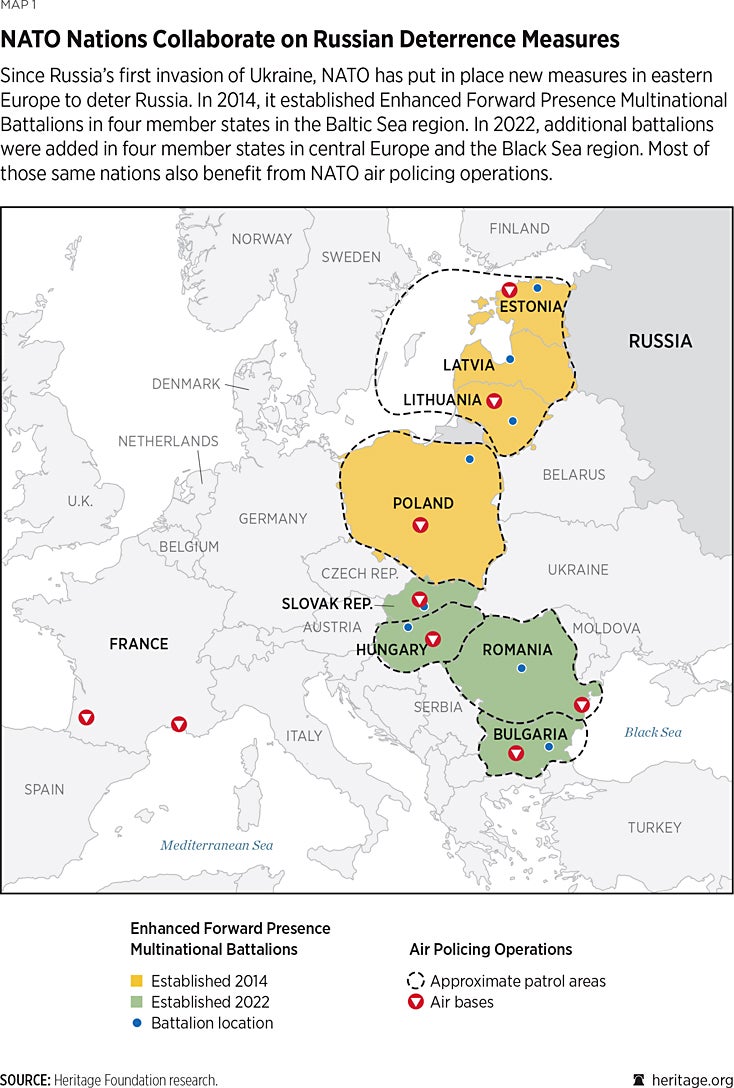 In March 2022, the establishment of multinational battle groups in Bulgaria, Hungary, Romania, and Slovakia was announced at an extraordinary NATO summit.
The battle group in Bulgaria consists of "Up to 803" Bulgarian troops supplemented by 135 U.S. and 30 Albanian troops.96
The battle group in Hungary consists of 900 troops: 60 Croatian, 130 U.S., and 710 Hungarian.97
The Czech Republic (133 troops) will lead the NATO battle group in Slovakia with contributions from Germany (284); the Netherlands (125); and Slovenia (101). Both the Dutch and German deployments include air defense.98
France (550 troops) is leading the 1,148-strong NATO battalion in Romania, which also includes troops from Belgium (248); Poland (230); and the U.S. (120).99 The French deployment includes armored vehicles and a naval air group for air defense and air surveillance.100
NATO also retains "multinational battalion-size battlegroups" in Estonia, Latvia, Lithuania, and Poland. Established as part of NATO's Enhanced Forward Presence in 2017, they are led, respectively, by the U.K., Canada, Germany, and the U.S.101
U.S. Nuclear Weapons in Europe. In his 2022 EUCOM posture statement, General Wolters reaffirmed that:
As long as nuclear weapons exist, NATO must remain a nuclear Alliance. NATO's nuclear capability preserves peace, prevents coercion, deters aggression, and instills confidence in the transatlantic bond. The United States continues to make available its strategic nuclear forces to the defense of NATO and they are the supreme guarantee of the security of our Allies.

102
It is believed that until the end of the Cold War, the U.S. maintained approximately 2,500 nuclear warheads in Europe. Unofficial estimates range between 150 and 200 warheads spread out across bases in Belgium, Italy, Germany, the Netherlands, and Turkey.103
In October 2019, reports surfaced that the U.S. was considering moving the approximately 50 tactical nuclear weapons stored at Incirlik Air Base in Turkey in light of ongoing tensions, but this has not happened. All of these weapons are free-fall gravity bombs designed for use with U.S. and allied dual-capable aircraft. Although tactical nuclear weapons are forward deployed to Incirlik, "there are no aircraft capable of delivering the B-61 gravity bombs co-located at Incirlik Airbase."104 The U.S. has nuclear sharing agreements with Belgium, Italy, Germany, and the Netherlands that allow for delivery of U.S. tactical nuclear weapons by allied aircraft, but no such agreement is in force with Turkey: "The weapons at Incirlik Air Base in Turkey are solely for use on U.S. aircraft."105
The B61 nuclear gravity bomb that is "deployed from U.S. Air Force and North Atlantic Treaty Organization (NATO) bases" is undergoing a life extension program that is expected to add at least 20 years to its service life and "improve the B61's safety, security, and effectiveness."106 The B61-12 bomb, according to U.S. officials, is "intended to be three times more accurate than its predecessors."107 The first production unit was completed in February 2022, and the extension program is to be completed by 2026.108 In October 2021, the Air Force completed a full weapons system demonstration that was "the flight test portion of the nuclear design certification process for the latest B61 series weapon," allowing the program to move "into the nuclear operational certification phase, essentially clearing the [F35-A] and weapon for frontline service."109
China. At NATO's 2019 leaders meeting in London, the alliance "recognize[d] that China's growing influence and international policies present both opportunities and challenges that we need to address together as an Alliance."110 Issues of concern include Russian and Chinese military cooperation as well as Chinese technology, propaganda, offensive cyber capabilities, and control of critical infrastructure in Europe, all of which affect NATO's member states. "We are concerned," NATO noted in its Brussels statement, "by recent public comments by PRC officials and call on China to cease amplifying the Kremlin's false narratives, in particular on the [Russia-Ukraine] war and on NATO, and to promote a peaceful resolution to the conflict."111
In an interview, Admiral Burke, noting that Chinese warships and investments are "increasingly present" in the Mediterranean, highlighted the potential risk to U.S. and alliance interests from Chinese infrastructure acquisitions in Europe:
Today, the Chinese have a controlling interest in 12 European ports. So, are NATO countries going to be able to count on those ports for Free Trade, and if NATO has to defend Europe, will they allow us into those ports to refuel, resupply, do repairs, rearm? We don't know if we can count on that. It's a troubling pattern and our European partners are increasingly aware and awakened to this potential threat.

112
Important Alliances and Bilateral Relations in Europe
The United States has a number of important multilateral and bilateral relationships in Europe. First and foremost is the North Atlantic Treaty Organization, the world's most important and arguably most successful defense alliance.
North Atlantic Treaty Organization. NATO is an intergovernmental, multilateral security organization that was designed originally to defend Western Europe from the Soviet Union. It anchored the U.S. firmly in Europe, solidified Western resolve during the Cold War, and rallied European support following the 9/11 terrorist attacks. NATO has been the bedrock of transatlantic security cooperation ever since its creation in 1949 and is likely to remain so for the foreseeable future.
In April 2021, following a U.S. decision to withdraw forces from Afghanistan and "recognising that there is no military solution to the challenges Afghanistan faces," NATO ended Operation Resolute Support, a non-combat operation intended to provide "training, advice and assistance to Afghan security forces and institutions."113 The withdrawal of alliance forces was completed in August 2021, and the mission was terminated in September 2021.
Two ongoing NATO operations are Kosovo Force (KFOR), which includes "approximately 3,500 Allied and partner troops," and Operation Sea Guardian, which maintains "maritime situational awareness, counter-terrorism at sea and support to capacity-building" in the Mediterranean. Additional operations include air policing "to meet Iceland's peacetime preparedness needs"; air policing over the Baltics, Albania, Montenegro, Slovenia, and the Benelux countries of Belgium, the Netherlands, and Luxembourg; and support for the African Union Mission in Somalia through occasional airlifts and sealifts while helping to train and build capacity in the African Standby Force.114
Finally, there is NATO Mission Iraq (NMI), a non-combat mission to train and build the capacity of Iraqi Security Forces. In February 2021, following an Iraqi government request in late 2020, NATO defense ministers agreed to increase the size of NMI and expand the scope of training activities beyond the Baghdad region. NATO Secretary General Jens Stoltenberg stated that an incremental increase could raise the number of NATO troops participating in NMI from 500 to around 4,000.115
In recent years, NATO has focused strongly on military mobility and logistics in line with its 2014 Readiness Action Plan (RAP). The RAP was designed to reassure nervous member states and put in motion "longer-term changes to NATO's forces and command structure so that the Alliance will be better able to react swiftly and decisively to sudden crises."116
In June 2018, NATO defense ministers agreed to the Four 30s plan to improve the movement of troops in Europe by 2020. "Four 30s" derives from the plan's objective that NATO should be able to respond to any aggression with "30 troop battalions, 30 squadrons of aircraft, and 30 warships within 30 days."117 In 2019, according to Secretary General Stoltenberg, "Allies contributed all of the combat forces required for this initiative" and were "now working to build and maintain the level of readiness of these forces and organise them into larger formations."118
At the 2019 London summit, space was recognized as "the Alliance's 'fifth domain' of operations, alongside land, sea, air and cyberspace." Subsequently, in October 2020, "NATO Defence Ministers…agreed to the creation of a space centre at NATO's Allied Air Command in Ramstein, Germany." The center's mission "is to help coordinate Allied Space activities, support NATO activities and operations, and help protect Allied Space systems by sharing information about potential threats." To these ends, it "works closely with the Allies' national Space agencies and organisations and the NATO Command Structure to fuse data, products and services provided by nations, such as imagery, navigation and early warning."119
In May 2022, in a historic shift brought about by Russia's war against Ukraine, Finland and Sweden applied for NATO membership. Secretary General Stoltenberg stated that the alliance would fast-track their applications.120 Each of the existing 30 NATO member states must ratify the accession protocols and are expected to do so. Finland and Sweden's inclusion in NATO would bring substantial capabilities to the alliance and enhance the security of the Baltic Sea region.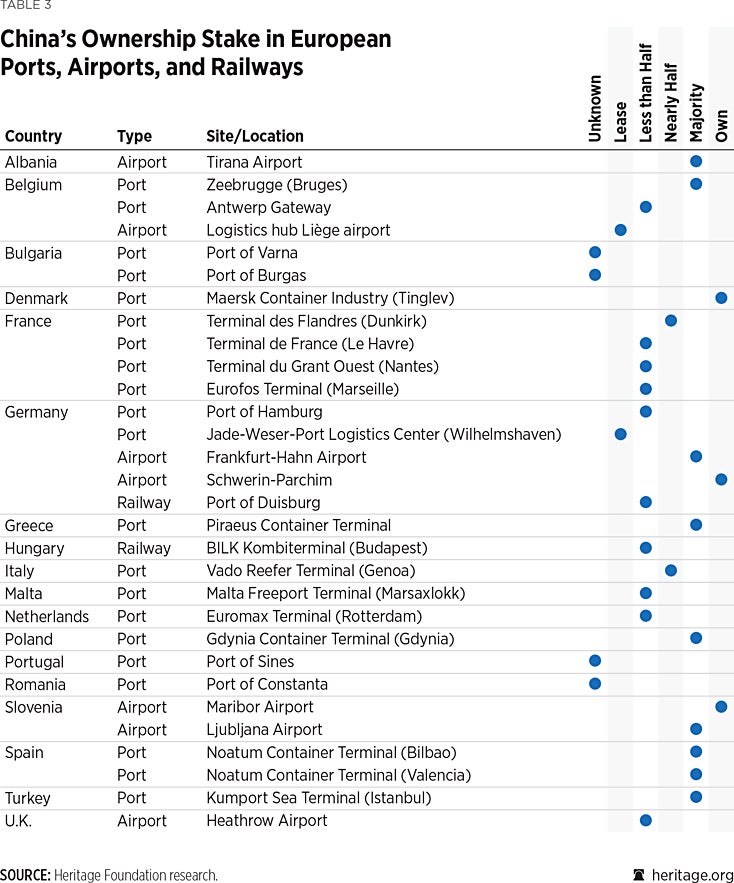 Enhanced Forward Presence. Historically, the centerpiece of NATO's renewed focus on collective defense has been the existing four multinational battalions stationed in Poland and the Baltic States as part of the alliance's Enhanced Forward Presence (EFP). Different countries serve as lead (framework) nations, providing overall coordination and the centerpiece force that is augmented by other contributing nations, for different supported countries.
EFP troops are under NATO command and control; a Multinational Division Headquarters Northeast located in Elblag, Poland, which reached full operational capability in December 2018, coordinates the four battalions.125 In February 2017, the Baltic States signed an agreement to facilitate the movement of NATO forces among the countries.126 Some EFP host nations have called for additional assets—importantly, enablers to be added to the battalions. In April 2022, Lithuanian Minister of Foreign Affairs Gabrielius Landsbergis called for "more armored vehicles, air defense, sea defenses, and the securing of ports and infrastructure in the region."127 Some contributing nations have begun to deploy new enablers to the region; in Lithuania, for example, Germany now deploys an Ocelot short-range air defense system.128
NATO also has established eight Force Integration Units located in Sofia, Bulgaria; Tallinn, Estonia; Riga, Latvia; Vilnius, Lithuania; Bydgoszcz, Poland; Bucharest, Romania; Szekesfehervar, Hungary; and Bratislava, Slovakia. These new units "will help facilitate the rapid deployment of Allied forces to the Eastern part of the Alliance, support collective defence planning and assist in coordinating training and exercises."129
At its July 2016 Warsaw summit, NATO agreed to "develop tailored forward presence in the southeast part of the Alliance territory." Specifically:
Appropriate measures, tailored to the Black Sea region and including the Romanian initiative to establish a multinational framework brigade to help improve integrated training of Allied units under Headquarters Multinational Division Southeast, will contribute to the Alliance's strengthened deterrence and defence posture, situational awareness, and peacetime demonstration of NATO's intent to operate without constraint. It will also provide a strong signal of support to regional security. Options for a strengthened NATO air and maritime presence will be assessed.

130
The U.S. and Romania jointly organize the biannual Saber Guardian exercise, which is designed to improve the integration of multinational combat forces" stationed in the region.131 In the 2021 iteration, which took place in Estonia, Bulgaria, and Romania, "more than 13,000 service members from 19 countries [conducted] live fire and air and missile defense operations, plus a large scale medical evacuation."132 Saber Guardian 21 was one of several exercises linked with DEFENDER-Europe 21, which had a Black Sea regional focus. The purpose of DEFENDER Europe 2022, which was conducted in May, was to "demonstrate U.S. Army Europe and Africa's ability to aggregate US-based combat power quickly in Eastern Europe" and to "increase the lethality of the NATO alliance through long-distance fires, build unit readiness in a complex joint, multinational environment and leverage host nation capabilities to increase the command's operational reach." The exercise included "3,437 U.S. and 5,193 multi-national service members from 11 Allied and Partner nations."133
NATO continues air policing missions over Bulgarian and Romanian airspace. In September and October of 2020, six U.S. F-16s took part in a four-week air policing mission over Bulgaria with Bulgarian air force units and Canadian F-18s flying from Romania.134 In 2021, NATO jets were scrambled 370 times, and 290 of these incidents involved Russian military aircraft (down from 350 in 2020).135
In October 2019, addressing a NATO capability gap in aerial refueling, the Czech Republic, Belgium, Germany, Luxembourg, the Netherlands, and Norway jointly procured A330 air-to-air refueling aircraft, to be deployed from 2020–2024. The fifth of nine aircraft ordered was delivered in August 2021.136 Five of the aircraft will operate out of Eindhoven air base in the Netherlands, and three will operate out of Germany's Cologne–Wahn air base.137
Additionally, in November 2019, NATO announced a $1 billion package to upgrade its Airborne Warning and Control System (AWACS) planes. The upgrades, which "will provide AWACS with sophisticated new communications and networking capabilities, including upgrades to the NE-3A's data link and voice communications capabilities, and enhanced Wide-Band Beyond Line-of-Sight airborne networking capability," will extend the aircrafts' service life to 2035.138 NATO's Alliance Ground Surveillance force, which consists of five RQ-4D Phoenix remotely piloted aircraft based out of Sigonella, Italy, along with ground command and control stations, achieved initial operating capability in February 2021.139
In 2018, NATO established two new commands with a combined total of 1,500 personnel: a joint force command for the Atlantic based in Norfolk, Virginia, and a logistics and military mobility command headquartered in Ulm, Germany.140 Logistics has been a significant alliance focus in recent years. An internal alliance assessment in 2017 reportedly concluded that NATO's "ability to logistically support rapid reinforcement in the much-expanded territory covering SACEUR's (Supreme Allied Commander Europe) area of operation has atrophied since the end of the Cold War."141 Former U.S. Commander of European Command Lieutenant General Ben Hodges has described the importance of military mobility: "We need to think how fast the Russians are moving. We must be able to move as fast or faster than them so that they do not make the mistake of thinking that they could launch an attack of some sort in an area before we could respond."142
Continued shortfalls in the alliance's ability to move soldiers and equipment swiftly and efficiently include "limitations of road surface weight capacity, bridges capacity and railway traffic limits" as well as differences in rail gauges and continued legal, procedural, and regulatory slowdowns.143 NATO has focused heavily on overcoming these barriers, working with the European Union, which retains competencies that are critical to improving military mobility, particularly with regard to overcoming legal and regulatory hurdles. In May 2021, NATO Deputy Secretary General Mircea Geoană underscored the importance of continued cooperation with the EU on military mobility, noting that continued improvements are needed in such areas as "regulations for swift border-crossing, close coordination between military forces and civil government bodies, access to necessary transport capabilities, and ensuring that national transport infrastructure is fit for purpose."144
In April 2022, the alliance established the Defence Innovation Accelerator of the North Atlantic (DIANA). With a $1.1 billion "innovation fund" that will invest in "deep-tech startups" over a 15-year period and working through "more than 10 accelerator sites and over 50 test centers," DIANA is "tasked to bring innovative civilian and military organizations closer together to develop cutting-edge solutions in the realms of emerging and disruptive technologies." Among these "emerging and disruptive technologies" are artificial intelligence, autonomy, big-data processing, biotechnology, hypersonic technology, new materials, propulsion, quantum-enabled technologies, and space-related systems.145
Cyber Capabilities. "A secure cyberspace is essential to everything the Alliance does," according to NATO's secretary general. "This is why cyber defence is part of NATO's core task of collective defence. NATO has made clear that a severe cyber attack could lead it to invoke Article 5 of the Washington Treaty."146 Ultimately, the decision to invoke Article 5 will be a political decision.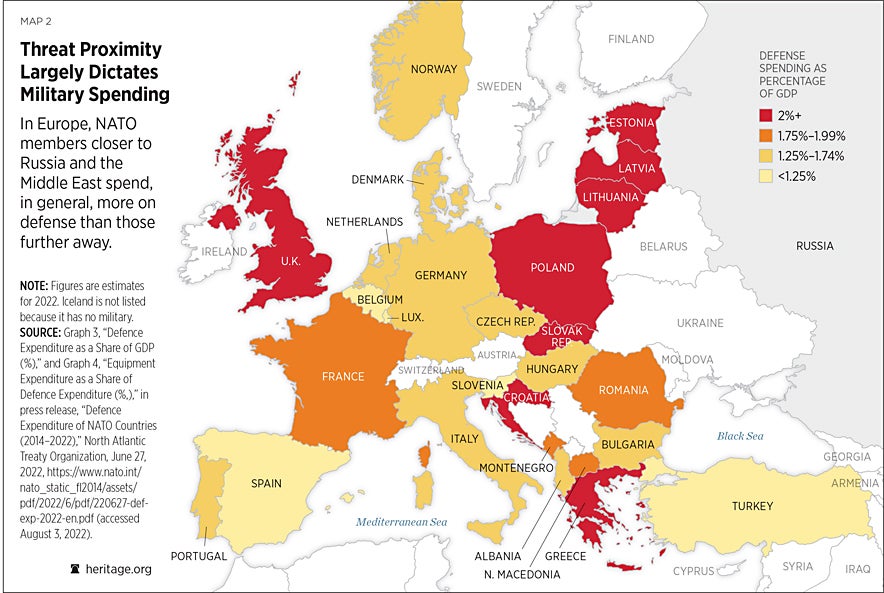 As noted, NATO recognized cyberspace as a domain of operations at its 2016 Warsaw summit. Subsequently:
On August 31, 2018, NATO established a Cyberspace Operations Centre (CYOC) in Mons, Belgium, that will include 70 cyber experts when it becomes fully operational in 2023. The CYOC "supports military commanders with situational awareness to inform the Alliance's operations and missions."

147

In 2020, NATO published its first cyber doctrine.

148

In 2021, at the NATO summit in Brussels, "Allies endorsed a new Comprehensive Cyber Defence Policy, which supports NATO's core tasks and overall deterrence and defence posture to enhance further the Alliance's resilience."

149
Through the NATO Industry Cyber Partnership, NATO has also invested in a stronger relationship with industry. "This partnership," as described by NATO, "includes NATO entities, national Computer Emergency Response Teams (CERTs) and Allies' industry representatives. Information-sharing, exercises, and training and education are just a few examples of areas in which NATO and industry are working together."150
Cooperation within NATO is also facilitated by two other entities.
The NATO Intelligence on Cyberspace Community of Interest was created "to more regularly exchange information, assessments and best practices—improving NATO's ability to prevent and respond to cyber threats."

151

The NATO Communications and Information Agency "is responsible for ensuring NATO has the secure networks, communications and software needed to guarantee peace and stability for one billion citizens" and "runs the NATO Cyber Security Centre, which defends NATO's networks around the clock from cyber attacks and malicious activity, monitoring, identifying and preventing potential threats." When requested to do so, "the Agency also helps Allies and partner countries boost their capabilities in areas such as cyber defence."

152

In November 2021, the Communication and Information Agency "organised a first NATO counter-drone exercise in the Netherlands…to ensure that commercial systems from different NATO nations can work together, interoperably, to counter threats posed by drones."

153
With respect to the likely effects of Chinese 5G technology on the sharing of intelligence in Europe, U.S. officials have said that utilizing Chinese state-controlled companies for next-generation wireless networks would be "nothing short of madness."154 A Chinese presence in European telecommunications networks could decisively compromise the communications integrity of both the military and the intelligence community. The Brussels Statement notes that "NATO and Allies, within their respective authority, will maintain and enhance the security of our critical infrastructure, key industries, supply chains, and communication information networks, including 5G."155 In March 2022, General Wolters testified that:
The PRC's efforts to expand 5G networks throughout Europe via state-backed firms, such as Huawei and ZTE, pose significant security risks to the interests and military forces if the U.S., Allies, and Partners. These networks place intellectual property, sensitive information, technology, and private personal information at heightened risk of acquisition and exploitation by the Chinese government.

156
Many nations have taken decisions in recent years to restrict Chinese vendors from 5G networks, but these threat perceptions are not uniform, and implementation of these decisions will remain crucially important. The impact of the emerging patchwork approach toward Chinese 5G technology on the European operating environment should become clearer in the coming years.
At the June 2019 NATO summit:
Allies reaffirmed that secure access to space services, products and capabilities is essential for the Alliance's operations, missions and activities. They agreed that attacks to, from or within space present a clear challenge to the security of the Alliance, could be as harmful to modern societies as a conventional attack and could lead to the invocation of the mutual defence clause (Article 5) of the North Atlantic Treaty.
To implement space as an operational domain, the Alliance is enhancing its space domain awareness and common understanding of the space environment. To that end, NATO announced plans in 2021 to develop a Strategic Space Situational Awareness System at NATO Headquarters in Brussels. In addition, NATO's military authorities have accepted an offer from France to establish a NATO Centre of Excellence devoted to space in Toulouse. NATO also agreed on a roadmap for further implementation of NATO's Space Policy in the upcoming years to guide NATO's efforts in a number of areas, including science and technology, resilience and exercises. In 2021, space operational activities were integrated into several exercises, including Steadfast Jupiter, Ramstein Ambition and Steadfast Leda. These exercises involved the development and management of space effects and the integration of space products.

157
Ballistic Missile Defense. NATO's ballistic missile defense (BMD) achieved initial operational capability in July 2016, offering a stronger capability to defend alliance populations, territory, and forces across the southern portion of Europe from a potential ballistic missile attack. For example:
In May and June 2021, 10 nations—Belgium, Denmark, France, Germany, Italy, the Netherlands, Norway, Spain, the United Kingdom, and the United States—took part in the biannual BMD exercise Formidable Shield. Formidable Shield 21 featured 15 ships, 10 aircraft, and 3,300 participants and "[was] designed to improve allied interoperability in a live-fire joint IAMD [Integrated Air and Missile Defense] environment, using NATO command and control reporting structures."166
In January 2017, the Russian embassy in Norway threatened that if Norway contributed ships or radar to NATO BMD, Russia "[would] have to react to defend our security."167 Norway operates four Fridtjof Nansen–class Aegis-equipped frigates that are not currently BMD-capable.168 A fifth Aegis-equipped frigate, the Helge Ingstad, collided with an oil tanker and sustained so much damage that the government decided to scrap it.169
Denmark, which agreed in 2014 to equip at least one of its Iver Huitfeldt–class frigates with radar to contribute to NATO BMD, reaffirmed this commitment in the Defence Agreement 2018–2023.170 Russia's ambassador in Copenhagen responded by publicly threatening Denmark: "I do not believe that Danish people fully understand the consequences of what may happen if Denmark joins the American-led missile defense system. If Denmark joins, Danish warships become targets for Russian nuclear missiles."171
In March 2019, the first of four Dutch De Zeven Provinciën–class frigates received a SMART-L Multi-Mission/Naval (MM/N) D-band long-range radar upgrade that is "capable of BMD mission (surveillance and tracking of ballistic missiles) up to 2000 km while simultaneous[ly] maintaining the air defence capability."172 All four Dutch frigates will receive the radar upgrade and carry SM-3 surface-to-air missiles.173 In May 2021, as part of NATO's Formidable Shield exercise, radar aboard the HNLMS De Zeven Provinciën "was used to eliminate a ballistic missile, marking a first in Europe."174 In December 2020, the Royal Netherlands and German navies signed an agreement to work jointly to develop a replacement for the Dutch De Zeven Provinciën–class frigate and Germany's three F124 Sachsen-class frigates.175
Belgian Admiral Jan de Beurme stated in April 2021 that "we are studying the feasibility of integrating ballistic missile defense shooter capabilities into the new frigates."176 A contract to develop a weapons suite for a joint Belgian and Dutch procurement of two multipurpose frigates apiece was awarded in February 2019, and the vessels are expected to enter service beginning in 2024.177
Spain currently operates four Aegis-equipped F-100 Alvaro de Bazan–class frigates, but they are not yet BMD-capable.178 In April 2019, Spain signed an agreement to procure five F-110 multi-mission frigates, the first of which will likely be deployed in 2026. The Aegis-equipped frigates "will host the first naval solid-state S-band radar for the Spanish Navy."179
The Italian Navy is procuring seven multi-role offshore patrol vessels (PPAs) that are to be delivered from 2021–2026. The first of two BMD-capable PPAs in full configuration is scheduled for delivery in 2024.180
Quality of Armed Forces in the Region
Article 3 of the 1949 North Atlantic Treaty, NATO's founding document, states that at a minimum, members "will maintain and develop their individual and collective capacity to resist armed attack."181 Regrettably, only a handful of NATO members are living up to their Article 3 commitments.
In 2022, only nine countries will spend the required minimum of 2 percent of gross domestic product (GDP) on defense: Croatia (2.03 percent); Estonia (2.34 percent); Greece (3.76 percent); Latvia (2.10 percent); Lithuania (2.36 percent); Poland (2.42 percent); the Slovak Republic (2.00); the United Kingdom (2.12 percent); and the United States (3.47 percent). Romania is just below the threshold at 1.99 percent.182 However, NATO defense spending is trending upward overall. According to the NATO Secretary General's annual report for 2021:
In 2021, eight Allies met the guideline of spending 2% of their GDP on defence, up from just three Allies in 2014. The United States accounted for 51% of the Allies' combined GDP and 69% of combined defence expenditure. Total NATO military spending in 2021 was estimated to exceed USD 1 trillion.
Allies also made progress on their pledge to invest 20% or more of defence expenditures in major new capabilities. In 2021, 21 Allies met the NATO-agreed 20% guideline, compared to only seven in 2014, and 20 Allies spent more in real terms on major equipment than they did in 2020.Allies also made progress on their pledge to invest 20% or more of defence expenditures in major new capabilities.

183
In 2022, 24 Allies met the NATO-agreed 20 percent guideline, compared to only seven in 2014 and 21 in 2021.184
Germany. Germany has long been an economic powerhouse with mismatched military capabilities, but Russia's second invasion of Ukraine sparked major changes in the government's thinking about military power. In 2022, Germany will spend 1.44 percent of GDP on defense and 20.9 percent of its defense budget on equipment, meeting one of two benchmarks.185 In February 2022, Chancellor Olaf Scholz "vow[ed] to anchor a 100 billion (US $113 billion) euro defense fund in the country's constitution and exceed a NATO-wide annual spending goal."186 In announcing the policy change, Scholz stated that "[i]t's clear we need to invest significantly more in the security of our country in order to protect our freedom and our democracy."187
In February, Germany also sent an additional 380 troops, including "artillery soldiers, reconnaissance specialists, medics [and] nuclear and biological warfare specialists," to Lithuania where it serves as the framework nation for NATO's EFP battalion.188 These forces joined the 543 German troops already stationed in Rukla.189 In early April, Germany deployed Ozelot short-range self-propelled air defense systems with Stinger missiles.190 Germany also spent $110 million through 2021 to upgrade facilities in Lithuania that include barracks used by the multinational battalion.191 The Luftwaffe has taken part in NATO's Baltic Air Policing 13 times—more than any other nation's armed forces—most recently out of Šiauliai air base in Lithuania in the summer of 2020 and Ämari Air Base in Estonia from September 2020 to May 2021.192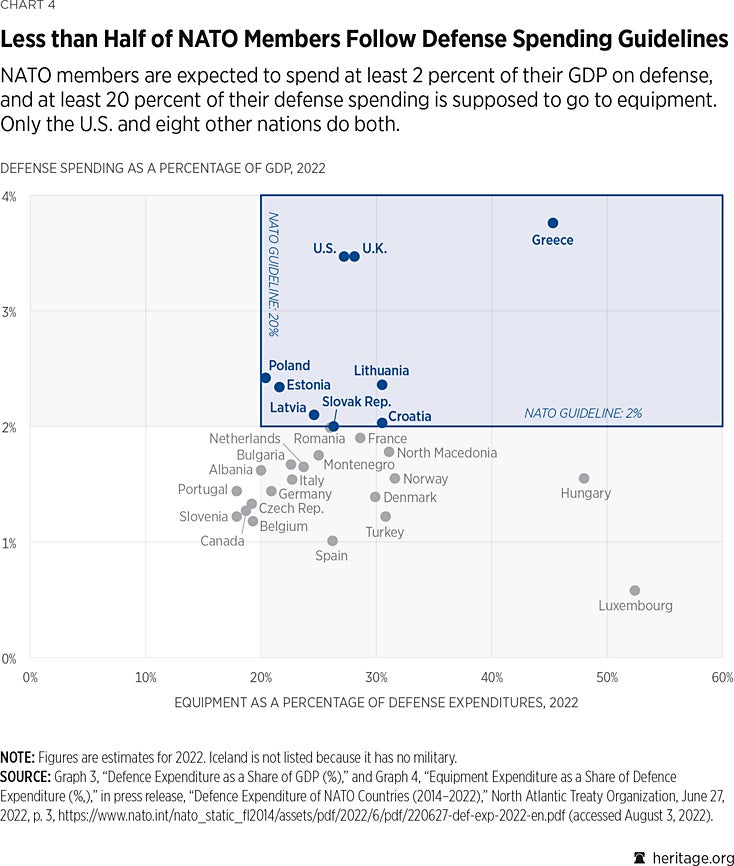 Germany also maintains 70 troops in Kosovo as part of NATO's Kosovo Force.193 In March 2022, the Bundestag extended the mandate for Germany's participation in NATO's Sea Guardian maritime security operation, for which 210 troops are currently deployed, and approved a one-year extension of Germany's participation in the United Nations Mission in South Sudan.194 In May, Germany announced the end of its participation in the EU Training Mission Mali (EUTM), where 300 soldiers had served, but indicated a willingness to extend the mandate for the 1,000 German troops taking part in the U.N.'s Multidimensional Integrated Stabilization Mission in Mali (MINUSMA) if "the UN made sure the shortfalls created by the French withdrawal were filled to ensure the safety of German soldiers."195
In the Middle East, German forces participate in the United Nations Interim Force in Lebanon (UNIFIL) peacekeeping mission, the mandate for which extends through June 2022.196 In January 2022, Germany extended its non-combat training mission in Iraq and its air-to-air refueling, air surveillance radar, and air transport missions in support of the counter-ISIS coalition through the end of October.197
In April 2017, the Bundeswehr established a new cyber command with a staff of approximately 14,500.198 Germany also led NATO's VJTF in 2019 and will do so again in 2023 with "the earmarked units prioritised for modernisation and upgrades."199 In June 2022, Germany announced that it would contribute "15,000 soldiers, 65 aeroplanes, 20 navy units, and other formations to the New Force Model," greatly increasing the size of the NRF.200
Although Germany's forces have taken on additional roles in recent years, its military continues to suffer serious equipment and readiness issues overall. The Bundeswehr was recently described as "more or less bare" by Chief of the Army Alfons Mais and in an "alarming" state by Defense Commissioner Eva Hoegl.201 Major weapons systems have an operational readiness rate of 77 percent.202 However, despite some improvements such as the 71 percent readiness rate for combat vehicles, less than half of Germany's Leopard 2 tanks are ready for action, only 35 of 400 Puma infantry fighting vehicles are "fit for war," less than 30 percent of the Navy's ships are "fully operational in the sense that all of the ship's major systems [are] functional and up to high-intensity operations," and the readiness rate for helicopters is only 40 percent.203 Challenges to the rebuilding of Germany's military capabilities include a lack of domestic industry capacity, a need to rely on manufacturers for repair and upgrade of equipment, manpower shortages, and an outdated and slow procurement structure.204
In March 2022, Germany announced a deal to purchase 35 F-35A fighters "as replacement for the Tornado in the role of nuclear sharing." The Tornados are to be phased out between 2025 and 2030. The Luftwaffe also announced the purchase of 15 Eurofighter Typhoons "equipped for electronic warfare."205 Germany has stated that these purchases do not change its commitment to take part in the Future Combat Air System (FCAS). The Luftwaffe is also reportedly moving toward procurement of an anti-ballistic missile system—either the Israeli-produced Arrow 3 system along with corresponding radar installed at three locations in Germany or the U.S.-produced THAAD system—to defend against attacks from Russian Iskander missiles.206 In March 2021, the Ministry of Defence announced plans to upgrade its Patriot missiles to keep them in service until 2030 and to invest in drone technology rather than a next-generation air defense platform.207
Germany operates the largest fleet of heavy transport aircraft in Europe and has taken delivery of 37 of 53 A400M cargo aircraft ordered.208 In May 2018, the U.S. approved the sale of six C-130J Hercules aircraft and three KC-130J tankers to France and Germany, which were planning to create a joint capability.209 A new joint training center for both aircraft in Normandy broke ground in 2021 and is scheduled to begin operations in 2024.210 The aircraft will be based at Évreux, France, where "this binational air transport squadron will have unrestricted exchange of aircraft, air crews, and maintainers, as well as technical and logistical support based on a common pool of spare parts and a common service support contract."211
Germany announced the end of its P-3C ORION maritime patrol aircraft (MPA) modernization program in June 2020. In July 2021, Germany's Defense Ministry signed a letter of offer and acceptance to procure five P-8 Poseidon maritime patrol aircraft under the U.S. government's Foreign Military Sales process.212 In September, Boeing signed a contract with the U.S. Navy to produce the five planes at a "total price tag" of $1.6 billion with deliveries to begin in 2024.213 Other planned air force procurements include replacement of the country's heavy transport helicopter fleet.214
In April 2022, an agreement was struck for the procurement of 140 missiles for Germany's five Heron TP unmanned aerial vehicles.215 Armed drones have been a contentious political issue for years in Germany, resisted in large part by the Social Democrats. That the decision has now been taken is a significant shift. Germany, France, Italy, and Spain plan to acquire a collective fleet of Eurodrones at an estimated total cost of $7.5 billion. Germany will have seven systems, each of which will include two ground stations and three aircraft.216
Germany continues to work with France on development of the Main Ground Combat System (MGCS), which will replace both nations' main battle tanks.217 However, other funding priorities reportedly include "air transport capabilities, frigates and landing platform," along with €20 billion for munitions, and it is not expected that the project will be completed before 2035.218
Germany's troubled F-125 Baden-Württemberg–class frigate procurement has been completed. In December 2017, the frigate failed sea trials because of "software and hardware defects."219 It reportedly had "problems with its radar, electronics and the flameproof coating on its fuel tanks," was "found to list to the starboard," and lacked sufficiently robust armaments as well as the ability to add them.220 In addition, there are concerns about whether the frigate's ability to defend against aerial attack is so deficient that the ship is fit only for "stabilization operations," and the lack of sonar and torpedo tubes makes the ship vulnerable to attack by submarines.221
Germany returned the ship to the shipbuilder following delivery.222 The redesigned Baden-Württemberg was belatedly commissioned in June 2019, and Germany took delivery of the fourth and final F-125 in January 2022.223 In January 2020, Germany awarded a $6.7 billion contract to the Dutch Damen Shipyards for the next-generation F-126 frigate.224 Damen is building the frigates "together with its [German] partners Blohm+Voss and Thales," and the first of four ordered (with the possibility of another two) is to be delivered in 2028.225
In July 2021, Germany and Norway signed an agreement for a joint program to construct six Type 212CD submarines (two for Germany and four for Norway), the first of which are to be delivered to the Norwegian Navy in 2029 with Germany taking delivery of its submarines in 2032 and 2034.226 Germany's five K130 Corvettes are due to be delivered by 2025, and the first of the class is undergoing sea trials this year.227
In addition to procurements, Germany is seeking to improve readiness by having a combat-ready army division by 2025 rather than the originally planned target of 2027. Germany currently does not have a combat-ready division.228
Deployments often strain the military for years. In one example, "the concentration of all available resources in training, personnel, special tools and spare parts" during the 15-month deployment of TIGER combat helicopters to Mali in 2017 and 2018 "halted the process chain in domestic operations to such an extent that this continued to have a significant disruptive impact on materiel readiness in 2020." Even Germany's robust contribution to Baltic Air Policing "takes everything it has, often at the expense of training initiatives."229
The navy is not much better off. Problems with submarines include "long yard periods, difficulties with main batteries and the practice of 'controlled removal' from some submarines in order to keep others operational."230 Reports surfaced in March 2021 that more than 100 German vessels including submarines rely on a Russian navigation system that does not meet NATO standards and that "[d]uring a worst-case cyberattack, navigation data could be hacked and the ship could fully lose operability."231 And according to one analyst, the six-month deployment of the frigate Bayern to the Mediterranean, Indian Ocean, and Pacific theater beginning in August 2021 "came 'at the price of gutting the fleet,' with ship maintenance plans and training schedules altered to accommodate the Bayern mission."232
There is also a shortage of personnel. The number of personnel on active duty in Germany's army rose from 176,000 in 2016 to 183,695 by the end of 2021. However, "20,412 of the 116,974 military posts above the ranks of junior-ranking personnel were vacant [by the end of 2021]. This is the equivalent of 17.5 per cent." In addition, "at the end of 2019 the average age was 32.4 (32.9 for career soldiers and temporary-career volunteers, 20.1 for military service volunteers)" and "had risen to 33.1 by the first half of 2021 (33.8 for career soldiers and temporary-career volunteers, 20.7 for military service volunteers)."233 In April 2021, Germany started a year-long "voluntary military service in homeland security" program that mixes combat training with specialist training to prepare 1,000 young Germans per year to deal with pandemics or natural disasters and protect critical infrastructure.234
France. France has one of NATO's most capable militaries and retains an independent nuclear deterrent capability. France rejoined NATO's Integrated Command Structure in 2009 but remains outside the alliance's nuclear planning group.
In 2022, France will spend 1.90 percent of GDP on defense and 28.6 percent of defense spending on equipment, narrowly missing meeting both NATO benchmarks.235 France will spend at least $45.1 billion on defense in 2022, which is about $1.8 billion more than it spent in 2021. Incumbent President Emmanuel Macron has promised further increases, but the scale of those increases remains unclear.236 France's defense budget for 2022, according to an Armed Forces Ministry spokesman, "reflects the nation's commitment to increase its defense funds by €1.7 billion year over year since 2019" and "represents a €9 billion increase over the 2017 budget." All told, the "French government has invested a cumulative €26 billion on defense over the past five years."237
Following the Cold War, France drew down the capabilities needed for peer-to-peer conflict. Between 1991 and 2021, "the number of battle tanks dropped from 1,349 to 222, the number of fighters from 686 to 254, the number of large surface ships from 41 to 19 and its active-duty manpower from 453,000 to 203,000." "Today, the French Army is beautiful," French General Eric Laval has said, "but in a high intensity conflict, would it be able to hold beyond 48 hours? High intensity would imply potentially very tough battles which could last between 72 to 96 hours and which we are not allowed to lose." Chief of the Army General Pierre Schill has described the current transformation process as the "most important modernization undergone since World War II."238
Air Force procurements include an upgrade to the aerial refueling and airlift fleet. In February 2020, France received the second of two KC-130J Super Hercules.239 It also has been introducing new A330 MRTT (Multi-Role Tanker Transport) aircraft and as of April 19, 2022, had received six of a dozen ordered.240 France received its 18th A400M Atlas military transport aircraft in April 2021 and plans to have 25 in service by 2025.241 In October 2020, the government announced that the final 10 NH90 Tactical Troop Helicopters on order for delivery in 2025 and 2026 would be upgraded to meet special forces requirements.242
In January 2019, France signed a $2.3 billion agreement with Dassault Aviation for development of the F4 Standard upgrade to the Rafale fighter aircraft. The upgrade includes "a number of new features, the most important of which is an improvement in the aircraft's connectivity in both national and allied contexts, through software-defined radio, new links, and satellite communications."243 The 28 Rafales to be delivered in 2025 "will include some F4 functionalities."244 An additional 30 Rafales at full F4 configuration will be delivered by 2030. It is expected that "[t]he F4 version will significantly improve the 4.5-generation fighter's stealth capabilities, which although present in earlier versions to some extent failed to compete with fifth-generation combat aircraft."245
In February 2021, France signed a contract to procure an additional 12 Rafales at the F3R standard by 2025 to replace fighters that had recently been sold to Greece.246 In May 2021, France, Germany, and Spain signed an agreement to develop a flying demonstrator aircraft for the Future Combat Air System, which is to begin entering service in 2040.247 As of March 2022, because of ongoing disputes between defense companies on technology sharing, the program had yet to enter research and development.248 Executives at Dassault, one of the main defense firms working on the program, stated that "development work on FCAS had in effect ground to a halt, with the company taking its engineers off the programme until it was able to agree [on] a way forward with Airbus."249 Further complicating the picture, France now worries that Germany's plan to buy the F-35 places the two countries on diverging timelines for the new aircraft.250 In March, France announced that it would upgrade 42 of 67 Tiger MkIII attack helicopters at a cost of $3.06 billion with delivery expected in 2029.251
France established a 220-person Space Command under the Air Force in September 2019 and has committed to investing $4.78 billion in its space capabilities by 2025.252 In January 2021, NATO approved a Center of Excellence for Military Space to be located alongside French Space Command in Toulouse. The first researchers arrived in 2021, and the center is to be fully staffed by 2025.253
France intends to have a "fully capable" system to defend its space assets in place by 2030. "If our satellites are threatened," Armed Forces Minister Florence Parly has said, "we intend to blind those of our adversaries. We reserve the right and the means to be able to respond: that could imply the use of powerful lasers deployed from our satellites or from patrolling nano-satellites."254 In March 2021, with German and U.S. space forces also participating, France launched its first military exercise (AsterX) in space "to evaluate its ability to defend its satellites and other defense equipment from an attack."255 AsterX 2022 took place in February and March with the U.S. participating.256 In 2022, in addition to personnel and infrastructure, "[t]he Air and Space Force will receive a number of anti-drone jammer guns, and the service plans to deploy an experimental counter-UAS laser weapon aboard a warship at sea next year."257
Army procurements include Kochi HK416 Assault Rifles, more than 50 percent of which had been delivered as of March 2022; 300 ANAFI USA micro-drones; and 364 Serval Armored Vehicles, 108 of which are to be delivered by the end of 2022.258 The Army will receive 50 upgraded Leclerc tanks in 2022 and plans to invest €58 million in the Main Ground Combat System, a next-generation tank that is being developed jointly with Germany.259
One major project is an upgrade to the French sea-based and air-based nuclear deterrent. The nation test-fired the M51.2, the current three-stage, sea-land strategic ballistic missile (without a warhead), in April 2021 as part of a development program for the M51.3, which is expected in 2025.260
France's sea-based deterrent is provided by four Le Triomphant–class ballistic missile submarines.261 In March, in response to Russian aggression and threats, France reportedly had three of its four ballistic missile submarines at sea at the same time—something that has not happened in decades. Similar messaging was behind the successful test of the ASMP-A air-launched nuclear weapon in March 2022.262 The government launched France's third-generation ballistic missile submarine program in February 2021. Delivery of the first submarine is planned for 2035 with three additional subs to be delivered every five years thereafter. Armed Forces Minister Parly has described the third-generation submarines in colorful terms as able to "hear better and defend themselves better whilst at the same time being more silent: They will not make more noise than a school of shrimp."263
Other major naval procurements include $1.09 billion through 2025 for the design phase of a new nuclear-powered aircraft carrier that will deploy 30 Future Combat Air Systems and is planned to enter service in 2038.264 The carrier procurement will account for 20 percent of French naval vessel procurement spending during the next decade.265 In December 2021, the U.S. Department of State's Defense Security Cooperation Agency (DSCA) cleared a potential $1.3 billion sale to France of an Electromagnetic Aircraft Launch System (EMALS), an Advanced Arresting Gear (AAG) system, and related equipment for its new carrier, which will incorporate two or three EMALs and relatively new electromagnetic catapult systems. According to the DSCA, "[t]he proposed sale will result in a continuation of interoperability between the United States and France."266 The Suffren, the first of six new fifth-generation Barracuda-class nuclear-powered attack submarines, was commissioned in November 2020.267 The second vessel, the Duguay-Trouin will be delivered by the end of the year.268
France is procuring five defense and intervention frigates, the first of which is due in 2024 and the second and third due in 2025.269 The Alsace, a FREMM multi-mission frigate delivered in April 2021, and the Lorraine, which underwent sea trials in February and will be delivered by year's end, will have enhanced air defense capabilities in addition to the focus on anti-submarine warfare that characterizes the six FREMMs that were delivered between 2012 and 2019.270
In November 2020, Armed Forces Minister Parly announced the overhaul of the entire mine countermeasures systems by 2029.271 In the same month, France and the U.K. signed a production contract for the joint Maritime Mine Counter Measure (MMCM) autonomous minehunting system.272 Identical unmanned mine-hunting demonstrators were delivered to France and the U.K. in December 2021 and have begun capability development trials.273
In December 2016, France opened a cyber-operational command.274 The French Military Programming Law for 2019–2025, enacted in the summer of 2018, added "an additional 1.6 billion euros for cyber operations along with 1,500 additional personnel for a total of 4,000 cyber combatants by 2025," and in January 2019, France issued its "first doctrine for offensive cyber operations."275 This year, France will spend "€11 million to develop a sovereign combat cloud capability."276
France, which has NATO's third-largest number of active-duty personnel,277 withdrew the last of its troops from Afghanistan at the end of 2014, although all of its combat troops had left in 2012. France continues to remain engaged in the fight against the Islamic State, deploying 600 troops in Operation Chammal.278 In February 2022, the Charles de Gaulle Carrier Strike Group undertook a three-month operational deployment to the Mediterranean that included support for Operation Chammal. During the deployment, the CSG took part in "'tri carrier operations' with the Italian Navy (Marina Militare)'s Cavour CSG and the U.S. Navy's Truman CSG" to maintain interoperability and train with new assets like F-35Bs and E-2D Advanced Hawkeye aircraft.279
France's contributions to NATO deterrence missions in Eastern Europe have included the deployment of approximately 337 soldiers to Estonia as part of NATO's Enhanced Forward Presence.280 France also has deployed 500 troops to Romania "to further increase its contribution to reassurance for the Allies most exposed to Russia's threatening actions" in Ukraine and has taken part in Baltic Air Policing nine times, most recently flying out of Estonia from March 31 to August 1, 2022, with "four Mirage 2000-5 fighter aircraft and a 100-strong air force detachment."281 In addition, four Rafale fighters along with air-to-air refuelers fly combat air patrol missions over Poland from bases in France as part of NATO's "enhanced Vigilance Activities."282 France, which led NATO's VJTF in the first half of 2022,283 is preparing for high-intensity warfare with a full-scale divisional exercise Orion for 2023 that could involve up to 10,000 troops in addition to air and naval units.284
On February 17, 2022, President Macron announced that "France will withdraw its [2,400] troops from Mali nine years after it first intervened to drive Islamic extremists from power but intends to maintain a military presence in neighboring West African nations." France also plans to reduce its Barkhane force in the Sahel region, which includes Burkina Faso, Chad, Mauritania, and Niger, from 4,300 to 2,500–3,000 troops.285 The French military has more than 1,600 troops stationed in Djibouti, 900 in Côte d'Ivoire, 350 in Gabon, and 400 in Senegal.286 France also has 650 troops stationed in the United Arab Emirates,287 and a 15-year defense agreement between the two countries has been in effect since 2012.
In the Mediterranean, French Rear Admiral Jean J. de Muizon is Deputy Operation Commander of the EU-led Operation Irini, which has as its chief mission the enforcement of a U.N. arms embargo on Libya.288 Operation Irini organized the April 2021 Le Pérouse naval exercise in the Bay of Bengal, which also included ships from Australia, Japan, India, and the U.S.289 France also conducts occasional freedom-of-navigation operations in the Pacific. In 2021, for example, it sent a nuclear-propelled attack submarine and warship on an eight-month mission to the Indian and Pacific Oceans.290
France is keenly aware of and concerned about Chinese activity in the Pacific. In June 2021, French Admiral Pierre Vandier said that France faced "a logic of suffocation" in the region because of China's activities:
We have a lot of evidence showing a change in posture. Our boats are systematically followed, sometimes forced to maneuver in front of Chinese ships to avoid a collision, in defiance of the rules of freedom of navigation that we defend. Some of our stopovers in countries in the region where we used to pass are canceled at the last moment, without clear explanations.

291
The French-led, Abu Dhabi–based Awareness Strait of Hormuz initiative to help patrol the waters near Iran became operational on February 25, 2020. France continues to contribute to the initiative's military mission, Operation Agenor.292
Operation Sentinelle, launched in January 2015 to protect the country from terrorist attacks, is the largest operational commitment of French forces. Sentinelle and Operation Resilience, launched in March 2020 to help combat the coronavirus,293 together represent a domestic commitment of 13,000 French forces.
Frequent deployments, especially in Operation Sentinelle, have placed significant strains on French forces and equipment. According to one analyst:
Firstly, the conjunction of Opération Sentinelle and operations Inherent Resolve and Barkhane led to reduced training time for land forces and for pilots of combat aircraft, helicopters and especially transport aircraft, with the training shortfall amounting to nearly one-third of the intended flight hours. These personnel were on active duty and no longer receiving sufficient training.
Secondly, the equipment was in intensive use and wearing out more quickly, but the budgets allocated for maintenance proved to be insufficient, which meant that equipment-readiness rates fell. Readiness rates were very low for transport and attack helicopters in particular—just over 50% in 2017—and for the armoured vehicles used in the Sahel, only three-quarters of which were serviceable during the same period.

294
The United Kingdom. America's most important bilateral relationship in Europe is its Special Relationship with the United Kingdom. From the sharing of intelligence to the transfer of nuclear technology, a high degree of military cooperation has helped to make this relationship unique.
In 2022, the U.K. will spend 2.12 percent of GDP on defense and 28.1 percent of its defense budget on equipment.295 In November 2020, the government announced plans to spend "a projected total of nearly $22 billion" on defense across the next four years "on top of a previous commitment to add $2 billion more to the country's defense budget, with the combined planned increase being approximately $24.1 billion through 2024." The new funding will be used in part for acquisitions, including frigates, Type 32 warships, and the U.K.'s Future Combat Air System. The U.K. is also standing up a Space Command and an Artificial Intelligence Center.296
In March 2021, the U.K. released its Integrated Review of Security, Defence, Development and Foreign Policy as well as a Defence Command Paper.297 The Defence Ministry's Command Paper, which lays out a plan for military modernization, includes plans for "a new Multi-Role Ocean Surveillance capability to safeguard the critical undersea national infrastructure on which our prosperity depends" and a new special operations Army Ranger Regiment that "will be able to operate in complex, high-threat environments, taking on some tasks traditionally done by Special Forces."298
The paper also specifies significant cuts in capability, including retirement of Mine Counter Measures Vessels, and the early retirement of C-130J transport aircraft.299 The army would be reduced "from the current Full Time Trade Trained strength of 76,000 to 72,500 by 2025"—the smallest it has been since 1714.300 One analysis argues that the Army reduction "is less than might appear" because "the Army has been well below its planned personnel numbers for some years," but the loss of the C-130J will be felt as "[t]hese aircraft had been particularly favoured for Special Forces roles, which will now fall to the considerably larger A400M Atlas."301 Additionally:
[T]the Army will invest around £1.3bn in our armoured capability by upgrading 148 of our main battle tanks to ensure the Challenger III will become one of the most protected and most lethal in Europe. The remaining fleet will be retired. We will no longer upgrade Warrior but it will remain in service until replaced by Boxer, which we expect to happen by the middle of this decade.

302
Russia's second invasion of Ukraine has raised questions about plans detailed in the Integrated Review: "Among the changes to be implemented was a pivot to the Asia–Pacific region and a transformation of the military towards hi-tech capabilities like space, cyber, and artificial intelligence, away from conventional weapons like main battle tanks."303
The U.K.'s Defence Equipment Plan 2021–2031 details spending of £238 billion (approximately $310 billion), across 10 years, an increase of 25 percent (£48 billion) from the previous year's plan.304 Navy Command will receive £38.1 billion; Army Command, £41.3 billion; Air Command, £36.2 billion; Strategic Command, £35.0 billion; the Defence Nuclear Organisation, £58.1 billion; and the combined Strategic and Combat Air Programmes, £21.5 billion.305 According to U.K. Secretary of State Ben Wallace MP:
[W]e have also made the significant investments required to address new threats and to ensure that our armed forces remain capable and credible. This includes continuing to deliver the Dreadnought class of submarines to renew the nuclear deterrent, building new ships for the Royal Navy, a major modernisation and upgrade programme for the Army, developing the Future Combat Air System, and investing in space, cyber and digital.

306
It remains unclear whether the Ministry of Defence will be able to cover the costs of the proposed equipment plan. The National Audit Office has warned that "in this year's Plan, risks remain of over-optimistic assumptions about future budgets, costs and the likely achievement of savings targets." As a consequence, "[t]here is a real risk that, despite the additional funding it has received, the Department's ambition outstrips the resources available to it."307
Although the number of its active-duty servicemembers is small in comparison to the militaries of France and Germany, the U.K. maintains European NATO's most effective armed forces. Nevertheless, the Army admitted in October 2020 that it would miss targets set down in the 2015 Strategic Defence and Security Review (SDSR) and that "[a] fully capable division including a new Strike brigade will not be available for fielding until the early 2030s." By 2025, the Army will "only be able to deploy a combat division consisting of just a single armoured infantry brigade and an interim manoeuvre support brigade."308 As explained by Ben Barry of the IISS:
The Army was mandated [in the 2015 review] to deliver two armored infantry brigades, whereas they are now saying they can only generate one. They have enough vehicles for three infantry armored brigades, but my very strong suspicion is they haven't been spending money on spares. If they haven't got sufficient spare parts they will only risk sending one brigade on operations.

309
In early 2021, the Defence Ministry announced that it had been granted observer status for the Franco-German Main Ground Combat System program, which is slated to replace French and German Main Battle Tanks "around 2035."310 In April 2019, the U.K. reported that it was planning to upgrade only 148 of its 227 remaining Challenger II main battle tanks, cutting its fleet by one-third.311 The 79 other tanks would be scavenged for spare parts.312 Because Challenger tanks are not currently manufactured, sourcing spare parts is a continual problem.313 The British Army had previously cut its tank forces by 40 percent in 2010.314 The Defence Command Paper laid out plans to spend £1.3 billion on upgrades to "148 of our main battle tanks to ensure the Challenger III will become one of the most protected and most lethal in Europe."315 One former U.K. tank officer recently wrote that the small number of available U.K. tanks means that "our armoured brigades can only play a bit part in someone else's military in alliance or coalition."316 Production of the Challenger IIIs began in March, and initial operating capability is expected in 2027.317
In March 2021, the U.K. announced that it would no longer upgrade its Warrior armored vehicles but that they would remain in service through the mid-2020s.318 In 2019, the U.K. signed a £2.8 billion deal to procure around 523 Boxer armored vehicles.319 As a result of the decision to stop upgrading the heavier Warriors, the Army is "conducting an analysis on potential lethality enhancements of Boxer vehicles."320 The Army announced a purchase of 100 additional Boxers (for a total of 623) in April 2022 with the first units expected to enter service next year.321
As of February 2022, the U.K. had taken delivery of 25 of 48 F-35Bs ordered with delivery of three more expected by the end of 2022.322 Although the total number of F-35s that will be procured may not be known until "the 2025 time frame," the Defense Command Paper states an ambition to "grow the [F-35] Force, increasing the fleet size beyond the 48 aircraft that we have already ordered."323 RAF F-35s based at Akrotiri, Cyprus, flew operational sorties for the first time in June 2019.324
In 2019, the U.K. took delivery of the last of 160 Typhoon aircraft, all of which were expected to stay in service until 2040.325 However, in March 2021, the U.K. announced that 24 Tranche 1 Typhoons will be retired by 2025.326 Project Centurion, a $515.83 million Typhoon upgrade to integrate additional Storm Shadow long-range cruise missiles and Brimstone precision attack missiles, was completed in 2018 and enabled the U.K. to retire its fleet of Tornado aircraft.327 The U.K. recently detailed a £2 billion investment over the next four years to develop the Tempest, a sixth-generation fighter to be delivered in 2035, and is partnering with Italy, Japan, and Sweden on the project.328
The RAF operates the largest fleet of air-to-air refuelers in Europe, which is noteworthy because of the severe shortage of this capability on the continent.329 Along with the U.K., the U.S. has produced and jointly operated an intelligence-gathering platform, the RC-135 Rivet Joint aircraft, which has seen service in Mali, Nigeria, and Iraq and is now part of the RAF fleet.330
The U.K. operates seven C-17 cargo planes and has started to bring the European A400M cargo aircraft into service after years of delays. Britain has taken delivery of 20 of 22 A400M heavy transport aircraft ordered, with the final two set for delivery by the end of 2022, and appears to be planning to order additional A400Ms later in this decade.331
The Sentinel R1, an airborne battlefield and ground surveillance aircraft, flew its last operational flight in February 2021.332 In January 2021, the U.K. took delivery of the last of nine P-8 Poseidon maritime patrol aircraft (MPA) that are to be based at RAF Lossiemouth in Scotland.333 In 2018, retired Air Vice-Marshal Andrew Roberts testified to Parliament that "capable though the P-8 may be, the number of aircraft planned is undoubtedly inadequate to fulfil even the highest priority tasks likely to be assigned to the force in tension and hostilities."334
The U.K. also plans to procure approximately 45 medium helicopters to remain in service until the mid-2040s. This platform will replace four different helicopter platforms currently in service.335
The Royal Navy has lost 40 percent of its fleet since the end of the Cold War.336 Of the 55 ships lost since the early 1980s, half are frigates, and the U.K. now operates only 12.337 Overall:
Budget cuts have delayed crucial procurement programmes. The Type 23 frigates and Trafalgar class submarines should have been replaced years ago, and it is becoming increasingly challenging and expensive to maintain aging vessels. The Navy has also taken too long to rectify major problems with vessels. One notable example is the issue with the Type 45 destroyers' propulsion system: the six vessels are not scheduled to be fixed until 2028, and there are already signs that this target may be slipping. As a result of these failures too many of our high-end warships spend too much of their time unavailable for operations.

338
However, as construction of destroyers and frigates picks up steam, "the ambition is to rebuild to more than 20 by the end of the decade."339
The Royal Navy's surface fleet is based on the new Type-45 destroyer and the older Type-23 frigate. The latter will be replaced by eight Type-26 Global Combat Ships sometime in the 2020s.340 The Type-26 Global Combat Ships are meant to handle a flexible range of tasks; weaponry will include "the Sea Ceptor missile defence system, a 5-inch medium calibre gun, flexible mission bay, Artisan 997 Medium Range Radar, and towed array sonars" as well as "the Future Cruise/Anti-Ship Weapon (FCASW) from 2028."341 In September 2021, construction began on the first of five T31e frigates, which are scheduled to enter service in 2027.342 One of the U.K.'s oldest Type-23 frigates, HMS Monmouth, was retired early at the end of 2021, and a second, HMS Montrose, is being retired this year. The projected savings of £100 million ($133 million) "will be invested into the development of the follow-on capabilities of the Type 26 anti-submarine warfare frigate and Type 31 general purpose frigate."343
From May 2021–December 2021, the HMS Queen Elizabeth conducted its first operational deployment that included time in the Mediterranean Sea and the Indian and Pacific Oceans, "working alongside ships from 17 countries and participating in 18 major exercises."344 The Carrier Strike Group deployment included a U.S. destroyer and a Dutch frigate. The Queen Elizabeth's embarked F-35s "undertook 1,278 sorties in total during the deployment, with more than 2,200 hours of flying, including 44 combat missions in support of Operation Inherent Resolve against the Islamic State (ISIS) in Iraq and Syria."345 In November, the Carrier Strike Group took part in interoperability exercises with Italian F-35Bs. According to Commodore Steve Moorhouse, commander of the U.K. Carrier Strike Group, "The fact that US, Italian, and UK F-35Bs are able to fly to and from one another's decks offers tactical agility and strategic advantage to NATO."346
The U.K.'s Queen Elizabeth–class carriers are the largest operated in Europe. A second in this class, HMS Prince of Wales, will be the larger of the two carriers and was commissioned in December 2019.347 However, the Prince of Wales has been beset by a series of leaks that have cost £3.3 million to correct and necessitated the cancellation of planned fixed-wing sea trials with F-35s off the U.S. east coast that were scheduled for January 2021.348 The Prince of Wales returned to the sea in May 2021 after five months of repairs.349 Each carrier is capable of supporting 36 F-35s, but the U.K. currently plans to procure only 48.350 In March 2022, the Prince of Wales led NATO's Maritime High Readiness Force, serving as command ship for Exercise Cold Response, in which 35,000 troops from 28 nations converged in Norway and the surrounding seas through April for cold-weather exercises.351
The Royal Navy is also introducing seven Astute-class attack submarines as it phases out its older Trafalgar-class subs. The fifth Astute-class submarine was launched in April 2021.352 Crucially, the U.K. maintains a fleet of 13 Mine Counter Measure Vessels (MCMVs) that deliver world-leading capability. As a supplement, the U.K. began minehunting and survey operations using unmanned surface vessels (USVs) in March 2020.353 In February 2022, the U.K. ordered a fifth ATLAS Remote Combined Influence Minesweeping System.354
Perhaps the Royal Navy's most important contribution is its continuous-at-sea, submarine-based nuclear deterrent based on the Vanguard-class ballistic missile submarine and the Trident missile. In July 2016, the House of Commons voted to renew Trident and approved the manufacture of four replacement submarines to carry the missile. The U.K.'s Integrated Review announced plans to raise the ceiling on the nation's nuclear-warhead stockpile because of "the developing range of technological and doctrinal threats."355
The U.K. plans to procure four new Dreadnought-class ballistic missile submarines, which are expected to have a 30-year life span, at a cost of £31 billion (plus an additional contingency funding stream of £10 billion for any potential cost overruns) with the first, HMS Dreadnought, to be completed in the early 2030s.356 Construction on a second submarine, HMS Valiant, is ongoing, and construction on the third and fourth, HMS Warspite and HMS King George VI, is in its initial phases. In May 2021, the Ministry of Defence ordered a review of the program because of delays that continue to push back the date of completion.357
Despite these issues, the U.K. remains a leader in NATO, serving as the framework nation for NATO's EFP in Estonia and a contributing nation for the U.S.-led EFP in Poland with 150 troops.358 In February 2022, the U.K. announced that it was doubling its troop presence in Estonia to more than 1,700 troops along with 48 Warrior Infantry Fighting Vehicles and 24 Challenger II Main Battle Tanks.359 The U.K. also deployed 140 armed forces engineers to Poland in December 2021 "in response to the pressures from irregular migration at the Belarus border" and 350 Marines to Poland in February 2022 to assist "Polish Armed Forces with joint exercises, contingency planning and capacity building in the face of ongoing tensions on the Ukrainian border." Both deployments are on a bilateral basis.360 In March 2022, the U.K. announced that more than 150 troops would be joining a new NATO multinational battalion in Bulgaria with 150 troops.361
The Royal Air Force has taken part in Baltic Air Policing six times since 2004, most recently in May–August 2020.362 In March 2022, four RAF Typhoons were deployed to Romania to take part in NATO's enhanced Air Policing (eAP), the fourth time the RAF has participated in eAP since 2017.363 That same month, the RAF announced that F-35s flying from RAF Marham were taking part in patrols of Polish and Romanian airspace as part of NATO's Enhanced Vigilance Activity.364 From November–December 2019, four U.K. typhoons and 120 personnel took part in Icelandic Air Policing.365
Before its withdrawal early in 2021, the U.K. maintained a force of 895 troops in Afghanistan as part of NATO's Resolute Support Mission.366 It also contributes to NATO's Kosovo Force;367 the Standing NATO Mine Countermeasures Group One, Standing NATO Maritime Group One, and Standing NATO Maritime Group Two;368 and, as an active part of the anti-ISIS coalition, Operation Shader.369 In February 2021, the U.K. announced that it planned to increase the number of British troops (currently "about 100 soldiers") engaged in training Iraqi security forces.370
Italy. Italy hosts some of the U.S.'s most important bases in Europe, including the headquarters of the 6th Fleet. It also has NATO's fifth-largest military371 and one of its more capable despite continued lackluster defense investment. In 2022, Italy will spend 1.54 percent of its GDP on defense and 22.7 percent of its defense budget on equipment, meeting the second NATO spending benchmark.372 Spending in 2021 represented a 9.6 percent or $1.7 billion year-over-year increase from 2020.373 In April, Prime Minister Mario Draghi announced that Italy would attain the 2 percent benchmark in 2028 rather than 2024, "a member of his ruling coalition, the Five Star party, [having] threatened to oppose a pending parliamentary vote on the matter over concerns the cash would be better used on social programs."374 As indicated in the Defense Ministry's Multi-year Planning Document 2021–2023, released in August 2021, overall defense spending will decline "to about 1.23% [of GDP] by 2023 moving further away from the 2% that European NATO countries agreed to aim for at the 2014 NATO summit."375 Italy spends the alliance's second-highest total on salaries (60.5 percent of its defense budget), "leaving proportionally less cash for military procurement, training, maintenance and infrastructure."376
Air Force procurements include (among others) T-345 and T-346 jet trainers; three MC-27J Praetorians "in the special operations configuration" and the EC-27J JEDI (Jamming and Electronic Defense Instrumentation) electronic warfare aircraft, both of which are variants of the C-27J Spartan; loitering munitions; and two KC-767 air-to-air refuelers.377 Italy plans to purchase 60 F-35As for the Air Force and 30 F-35Bs, the F-35Bs to be divided equally between the Air Force and Navy.378 A government-owned plant for final assembly of the F-35 is located in Cameri, Italy. Italy has thus far received 18 aircraft: 14 F-35As and one F-35B for the Air Force and three F-35Bs for the Navy.379 The Air Force will continue funding development of the Eurodrone in conjunction with France, Germany, and Spain and is planning upgrades to its fleet of MQ-9 reaper drones, which Italy may be intending to arm.380
In December 2020, Italy signed the Future Combat Air System (FCAS) Cooperation agreement with Sweden and the U.K. The agreement covers "the cooperation for research, development, and 'joint-concepting'" of the sixth-generation Tempest fighter.381 According to the planning document, Italy has allocated an initial €2 billion for the program.382 In April 2021, Military Chief of Staff General Enzo Vecciarelli suggested that the Tempest might possibly employ directed energy weapons to defeat hypersonic missiles.383
Key Army procurements include the planned acquisition of 150 Centauro II tank destroyers, with delivery of the first tranche to be completed by the end of 2022; 650 Lince 2 light multi-role vehicles; 156 VBM Freccia 8x8 infantry combat vehicles; and upgrades to the Ariete Main Battle Tank (MBT). The Army plans to upgrade 125 Ariete MBTs, extending their operational timeline to 2040. However, analysts have noted that not enough money has been allocated to upgrade all 125, so either future allocations will be necessary or plans will be scaled down. Because of inadequate funding, other non-priority Army acquisition projects are not likely to come into service until the end of the decade.384
Key naval procurements include plans for four U212A submarines, the first of which is scheduled for delivery in May 2030; "a special operations & diving operations/Submarine Rescue Ship"; and the Teseo Mk2/E anti-ship missile, which is in development.385 Italy launched the last of 10 new FREMM frigates in January 2020 and has funded "two-year feasibility and risk-reduction studies" with a view to replacing two aging destroyers with two 10,000-ton DDX destroyers by 2028.386
Italy's focus is the Mediterranean region where it participates in a number of stabilization missions including NATO's Sea Guardian, the EU's Operation Irini and Operation Atalanta, and the Italian Navy's own Operation Mare Sicuro (Safe Sea) off the Libyan coast.387 Additionally, "Italy has 400 men, 142 land vehicles and 2 air vehicles in Libya" as part of the bilateral Mission of Assistance of Support in both Misrata and Tripoli.388
Despite a southern focus, Italy contributes to Standing NATO Mine Countermeasures Group Two, as well as the EFP battalion in Latvia (250 troops) and Operation Prima Parthica (600 troops, partly to help train Iraqi Security Forces), and is leading NATO Mission Iraq in 2022.389 Italian air assets including Tornado jets operating out of the Ahmed Al Jaber air base in Kuwait are performing reconnaissance missions in support of the coalition to defeat the IS.390 With 621 troops, Italy is the second-largest contributor to KFOR after the United States.391 In March 2022, Italy announced that it was sending two mine countermeasures vessels to Romania.392
The Italian Air Force is a strong contributor to Baltic Air Policing and participated in a 15-month mission from September 2020–December 2021. Italian Typhoons first operated out of Lithuania from September 2020–April 2021.393 In April 2021, Italy deployed four F-35As to Estonia, marking the first time the F-35 has taken part in Baltic Air Policing.394 In September 2021, four Italian Typhoons took over flying out of Ämari air base in Estonia until December 1, 2021.395 From December 2021–March 2022, the Air Force took part in NATO's enhanced Air Policing in Romania with four typhoons and 140 troops.396 Italy previously participated in air policing out of Romania in 2019 and "a four-month enhanced Air Policing deployment to Bulgaria in 2017."397 The Italian Air Force has deployed to Iceland to perform air patrols six times since 2013, most recently in June–July 2020 when six F-35As were deployed to Iceland.398
Poland. Situated in the center of Europe, Poland shares a border with four NATO allies, a long border with Belarus and Ukraine, and a 144-mile border with Russia's Kaliningrad Oblast, a Russian enclave between Poland and Lithuania on the Baltic Sea. Poland also has a 65-mile border with Lithuania, making it the only NATO member state that borders any of the Baltic States. NATO's contingency plans for liberating the Baltic States in the event of a Russian invasion reportedly rely heavily on Polish troops and ports.399
Poland is ground zero for supplies and military equipment from Western allies reaching Ukraine. In early March 2022, it was reported that an average of 14 wide-bodied aircraft with matériel and weapons arrive at the Rzeszow airport each day.400 The U.S. reportedly deployed two Patriot missile batteries at the airport, thereby underscoring its importance, in mid-March.401
Poland has an active military force of 114,050 that includes a 58,500-person army with 797 main battle tanks.402 It also has a Territorial Defense Force (TDF) that is intended "to increase the strength of the armed forces and the defense capabilities of the country," according to former Minister of Defense Antoni Macierewicz, and "is also the best response to the dangers of a hybrid war like the one following Russia's aggression in Ukraine."403 The TDF is mostly volunteer; "its personnel combine their civilian careers with limited military service of a minimum of two days twice a month and an annual two-week camp."404 Its planned 17 brigades will be distributed across the country.405 The force, which will number 53,000 by 2026,406 constitutes the fifth branch of the Polish military, subordinate to the Minister of Defense.407 National Defense Minister Mariusz Blaszczak has stated that the TDF's performance combating COVID-19 has "impeccably proved their importance and effectiveness."408
Poland is also investing in cyber capabilities. Its new Cyberspace Defense Force was established in February 2022 with a mission of "defense, reconnaissance and, if need be, offensive actions to protect Poland's Armed Forces from cyberattacks."409 In November 2020, the U.S. and Poland signed an enhanced defense cooperation agreement that increased the number of U.S. forces stationed in Poland. The U.S. further expanded its footprint in Poland in 2022 following Russia's second invasion of Ukraine.
In 2022, Poland will spend 2.42 percent of GDP on defense and 20.4 percent of its defense budget on equipment, surpassing both NATO benchmarks.410 Poland's 2020 National Security Strategy accelerated the timeline for spending 2.5 percent of GDP on defense from 2030 to 2024.411 A law passed by the lower house of Parliament in March 2022 would increase defense spending to 3 percent of GDP in 2023 and increase the size of the armed forces to 300,000, 50,000 of whom would be members of territorial defense units).412
Poland is making major investments in military modernization and is planning to spend $133 billion on new capabilities by 2035 as envisioned in the Defense Ministry's Technical Modernization Plan for 2021–2035, which was signed in October 2019.413 In addition, several major acquisitions have been announced in recent years. For example:
Although Poland's focus is territorial defense, it had 290 troops deployed in Afghanistan as part of NATO's Resolute Support Mission.423 Poland's Air Force has taken part in Baltic Air Policing 10 times since 2006, most recently operating four F-16s out of Šiauliai Air Base in Lithuania from December 2021–March 2022.424 From August–October 2021, four Polish F-16s and 140 troops took part in Icelandic Air Policing, marking the first time that Poland has taken part in that mission.425 In 2020, Poland was the lead for NATO's VJTF, and approximately half of the 6,000 troops in the VJTF's Spearhead Force were Polish.426 Poland also is part of NATO's EFP in Latvia and has 247 troops in NATO's KFOR mission in Kosovo.427
In addition, 150 troops are deployed to Iraq, Jordan, Kuwait, and Qatar as part of Operation Inherent Resolve, and 30 are deployed as part of NATO Mission Iraq.428 In April 2021, about 80 Polish soldiers deployed to Turkey as part of a NATO assurance mission to assist Turkey by providing additional maritime patrols over the Black Sea and the Mediterranean.429 Poland also continues to take part in NATO's tailored forward presence in Bulgaria and Romania with 220 troops.430 Finally, a tank company with 177 troops is deployed to Latvia as part of the NATO EFP battalion in that nation, and Poland reportedly is contributing 100 soldiers to a new NATO EFP battalion in Slovakia.431
Turkey. Turkey remains an important U.S. ally and NATO member. Autocratic President Recep Tayyip Erdogan's efforts to warm relations with Russia have strained U.S.–Turkish bilateral relations, but Russia's war in Ukraine and Turkey's support for Ukrainian forces are helping relations move forward on a more positive track. Turkey has been an important U.S. ally since the closing days of World War II. During the Korean War, it deployed 15,000 troops and suffered 721 killed in action and more than 2,000 wounded. Turkey joined NATO in 1952, one of only two NATO members (the other was Norway) that had a land border with the Soviet Union. Today, it continues to play an active role in the alliance, but not without difficulties.
Following an attempted coup in July 2016, thousands of academics, teachers, journalists, judges, prosecutors, bureaucrats, and soldiers were fired or arrested. Since 2016, 321,000 people have been detained in Turkey.432 Opposition politicians and civil society leaders continue to be jailed. Turkey has built 131 new prisons since the attempted coup and is thinking of building another 100. In addition, Turkey's prison population reached 300,000 in 2020, up from 180,000 in 2016, and political dissidents have been barred from being released under COVID-19 amnesties.433
The post-coup crackdown has had an especially negative effect on the military. As of July 2021, 23,364 military personnel had been dismissed, and "[t]he effect on officer morale of these continuing purges," according to the IISS, has been "exacerbated by the widespread suspicion that promotions and appointments were increasingly politicised, with outspoken supporters of Erdogan fast-tracked for promotion."434 In April 2021, Turkish authorities detained 10 former admirals who were part of a group of more than 100 retired naval officers that issued an open letter criticizing a government plan to construct a canal in Istanbul.435
Turkey's military is now suffering from a loss of experienced generals and admirals as well as an acute shortage of pilots. The dismissal of 680 of 1,350 pilots greatly exacerbated existing pilot shortages.436 A third of the dismissed pilots were in the leadership echelon, commanding squadrons, fleets, or bases.437 A request to the U.S. to send trainers was denied, as was a Turkish plan to utilize Pakistani trainers to fly the F-16.438 Furthermore, as one analyst notes, "[t]he shortage of pilots was not the only problem. Many of the veteran staff members, especially at the operations and logistics centers that help pilots fly successful missions, were also removed, hampering the close coordination between the air and land elements of the air force. Hundreds of engineers on the ground were also removed."439
The dilapidated condition of its air force is partly why Turkey has decided to acquire new ground-based air defense systems.440 In December 2017, Turkey signed a $2.5 billion agreement with Russia to purchase two S-400 air defense systems. Delivery of the first system, consisting of two S-400 batteries and 120 missiles, was completed in September 2019, but delivery of a second system has been delayed by the inability of the two countries to agree on technology transfer and co-production.441 "The decision to purchase two S-400 air-defence systems from Russia," reports the IISS, "was made by the president without detailed consultation with the armed forces about the possible technical and strategic repercussions."442 U.S. officials have expressed grave concerns about this purchase and suspended Turkey from the F-35 program in July 2019, stating that "[t]he F-35 cannot coexist with a Russian intelligence collection platform that will be used to learn about its advanced capabilities."443
Turkey tested the system against its F-16s in November 2019 and further tested the system at Sinop near the Black Sea in October 2020.444 In December, a U.S. official stated that "[w]e object to Turkey's purchase of the system and are deeply concerned with reports that Turkey is bringing it into operation."445 That same month, in response to Turkey's purchase of the S-400 systems, the U.S. announced sanctions that took effect in April 2021.446 Fearful of the effect of these sanctions, Turkey had been stockpiling spare F-16 parts since 2019.447
Turkish defense firms make "more than 800 components…for the F-35 as part of a nine-nation consortium," and Turkey's suspension from the program could cost Turkish defense industry as much as $10 billion.448 (The U.S. Government Accountability Office has specified more precisely that 1,005 parts are produced by Turkish firms.449) As of April 2021, it was reported that "the Pentagon [had] hoped to remove all Turkish suppliers from the program by 2020, but it will take until 2022 for all contracts with Turkish companies to come to a close."450 Both sides have floated proposals to end the dispute, with Turkey suggesting that it "not keep the S-400s operational at all times" and the U.S. suggesting that Turkey transfer its S-400s to Ukraine—a suggestion that Ankara rejected as "quite unrealistic."451
In his posture statement to Congress, General Wolters downplayed the lasting potential of the Turkish–Russian rapprochement:
Turkey possesses the second largest military in NATO, borders a volatile region, and retains a pivotal role in countering Russia. The Turkish and Russian government's [sic] relationship remains competitive and transactional, with Turkish engagement often aimed at constraining Russian behavior. Both nations view the Black Sea region within their natural spheres of influence, and each continues to oppose the other in Ukraine, Libya, and Syria. Turkey can best counter Russia through close cooperation with the U.S. and NATO. We laud Turkey's strong support to Ukraine up to and during Russia's invasion, and we will continue to find ways to increase our cooperation with Turkey bilaterally and within NATO.

452
Turkey has been a key supporter of Ukraine. In addition to $7.4 billion worth of trade with Kyiv in 2021, Turkish Bayraktar TB2 armed drones have proven particularly effective on the battlefield in Ukraine, and Turkey has continued to resupply Ukrainian forces "despite warnings from Moscow."453 In February, Turkey closed the Bosphorus and Dardanelles straits to warships, blocking Russian warships operating in the Mediterranean from entering the Black Sea to join in the assault on Ukraine.454
Turkey remains reliant on Western companies, including for its drones. "While Turkish companies have assembled the drones," according to the Congressional Research Service, "they apparently rely on Western countries for some key components, including engines, optical sensors, and camera systems."455
Turkey is also seeking ways to modernize its manned aircraft. In October 2021, Turkey requested to purchase 40 F-16 fighters and 80 modernization kits for its older fleet of F-16s, and in a March 2022 letter to Congress, the State Department found "compelling long-term NATO alliance unity and capability interests, as well as U.S. national security, economic and commercial interests that are supported by appropriate U.S. defense trade ties with Turkey."456 In May, the Biden Administration asked Congress to approve the sale of electronics, missiles, and radar to Turkey for F-16 upgrades. Following Turkey's announcement in June that it was lifting its objections to Finland and Sweden joining NATO, the Administration reiterated its support both for the modernization kits and for the sale of new F-16s to Turkey: "The United States supports Turkey's modernization of its fighter fleet because that is a contribution to NATO security and therefore American security."457
Whether the equipment to modernize Turkey's fleet of F-16s or the purchase of new F-16s materializes remains to be seen, but the Administration's favorable position undoubtedly reflects a thawing trend because of Turkey's robust support for Ukraine and support for Finnish and Swedish membership. Absent modernization kits, however, Turkey will have to rely on its own domestic industry to modernize its aging fleet.458
In October 2019, Turkey launched a major offensive in Syria against the Kurdish-led Syrian Democratic Forces (SDF), partly to create a buffer zone near the Turkish border. The largest Kurdish armed faction within the SDF is the People's Protection Units (YPG), an offshoot of the Kurdistan Workers' Party (PKK), a U.S.-designated terrorist group that has waged war against Turkey off and on since 1984. The offensive led to the creation of a buffer zone jointly patrolled by Turkish and Russian forces following an agreement between Presidents Erdogan and Putin in Sochi.
In February 2020, Russian-backed Syrian regime forces launched an attack on Idlib, the last remaining stronghold of forces opposed to Bashar al-Assad. Turkish forces opposed the offensive and lost 36 soldiers before Turkey and Russia agreed to a cease-fire. The cease-fire was extended in February 2021 and, despite violations by the Syrian Army and rebel factions, has held because of a détente in Syria between Turkey and Russia.
Turkish threats to renege on a 2016 agreement with the EU under which the EU paid Turkey to stop the flow of migrants to Europe are a consistent and enduring source of friction (perhaps at least partly because Turkey did in fact renege on the agreement in 2020).459 Turkey and Greece remain at odds over maritime boundaries and drilling rights between their two nations in the eastern Mediterranean in addition to drilling rights off the Cypriot coast and migration.460 Maritime talks between Turkey and Greece are ongoing despite a flare-up of tensions in 2020.461 Turkey is reportedly planning to build a naval base in the Turkish Republic of Northern Cyprus and began flying UAVs out of Geçitkale Airport in December 2019.462 Recent upgrades to the base have further heightened tensions.463 In March 2021, Turkey and Qatar signed a deal for Qatari pilots to train in Turkey, leading to speculation that Turkey had "decided to train its fighter pilots on Rafale jets of the Qatar Emiri Air Force (QeAF) so as to counter the Rafale fleet of its adversary, Greece."464
U.S. security interests in the region lend considerable importance to America's relationship with Turkey. Turkey is home to Incirlik Air Base, a major U.S. and NATO facility, but it was reported early in 2018 that U.S. combat operations at Incirlik had been significantly reduced and that the U.S. was considering permanent reductions. In January 2018, the U.S. relocated an A-10 squadron from Incirlik to Afghanistan to avoid operational disruptions; these aircraft have since returned to their home base in Missouri following the U.S. withdrawal. Restrictions on the use of Incirlik for operations in Syria have proven problematic. "[The] American operation to kill Islamic State leader Abu Bakr al-Baghdadi in Syria," for example, "saw U.S. forces use a base in Iraq instead of the much closer Incirlik, requiring a round trip of many hours."465 The U.S. reportedly began reviewing plans to remove nuclear weapons from Incirlik in 2019, but no such decision has yet been taken.
Turkey's Konya Air Base continues to support NATO AWACS aircraft involved in counter-ISIS operations and Spain's operation of a Patriot system in the Turkish city of Adana under NATO auspices.466 Turkey also hosts a crucial AN/TPY-2 radar at Kürecik, which is part of NATO's BMD system with a range of up to 1,800 miles.467
In 2021, Turkey commanded NATO's Very High Readiness Joint Task Force, making investments in their units assigned to the VJTF. "Turkey has made substantial investments into the unit—amongst the most mobile in NATO—particularly in its logistics and ammunition requirements planning," according to NATO. "The latest models of Turkish armed vehicles, anti-tank missiles and howitzers have been allocated to the force."468
Early in 2021, Turkey maintained "a 600-strong contingent" in Afghanistan as part of NATO's Resolute Support Mission.469 The Turks also have contributed to a number of peacekeeping missions in the Balkans, still maintain 316 troops in Kosovo,470 and have participated in counterpiracy and counterterrorism missions off the Horn of Africa in addition to deploying planes, frigates, and submarines during the NATO-led operation in Libya. Turkey currently contributes to the Standing NATO Mine Countermeasures Group Two and Standing NATO Maritime Group Two.471 It has taken part in Baltic Air Policing twice, most recently from May–September 2021 when four F-16s and 80 troops deployed to Malbork, Poland, for the mission.472 In February 2022, Turkey closed the Bosphorus and Dardanelles Straits to warships—a decision that was made even more significant in April when Russia's Black Sea fleet flagship the Moskva was sunk by Ukrainian forces.473 Turkey's closure of the Black Sea will prevent Russia from replacing this ship.
Turkey has a 355,200-strong active-duty military,474 which is NATO's second largest after that of the United States. However, in June 2019:
President Recep Tayyip Erdogan ratified a new law that reduced the length of compulsory military service from 12 to six months. On payment of a fee, compulsory service can be reduced further to one month of basic training. The changes were expected to reduce the overall size of the armed forces by around 35%, as part of Turkey's long-term plan to create compact and fully professional armed forces.

475
Turkey, which in 2022 will spend 1.22 percent of GDP on defense and 30.8 percent of its defense budget on equipment,476 has become increasingly self-reliant with respect to its defense capabilities. A particular success has been its Bayraktar drone program, and the nation is investing further in autonomous systems. Specifically:
It has begun mass production of the Akıncı, a larger unmanned combat aircraft with a payload of 1.5 tons, and has started sea trials for the ULAQ, an unmanned surface vessel armed with six guided missiles. Four kinds of armed unmanned ground vehicles are competing for a Turkish government contract.
Turkey also has plans for a "mobile naval mine" that can be used for surveillance and to attack ships, as well as for unmanned fighter jets and strike aircraft to be used on its amphibious assault ships, which officials say will be able to carry 30 to 50 drones.

477
In June 2021, Turkey test-fired its "first domestically produced long-range anti-ship cruise missile." For many platforms, however, despite some successes, Turkey continues to rely on foreign components, including "US-made engines in the T129 ATAK attack helicopter, German guns for the Altay tank, and German air-independent propulsion systems for its new Reis-class submarines."478
Turkey's procurement of 250 new Altay main battle tanks has been delayed for years because of the need to acquire foreign components. The tank had relied on a German-made engine and transmission, as well as French armor, but the technology transfer was not approved. In March 2022, Turkey announced an agreement with two South Korean manufacturers to produce the engine and transmission for the tank.479 Even the Bayraktar drone relies on "optical/infrared imaging and targeting sensor systems" from a Canadian company.480
In January 2022, Pakistan cancelled a $1.5 billion deal for 30 T129 ATAK helicopters, which had been signed in 2018, after years of delays.481 The helicopter's engine is produced by American and British firms, and Turkey has yet to field a domestic replacement. In April 2021, the U.S. granted export licenses for the sale of six T129s to the Philippines; its refusal to issue export licenses for the sale to Pakistan led to the deal's cancellation.482 In February 2022, Turkey announced that a Ukrainian-developed engine for its larger T929 helicopter gunship would be produced in Turkey. The helicopter is supposed to make its first flight equipped with the new engine in 2023, although the war could cause the flight to be delayed.483
Additionally, the French government has blocked development of anti-ballistic missiles because of Turkey's actions in Syria.484 President Erdogan has personally lobbied French President Macron to allow Turkey to purchase the French–Italian EUROSAM consortium's SAMP/T missile-defense systems.485 In March 2022, France and Italy reportedly agreed to "explore reviving the steps for the SAMP/T missile defense system."486
Having been removed from the F-35 program, Turkey is purportedly planning to produce a domestic fifth-generation jet, the TF-X National Combat Aircraft, with the goal of a prototype by 2023 and the first flight by 2025.487
Another major procurement is for six Type-214 submarines, the first of which was launched in May 2021 and will enter service in 2022 and the last of which is to be delivered in 2027.488 In February 2019, Turkey announced upgrades of four Preveze-class submarines, to take place from 2023–2027.489 According to reports in February 2022, "sea acceptance trials of the early delivered systems and the Critical Design Phase of the Preveze Mid-Life Modernisation Project have been successfully completed."490
In February 2019, Turkey launched an intelligence-gathering ship, the TCG Ufuk, which President Erdogan has described as the "eyes and ears of Turkey in the seas."491 In December 2019, Turkey's Presidency of Defense Industries (SSB) released its Strategic Plan 2019–2023, which sets targets of 75 percent of Turkish military needs being supplied domestically by 2023 and defense exports being increased to $10.2 billion by 2023. Turkey is forecasted to fall short of its indigenous production target of 71 percent in 2023.492 Turkish exports declined by 17 percent to $2.28 billion in 2020, down from $2.74 billion in 2019, but they rebounded in 2021 at more than $3 billion.493
The Baltic States. The U.S. has a long history of championing the sovereignty and territorial integrity of the Baltic States that dates back to the interwar period of the 1920s. Since regaining their independence from the Soviet Union in the early 1990s, the Baltic States have been staunch supporters of the transatlantic relationship. Although small in absolute terms, the three countries contribute significantly to NATO in relative terms.
Estonia. Estonia has been a leader in the Baltics in terms of defense spending. In 2022, it will spend 2.34 percent of GDP on defense and 21.6 percent of its defense budget on new equipment.494 Estonia will increase defense spending by €476 million (US$523 million) in 2022 and plans to spend an estimated €350 million to acquire short-range and medium-range air defense systems by 2025.495 In October 2021, Estonia signed a contract to purchase the Blue Spear 5G coastal shore-to-ship mobile defense system.496
Some of the planned investments in Estonia's Ministry of Defence Development Plan 2031, released in December 2021, details investments in ammunition stocks along with renovation of Ämari airfield, a modern War and Disaster Medicine Centre in Tartu, "mid-range anti-tank weapons for all infantry brigades," R-20 Rahe assault rifles, a mid-range air surveillance radar, CV-9035 armoured combat vehicle upgrades, and naval mines.497 In February 2022, Estonia announced its largest defense procurement, a $794 million joint Estonia–Latvia purchase of such logistics vehicles as "cranes, loaders and aircraft loaders."498
Although the Estonian armed forces total only 7,200 active-duty personnel (including the army, navy, and air force),499 they are held in high regard by their NATO partners and punch well above their weight inside the alliance. Between 2003 and 2011, 455 Estonians served in Iraq. Perhaps Estonia's most impressive deployment has been to Afghanistan: More than 2,000 Estonian troops were deployed between 2003 and 2014, and they sustained the second-highest number of deaths per capita among all 28 NATO members.
In 2015, Estonia reintroduced conscription for men ages 18–27, who must serve eight or 11 months before being added to the reserve rolls.500 The number of Estonian conscripts will increase from 3,200 to 4,000 by 2025.501
Estonia has demonstrated that it takes defense and security policy seriously, focusing on improving defensive capabilities at home while maintaining the ability to be a strategic actor abroad. Estonia is acquiring a total of 18 South Korean–built K9 self-propelled howitzers at a total cost of €66 million.502 It received the first units in October 2020, and the remaining units are scheduled to arrive by 2023.503 Estonia has prioritized anti-tank weapons and has sent Ukraine significant numbers of Javelin anti-tank weapons from its own stocks.
In October 2020, Estonia withdrew from a joint armored vehicle development program with Latvia and Finland for financial reasons, deferring the acquisition of new armored vehicles until the end of the decade.504 In 2019, it received two C-145A tactical transport aircraft donated by the U.S.505 In July 2019, Estonia signed a $24 million deal to purchase 16,000 rifles from an American arms company, allowing it to phase out older Soviet and Israeli weapons.506
Estonia's cyber command became operational in August 2018 and is expected to include 300 people when it reaches full operational capability in 2023.507 U.S. and Estonian cyber commands train together. In the fall of 2020, for example, they trained in Estonia to help search for and block incoming cyber threats from Russia.508 Estonia also participated in U.S. Cyber Command's CYBER FLAG 21-1 exercise in November 2021.509
In 2017, Estonia and the U.S. strengthened their bilateral relationship by signing a defense cooperation agreement that builds on the NATO–Estonia Status of Forces Agreement, further clarifying the legal framework for U.S. troops in Estonia.510 Estonian forces have participated in a number of operations. These involvements include, for example, 45 soldiers in Resolute Support before its end, a vessel as part of the Standing NATO Mine Countermeasures Group One, and special forces as part of France's Task Force Takuba in the Sahel, which began in the latter half of 2020.511 Estonian troops also take part in NATO Mission Iraq and the U.S.-led Operation Inherent Resolve in Iraq.512 In February 2022, Estonia announced the withdrawal from Mali of 95 troops who had been taking part in the French-led Operation Barkhane.513
Latvia. Latvia's recent military experience has been centered on operations in Iraq and Afghanistan with NATO and U.S. forces. Latvia deployed more than 3,000 troops to Afghanistan and between 2003 and 2008 deployed 1,165 troops to Iraq. It also has contributed to a number of other international peacekeeping and military missions.
A recent IISS analysis notes that "Latvia has no requirement and therefore no capacity to independently deploy and sustain forces beyond its national boundaries, although the armed forces have taken part in a range of NATO and EU missions."514 Nevertheless, despite a military that consists of only 8,750 full-time servicemembers, Latvia deployed troops to NATO's Resolute Support Mission until the mission's completion; participates in Operation Inherent Resolve in Iraq, where the mandate for the approximately 30 Latvian soldiers taking part was extended in March 2022 and now runs until February 2024; and has 136 troops deployed in NATO's KFOR mission.515
Latvia's State Defence Concept states that "the size of the National Guard must grow to 10,000 troops by 2024 and reach 12,000 troops by 2027."516 Latvia "is investing $56 million annually through 2022 on military infrastructure, with two-thirds of this amount being spent to upgrade Ādaži military base, headquarters of the Canadian-led EFP battlegroup."517
In 2022, Latvia will spend 2.10 percent of GDP on defense and 24.6 percent of its defense budget on equipment, exceeding both NATO benchmarks.518 It also plans to increase defense spending "in 2025 and subsequent years" to "not less than 2.5 percent of the forecasted GDP."519
In November 2018, Latvia signed a deal for four UH-60M Black Hawk helicopters, to be delivered in 2022. The Michigan National Guard began training Latvian maintainers on the helicopters in December.520
In 2018, Latvia signed a $133 million agreement to purchase Spike precision-guided tactical missiles from Israel, the first of which were delivered in February 2020.521 A new team trainer for the missiles was installed in October 2020.522 Latvia has also expressed interest in procuring a medium-range ground-based air defense system (GBADS). Joint procurements include (with Estonia) logistics vehicles and (with Finland) 200 armored vehicles for Latvian forces, the first two of which were delivered in March 2022 and all of which are to be delivered by 2029.523 Latvia is looking to upgrade temporary fencing along its border with Belarus into permanent fencing to stem the flow of migrants "illegally pushed into Latvia from Belarus."524 The U.S. continues to aid the Latvian border guard including through delivery of tactical vehicles.525
Lithuania. Lithuania is the largest of the three Baltic States, and its armed forces total 23,000 active-duty troops.526 It reintroduced conscription in 2015 and lowered the age for compulsory service in December 2019.527
Lithuania has shown a steadfast commitment to international peacekeeping and military operations. Between 2003 and 2011, it sent 930 troops to Iraq. From 2002–2021, around 3,000 Lithuanian troops served in Afghanistan, and Lithuania continues to contribute to NATO's KFOR and NATO Mission Iraq.
In 2022, Lithuania will spend 2.36 percent of GDP on defense and 30.5 percent of its defense budget on equipment.528 It also "plans to reach 2.5% [of GDP] by 2030."529
In April 2019, the U.S. and Lithuania signed a five-year "roadmap" defense agreement.530 According to the Pentagon, the agreement will help "to strengthen training, exercises and exchanges" and help Lithuania "to deter and defend against malicious cyber intrusions and attacks." The two nations also pledged "to support regional integration and procurement of warfighting systems," including "integrated air and missile defense systems and capabilities to enhance maritime domain awareness."531 A Mobilisation and Host Nation Support law took effect in January 2021.532 In December 2021, the U.S. and Lithuania signed a Reciprocal Defense Procurement Agreement that U.S. Secretary of Defense Austin stated "will improve conditions for the acquisition of defense items and increase military interoperability."533
In November 2020, Lithuania signed a $213 million deal to purchase four UH-60M Black Hawk helicopters beginning in late 2024; the U.S. is contributing approximately $30 million to help with the acquisition.534 In October 2020, Lithuania received two Norwegian-made NASAMS mid-range air defense batteries armed with U.S.-made missiles.535 In March 2022, Lithuania announced a $40 million purchase of additional Javelin anti-tank weapons.536 In April 2021, the U.S. donated $10 million worth of M72 Light-Armor Weapons to Lithuania.537 Additional procurements include Boxer Infantry Fighting Vehicles and €145 million for 200 U.S.-made Oshkosh Joint Light Tactical Vehicles (JLTV).538 The first 50 JLTVs were delivered in October 2021 with 50 more to be delivered per year through 2024.539 In January 2022, it was reported that Saab had recently "signed a framework agreement with the Lithuanian Ministry of Defence to provide the country with several Carl-Gustaf M4 recoilless weapons and ammunition" and that Lithuania's "Defence Materiel Agency has placed a $16.7 million ammunition order as part of the framework agreement."540
Current U.S. Military Presence in Europe
At its peak in 1953, because of the Soviet threat to Western Europe, the U.S. had approximately 450,000 troops in Europe operating across 1,200 sites. During the early 1990s, both in response to a perceived reduction in the threat from Russia and as part of the so-called peace dividend following the end of the Cold War, U.S. troop numbers in Europe were slashed. Today, the U.S. has fewer than 66,000 active-duty forces permanently stationed in Europe. However, increased rotational forces deployed to Europe to bolster deterrence in eastern NATO member states have increased total U.S. deployments to around 100,000.541
In response to Russia's second invasion of Ukraine, EUCOM created Control Center Ukraine (ECCU) to coordinate defense assistance to Ukraine. One official has described ECCU as "a combination of a call center, a watch floor, meeting rooms. They execute a battle rhythm to support decision-makers as well as 24/7 engagement and coordination around the globe with about 40 to 60 people at any given time."542
EUCOM "executes a full range of multi-domain operations in coordination with Allies and partners to support NATO, deter Russia, assist in the defense of Israel, enable global operations, and counter trans-national threats in order to defend the Homeland forward and fortify Euro-Atlantic security."543 It is supported by four service component commands (U.S. Naval Forces Europe [NAVEUR]; U.S. Army Europe and Africa [USAREUR-AF]; U.S. Air Forces in Europe [USAFE]; and U.S. Marine Forces Europe [MARFOREUR]) and one subordinate unified command (U.S. Special Operations Command Europe [SOCEUR]).
U.S. Naval Forces Europe. NAVEUR is responsible for providing overall command, operational control, and coordination for maritime assets in the EUCOM and Africa Command (AFRICOM) areas of responsibility. This includes more than 20 million square nautical miles of ocean and more than 67 percent of the Earth's coastline.
This command is currently provided by the U.S. 6th Fleet, based in Naples, and brings critical U.S. maritime combat capability to an important region of the world. Some of the more notable U.S. naval bases in Europe include the Naval Air Station in Sigonella, Italy; the Naval Support Activity Base in Souda Bay, Greece; and the Naval Station at Rota, Spain.
The USS Harry S. Truman Carrier Strike Group deployed to the European theater in 2022 to demonstrate the U.S. commitment to NATO. In January, the CSG took part in NATO exercise Neptune Strike 22 under direct NATO operational control.544 Examples of activities during the exercise include (among others) "airborne patrols with Allied aircraft through a series of missions spanning enhanced vigilance, training and NATO enhanced Air Policing (eAP), supporting the Alliance's cohesive defence and collective resolve," and the refueling of F/A-18E Super Hornets by German Air Force A400M Tankers in February and participation by HST squadrons in "a series of training missions with the Romanian Air Force" in March.545
U.S. Army Europe and Africa. In November 2020, U.S. Army Europe and U.S. Army Africa were consolidated into U.S. Army Europe and Africa (USAREUR-AF), headquartered in Wiesbaden, Germany. According to the Army, "The consolidation of these two Army service component commands under one four-star commander will play a vital role in supporting missions across two interconnected theaters of operation" and will "enhance efficiency by streamlining the headquarters' ability to execute functions and improving global and regional contingency response efforts."546
The former USAREUR was established in 1952. Then, as today, the U.S. Army formed the largest portion of U.S. forces in Europe. USAREUR-AF includes "approximately 73,000 U.S. Army personnel assigned and deployed throughout Europe and Africa." Permanently deployed forces include the 2nd Cavalry Regiment, based in Vilseck, Germany; the 173rd Airborne Brigade in Italy; the 12th Combat Aviation Brigade out of Ansbach, Germany; and the 41st Field Artillery Brigade, with headquarters in Grafenwoehr, Germany. In addition:
Operational and theater enablers such as the 21st Theater Sustainment Command, 10th Army Air and Missile Defense Command, 7th Army Training Command, 79th Theater Sustainment Command, 66th and 207th Military Intelligence Brigades, 2nd Theater Signal Brigade, U.S. Army NATO Brigade, Installation Management Command-Europe and Regional Health Command-Europe provide essential skills and services that support our entire force.

547
Reactivated in September 2019, the 1st Battalion, 6th Field Artillery, 41st Field Artillery Brigade is currently the only U.S. rocket artillery brigade in Europe and represents the first time in 13 years that USAREUR has had the Multiple Launch Rocket System in its command; a second field artillery battalion was reactivated in the fall of 2020.548 The 5th Battalion, 4th Air Defense Artillery Regiment, was activated in November 2018 and is now based in Ansbach.549 The Army announced plans to outfit a complete battalion with the Maneuver-Short-Range Air Defense System (M-SHORAD) by the end of 2022; currently, only a platoon within the 5th Battalion, 4th Air Defense Artillery Regiment is equipped with M-SHORAD.550 Finally, each year, USAREUR-AF takes part in more than 60 exercises with 80,000 multinational participants from 75 countries.551
U.S. Air Forces in Europe. USAFE provides a forward-based air capability that can support a wide range of contingency operations. It originated as the 8th Air Force in 1942 and flew strategic bombing missions over the European continent during World War II. USAFE describes itself as "direct[ing] air operations in a theater spanning three continents, covering more than 19 million square miles, containing 104 independent states, and possessing more than a quarter of the world's population and more than a quarter of the world's Gross Domestic Product."552
Headquartered at Ramstein Air Base, USAFE has seven main operating bases along with 114 geographically separated locations. The main operating bases include the RAF bases at Lakenheath and Mildenhall in the U.K., Ramstein and Spangdahlem Air Bases in Germany, Lajes Field in the Azores, Incirlik Air Base in Turkey, and Aviano Air Base in Italy.553 Terrorist attacks against these installations remain a threat. In March and April 2020, five Tajik nationals who had come to Germany seeking refugee status were arrested for plotting terrorist attacks against U.S. Air Force bases and personnel on behalf of ISIS.554
Strategic bomber deployments continue periodically. In March 2021, U.S. B-1 and B-2 bombers flying from the U.S. deployed out of Orland Air Base in Norway and Lajes Field in Portugal, respectively.555 According to the U.S. Air Force, "[s]trategic bomber deployments to Europe provide theater familiarization for aircrew members and demonstrate U.S. commitment to allies and partners."556
U.S. Marine Forces Europe. MARFOREUR was established in 1980. It was originally a "designate" component command (only a shell during peacetime but able to bolster its forces during wartime). Its initial staff was 40 personnel based in London. By 1989, it included more than 180 Marines in 45 separate locations in 19 countries throughout the European theater. Today, the command is based in Boeblingen, Germany, and approximately 300 of the more than 1,500 Marines based in Europe are assigned to MARFOREUR.557 It was also dual-hatted as Marine Corps Forces, Africa (MARFORAF), under U.S. Africa Command in 2008.
MARFOREUR supports the Norway Air Landed Marine Air Ground Task Force, the Marine Corps' only land-based prepositioned stock. As of June 2017, the U.S. had enough prepositioned stock in Norway "to equip a fighting force of 4,600 Marines, led by a colonel, with everything but aircraft and desktop computers."558 The Norwegian government covers half of the costs of the prepositioned storage, and the stock's proximity to the Arctic region makes it particularly important geostrategically. In March–April 2022, these prepositioned stocks were a factor in the Cold Response 22 exercise, which included 30,000 troops from 27 countries including 3,000 U.S. Marines.559
In the fall of 2021, Special-Purpose Marine Air-Ground Task Force–Crisis Response–Africa (SPMAGTF–CR–AF), based in Moron, Spain, and created in the wake of the Benghazi embassy attack to respond to crises in the Middle East and North Africa, was shut down.560 Subsequently, Marines have participated in training exercises conducted by AFRICOM's North and West Africa Response Force.561
U.S. Special Operations Command Europe. SOCEUR is the only subordinate unified command under EUCOM. Its origins are in the Support Operations Command Europe, and it was based initially in Paris. This headquarters provided peacetime planning and operational control of special operations forces during unconventional warfare in EUCOM's area of responsibility.
SOCEUR has been headquartered in Panzer Kaserne near Stuttgart, Germany, since 1967. It also operates out of RAF Mildenhall in the U.K. In 2018, it was announced that the U.S. was planning to relocate tactical United States special operations forces from Stuttgart to Baumholder. The move has yet to occur, but the Administration's FY 2022 Special Operations budget request included funding to support "three major renovation projects" as part of "the initiative to restation SOF to Baumholder in order to alleviate overcrowding in Stuttgart, Germany."562
Due to the sensitive nature of special operations, publicly available information is scarce. However, it has been documented that SOCEUR elements participated in various capacity-building missions and civilian evacuation operations in Africa and took an active role in the Balkans in the mid-1990s and in combat operations in the Iraq and Afghanistan wars.
SOCEUR also plays an important role in joint training with European allies and since June 2014 has maintained an almost continuous presence in the Baltic States and Poland in order to train special operations forces in those countries. A new special operations base in Latvia that opened in December 2020, for example, "includes a vehicle servicing facility, ammunition storage and two helipads for U.S. CV-22 aircraft from the United Kingdom-based 352nd Special Operations Wing," all of which "are designed to allow special operations forces to move rapidly in and out of the area and conduct maintenance."563
According to General Wolters:
Our Special Operations Forces (SOF) work with European Allies and Partners to build capacity, counter malign activity, and improve resilience. These unique capabilities enable USEUCOM to identify, attribute, and counter Russian malign influence. Furthermore, our Special Operations personnel provide invaluable contributions in sensing the operational environment, enhancing our ability to deter through indications and warnings.

564
The FY 2023 DOD EDI budget request includes $26,760,000 in declared special operations funding for "Increased SOF Partnership Activities in Central/Eastern Europe" ($491,000) and "SOF Staging Capabilities and Prepositioning" ($26,269,000).565
Key Infrastructure and Warfighting Capabilities
One of the major advantages of having U.S. forces in Europe is access to logistical infrastructure. EUCOM, for example, supports the U.S. Transportation Command (TRANSCOM) with its array of air bases and access to ports throughout Europe. One of these bases is Mihail Kogalniceanu Air Base in Romania, which "began as a major refueling and supply route for U.S. troops in support of Operation Iraqi Freedom, as well as a hub to neighboring countries in both EUCOM and CENTCOM," and from which "[n]ations, allies, and partners…leverage and promote an increasingly interoperable force and posture in coordination to deter further Russian aggression."566
Europe is a mature and advanced operating environment. Because of its decades-long presence in Europe, the U.S. benefits from tried and tested systems that involve moving large numbers of matériel and personnel into, within, and out of the continent. This offers an operating environment that is second to none in terms of logistical capability. There are more than 166,000 miles of rail line in Europe (not including Russia), an estimated 90 percent of the roads in Europe are paved, and the U.S. enjoys access to a wide array of airfields and ports across the continent.
Conclusion
Overall, the European region remains a largely stable, mature, and friendly operating environment. Russia remains the preeminent military threat, both conventionally and unconventionally, but Chinese propaganda, influence operations, and investments in key sectors present an additional—and serious—threat. The past year has proven to be an inflection point for transatlantic security with many European allies reinvesting in defense and capabilities. The long-term capacity of allies to sustain a commitment to defense remains to be seen, as does the outcome of the Russia–Ukraine war, which is dramatically reshaping the threat perception in Europe and necessitating operational planning that takes into account what is transpiring on a daily basis.
America's closest and oldest allies are located in Europe, and the region is incredibly important to the U.S. for economic, military, and political reasons. Perhaps most important, the U.S. has treaty obligations through NATO to defend the European members of that alliance. If the U.S. needs to act in or near the European region, there is a history of interoperability with allies and access to key logistical infrastructure that makes the operating environment in Europe more favorable than the environment in other regions in which U.S. forces might have to operate.
The past year saw continued U.S. reengagement with the continent, both militarily and politically, along with continued increases in European allies' defense budgets and capability investments. The U.S. has increased its investment in Europe, and its military position on the continent is stronger than it has been for some time. Russia's second invasion of Ukraine served to underscore the importance both of continued U.S. reinvestment in Europe and of efforts (which in many cases were already underway) by the U.S. and its allies to improve their defense capabilities.
The military, economic, political, and societal impact of Russia's aggression in Ukraine, including China's support for and enablement of the regime in Moscow, will have to be reckoned with for years to come. Though Russia is experiencing significant battlefield losses, it will be prudent for defense planners to assume that Russia will replace those losses of old equipment with modern, improved items, thereby sustaining the challenge to U.S. and NATO-partner security interests.
NATO's renewed focus on collective defense has resulted in a focus on logistics, newly established commands that reflect a changed geopolitical reality, and a robust set of exercises. NATO's biggest challenges derive from potential spillover from Ukraine, the need to arm and assist Ukrainian forces while also swiftly backfilling stocks, continued capability and readiness gaps for many European nations, continuing improvements and exercises in the realm of logistics, and the need to establish the ability to mount a robust response to both linear and nonlinear forms of aggression.
Scoring the European Operating Environment
As noted at the beginning of this section, various considerations must be taken into account in assessing the regions within which the U.S. may have to conduct military operations to defend its vital national interests. Our assessment of the operating environment utilized a five-point scale, ranging from "very poor" to "excellent" conditions and covering four regional characteristics of greatest relevance to the conduct of military operations:
Very Poor. Significant hurdles exist for military operations. Physical infrastructure is insufficient or nonexistent, and the region is politically unstable. The U.S. military is poorly placed or absent, and alliances are nonexistent or diffuse.
Unfavorable. A challenging operating environment for military operations is marked by inadequate infrastructure, weak alliances, and recurring political instability. The U.S. military is inadequately placed in the region.
Moderate. A neutral to moderately favorable operating environment is characterized by adequate infrastructure, a moderate alliance structure, and acceptable levels of regional political stability. The U.S. military is adequately placed.
Favorable. A favorable operating environment includes good infrastructure, strong alliances, and a stable political environment. The U.S. military is well placed in the region for future operations.
Excellent. An extremely favorable operating environment includes well-established and well-maintained infrastructure; strong, capable allies; and a stable political environment. The U.S. military is exceptionally well placed to defend U.S. interests.
The key regional characteristics consist of:
Alliances. Alliances are important for interoperability and collective defense, as allies are more likely to lend support to U.S. military operations. Various indicators provide insight into the strength or health of an alliance. These include whether the U.S. trains regularly with countries in the region, has good interoperability with the forces of an ally, and shares intelligence with nations in the region.
Political Stability. Political stability brings predictability for military planners when considering such things as transit, basing, and overflight rights for U.S. military operations. The overall degree of political stability indicates whether U.S. military actions would be hindered or enabled and considers such questions as whether transfers of power are generally peaceful and whether there have been any recent instances of political instability in the region.
U.S. Military Positioning. Having military forces based or equipment and supplies staged in a region greatly enhances the ability of the United States to respond to crises and (presumably) achieve successes in critical "first battles" more quickly. Being routinely present in a region also helps the U.S. to maintain familiarity with its characteristics and the various actors that might try to assist or thwart U.S. actions. With this in mind, we assessed whether or not the U.S. military was well positioned in the region. Again, indicators included bases, troop presence, prepositioned equipment, and recent examples of military operations (including training and humanitarian) launched from the region.
Infrastructure. Modern, reliable, and suitable infrastructure is essential to military operations. Airfields, ports, rail lines, canals, and paved roads enable the U.S. to stage, launch operations from, and logistically sustain combat operations. We combined expert knowledge of regions with publicly available information on critical infrastructure to arrive at our overall assessment of this metric.
For Europe, scores this year remained steady, with an increase in the Strength of Alliances spurred by the enhanced threat to common interests resulting from Russia's invasion of Ukraine.
Alliances: 5—Excellent
Political Stability: 4—Favorable
U.S. Military Positioning: 4—Favorable
Infrastructure: 4—Favorable
Leading to a regional score of: Favorable

Endnotes