July 25, 2022
Postponed: The Freedom Agenda & America's Future featuring The Honorable Mike Pence
Due to unexpected severe weather and flight delays, the program with Vice President Pence is postponed. We are working to reschedule for a new date and time and will follow up as soon it is confirmed.
We apologize for the inconvenience.
Monday, July 25, 2022
5:00 pm - 5:45 pm
Featuring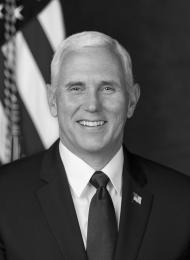 48th Vice President of the United States
@Mike_Pence
Description
Today, Americans have more at stake than ever before. The basic rights for which our Founders fought are under attack by the left, and there's never been more of a need for strong conservative policies.
The Freedom Agenda, a bold policy agenda from 48th Vice President Mike Pence, paints a bright picture of what America could be, if we're willing to fight for her.
Join us to hear from former Vice President Pence on what policies he believes will save our great nation and why we can't give up the fight for America's future.
Sign up to receive invitations to all public events.