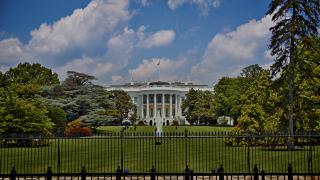 The 2025 Presidential Transition Project
Building now for a conservative victory through policy, personnel, and training.
The Heritage Foundation is pleased to announce the launch of the 2025 Presidential Transition Project, a new initiative exclusively focused on preparing the next administration with conservative policy recommendations and the properly vetted and trained personnel needed to take back America.
The 2025 Presidential Transition Project builds off of Heritage's longstanding "Mandate for Leadership," which has been highly influential for presidential administrations since the Reagan administration. Most recently, the Trump administration relied heavily on Heritage's "Mandate" for policy guidance, embracing nearly two-thirds of Heritage's proposals within just one year in office.  
Paul Dans, former chief of staff of the Office of Personnel Management (OPM) during the Trump administration, serves as the Director of the 2025 Presidential Transition Project.
Heritage will help provide not just the intellectual firepower to policymakers, but also do everything we can to ensure the right people hold positions of influence in Washington."
Kevin Roberts, Ph.D.
President, The Heritage Foundation
Pillars of Project 2025
The project will be a collaborative work with Heritage convening partners and thought leaders across the movement to produce a robust policy and personnel resource for the next conservative White House to hit the ground running. 
The four pillars of the project are: 
Policy Agenda
Personnel Database
Training for prospective presidential appointees at all levels
100-Day Playbook